Reverend Sam Aldred
Assistant Curate, The Parish of Central Swansea
<![if !vml]>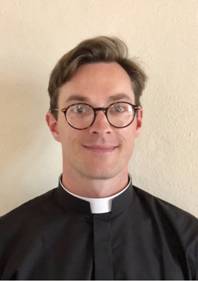 <![endif]> Sam was born in 1987 and raised in the West Midlands. Despite an atheist upbringing he came to faith in his teenage years and was baptised whilst an undergraduate at Keble College, Oxford, in 2007.
Sam had a few jobs before seeking ordination. He was a perfume salesman in Kazakhstan, a marketeer in London, and a teacher of Russian history at Brighton College. In 2014 he returned to Oxford to read for an MPhil in Ecclesiastical History. During these two years he lived and worked as Sacristan of Pusey House, an Anglo-Catholic student chaplaincy at the heart of Oxford. In 2016 he went to St Stephen's House in Oxford for three years of theological training, emerging in June 2019. He was ordained in Brecon Cathedral on the 29th and began his ministry at St Mary's.
Sam is a keen walker, sea swimmer, and ephemerist. He was married to Helen in 2016 and (at the time of writing) they are expecting their first child.