Choral opportunities at St Mary's, Swansea
<![if !vml]>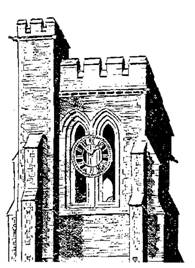 <![endif]>
St Mary's in the heart of Swansea's City Centre offers an exciting
opportunity to be part of its choirs and musical life
St Mary's Boys' Choir (ages 7-13)
Meets term time Tuesdays 4.30pm-6.00pm and Fridays 4.30pm-5.30pm, and Sunday mornings and Festivals.
St Mary's Girl Choristers (age 7 upwards)
Junior girls practice Fridays from 4.30pm. Gradually the girls are introduced to a fuller schedule to sing on Sunday mornings, and once proficient feed into the SATB Choir.
St Mary's Choir (SATB) meets to rehearse Fridays 7.30pm-9.00pm and for services on Sundays 10.00am-12.15pm & 3.00pm-4.45pm. Teenagers are particularly welcomed, as are adults with good reading skills. Choral Scholarships may be available to full-time students of Swansea University.
We
offer
Free

membership with Free professional choral training.

Opportunity to be part of an outstandingly successful choir and have fun at the same time.

Development of musical skills under the tutorship of a highly qualified professional choir director, experiencing church music at its best in a magnificent church with a superb acoustic.

Development of important life skills such as reading, teamwork, organisation, concentration, and self-confidence.

Regular exam successes have been achieved in Royal School of Church Music Voice for Life exams and ABRSM singing, theory and organ exams.

Regular cathedral singing tours to some of Britain's finest buildings, e.g. St Davids, Llandaff, Bangor, Brecon, Southwark, Gloucester and Exeter cathedrals.

Social events and trips each term, e.g. Christmas Party, summer beach party and BBQ.

A choir in regular demand for radio broadcasts, including live BBC Radio 4 Sunday Worship and BBC Radio Wales Celebration.

Choir CD recording in its planning stages.

Ideal preparation for University Choral Scholarships (including Oxbridge). Former choir members have gone on to become Cathedral Choristers, Choral Scholars or members of the National Youth Choir of Wales.

Regular opportunity to sing with orchestra. Concerts have included performances with the Chamber Orchestra of Wales and Swansea Community Orchestra.

While the Boys' Choir maintains its own schedule and identity, it regularly combines on special occasions with the University Choral Scholars and members of the full SATB St Mary's Choir.

Younger members are gradually introduced to the full routine as their confidence and proficiency grows.

Opportunity to learn the organ may also be available.

Parents with musical ability may themselves be interested in joining the adult section of the mixed-voice SATB choir.

Choral Services take place at St Mary's on Sundays at 11.00am and 4.00pm (SATB) and Tuesdays at 5.30pm (Boys). See our website for the current list of Services and Music.
Dr William Reynolds was appointed Director of Music at St Mary's in 2002. He studied at University of Wales, Bangor where he graduated BMus, MA and PhD, and was organ scholar at Bangor Cathedral. He is a Fellow of the Royal College of Organists, and in 2012 was presented with the Archbishop of Wales' Award in Church Music in recognition of his work at St Mary's. He is Organist at Llandovery College, where he teaches piano, organ and brass instruments, is an examiner for the Royal School of Church Music, and a regional consultant for the Royal College of Organists.
For further details, please contact
The Director of Music:
Dr William Reynolds
01792 467606
twreynolds123@gmail.com
St Mary's Church
St Mary's Square, Swansea. SA1 3LP
(01792) 655489
www.swanseastmary.co.uk