Millennium Window (Martin Donlin)
"They need no light of lamp or sun, for the Lord God
will be their light and they will reign for ever and ever"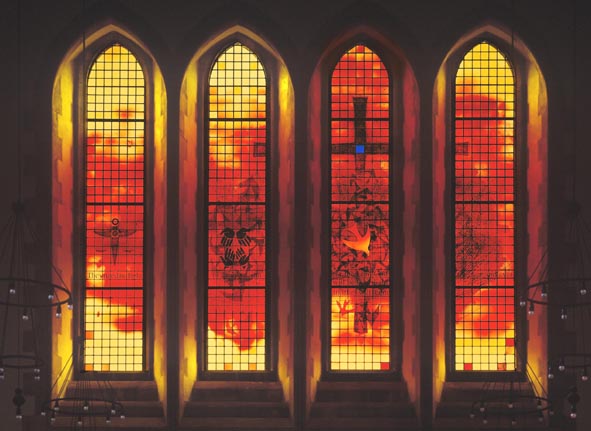 The West Window in St Mary's is the newest stained glass window in the church and was installed in 2001 to mark the Millennium. The window was designed by Martin Donlin and made by him along with staff at the Department of Architectural Glass at the Swansea Institute.
The inspiration for the design is from Revelation, chapter 22, verse 5 – Christ's coming and eternity: "They need no light of lamp or sun, for the Lord God will be their light, and they will reign for ever and ever."
During meetings between the artist and the Church Council, one of the concerns raised was that the amount of light coming into the church should not be diminished. To avoid this, the artist chose warm colours, reds and yellows, to represent the light. The colours suggest that something is about to happen that is not quite here yet, something to look forward to. The intention is to point us beyond ourselves, to lift people up in hope and to take us into the mystery of God. A third colour, blue, is introduced into the window. The idea is to keep the design to a very limited pallet, but to introduce one simple jewel-like colour in the centre of the cross. The intention is to make reference to the three primary colours, the Holy Trinity, and that colour that is symbolic of the Blessed Virgin Mary.
The themes of justice, reconciliation, people, hope, regeneration and renewal have also inspired the design of the window. A symbolic approach has been incorporated: the scales of justice, the open hands of reconciliation, the dove of peace, the tree of life for renewal and regeneration, and the cross for hope.
The glass used in the window is hand made blow flash glass from France. The glass has a thin layer of red, the flash, on top of a pale yellow body colour. The glass has been acid etched on the inside surface to remove parts of the red flash colour, other parts of the glass have been painted with both black trace and a brown matt wash. The entire window has been painted with silver stain on the outside in order to achieve a variety of tones from orange to yellow.
The window is a joint project between St Mary's Church, the City and County of Swansea, and was made possible with a grant from the Millennium Fund.