<![if !vml]>

<![endif]>
Parish Magazine January - March 2018
Contents:
1. Service Times and Dates for the Diary
2. From the Rector
3. Ash Wednesday
4. Foodbank
5. Parish Share
6. Blessing of a new Standard
7. Busking for Faith in Familiess
8. Friends of St Mary's at the Mansion House
9. Riding Lights Theatre Company
10. Listen to the Silence
11. St David's Day/ Dydd Gwyl Ddewi
12. Appreciating Mark's Gospel
13. From the Editor
14. R.I.P.
15. Dydd Santes Dwynwen - St Dwynwen's Day
16. Mothers' Union
17. End of Christmas
18. From Christchurch
19. From the Hafod
20. It's Natural?
21. Parish Contacts

The deadline for contributions for the April - May edition is 18th March, 2018.
Please send to
Many thanks to all contributors to the magazine.
Service Times St.Mary's Church

Sunday 11.00 Choral Eucharist
4.00 Choral Evensong
6.00 Sunday at 6 (Monthly as advertised)
Tuesday 12.30 Healing Service (2nd in month)
12.30 Cymun Bendigaid (4th in month)
5.30 Choral Evensong (Term Time)
Wednesday 10.30 Holy Eucharist
12.45 Lunchtime Service (Holy Eucharist on 1st in month
Friday 12.30 Holy Eucharist
(except 1st in month when MU Archidiaconal at 11.00 )
Saturday 12.30 Holy Eucharist
Morning Prayer 9.30 Tuesday, Wednesday & Thursday.

Ash Wednesday 14th February 7:00pm St. Mary's Church
Mothering Sunday 11th March
Palm Sunday 25th March
Maundy Thursday 29th March
Good Friday 30th March
Holy Saturday 31st March
Easter Day 1st April
Other service times to be announced
Dates for the Diary
January
15th (Monday) 2.00 Memorial Service
6.30 pm Unitas Commitment Service
22nd (Monday) U3A Vestry Hall Coffee Morning
Funeral – Joan Hammond
23rd (Tuesday) Tim Hewitt – Vestry Hall 10.00 – 3.00
25th (Thursday) End of exhibition – prayers.
26th (Friday) U3A – Vestry Hall 10.00 – 1.00
February
2nd (Friday) Kairos Meeting 12.30
6th (Tuesday) Funeral 1.00 pm
8th (Thursday) Riding Lights Theatre – evening.
9th (Friday) College Meeting 1.00 pm
13th (Tuesday) Civil Service Vestry Hall 11.00 – 12.00
16th (Friday) College Meeting
March
1st (Thursday) St David's Day
Dydd Gwyl Dewi Wedding
3rd (Saturday) Swansea Phil. Choir Concert – evening
5th (Monday) Into the Light Exhibition
10th (Saturday) Prayer Spaces for Schools – Training Day 10.00-4.00
23rd (Friday) End of Exhibition
24th (Saturday) Swansea Philharmonic Choir 7.00 pm
Dear Friends,
Happy New Year! Christmas has been and gone for another year but I hope the message of Christmas is one that you can keep all year. Charles Dickens famously wrote the words of Scrooge in A Christmas Carol, "I will honour Christmas in my heart, and try to keep it all the year."
On the first Sunday after Christmas we had the reading about the shepherds rushing to Bethlehem after the angel had appeared to them. There they found Mary and Joseph and the baby Jesus, and their lives were changed forever. While we celebrate Christmas we so often look it as a 'one off' festival in the year – a time to do special things, but think about those shepherds whose lives were changed by the sight of Jesus – they went about telling people what they had seen and heard and they glorified God, and while I'm sure they went back to work, I don't think their lives would ever be the same again…
And Christmas, perhaps without the lights and the trees and the cards and the ridiculously full shops, should be celebrated all year, because it has made a life changing difference to us all – and the challenge for each one of us is to recognise that difference….
Jesus was born to change us all… He is good news for all… And I think that offers three things to think about. First, we are invited to believe that the birth of Jesus is good and life changing news… Many people, even some church goers, profess a faith in Jesus which doesn't really change their lives at all… It may be habit, it may be tradition, it may be part of a search to know Jesus… Whatever it is though, the birth of Jesus isn't life changing for some.
The shepherds went and their lives were changed, and these weren't people who were easily fooled. These were tough men with a tough job and with nothing to gain from this little outing to Bethlehem, but what they saw changed them… And for millions of people since Jesus has changed lives – it may be the dramatic conversion of a criminal or it may be in the day to day strength we can gain from knowing that he is with us, but Jesus wants to change our lives… And there will be times when we struggle with that – when faith really isn't easy and that leads me to the second thing I want to think about – the first is that we're invited into a life changing relationship with the Saviour of the world and secondly we're invited to live as if it makes a difference.
When we hear about churches today we often hear about bad news – we hear of problems, of falling attendances, a lack of money, lack of clergy, too many church buildings, not enough young people – and every one of those things can be a problem and can be pretty depressing unless we believe that God has a future for us and for his church, whatever that church may look like…
Sometimes we talk about good news but we fail to live like we believe it, and then we wonder why people aren't attracted to the church or more importantly to the God we represent. We need to be good news, we need to be people displaying evidence in our lives that something has changed us and continues to change us… I don't believe for a moment that God who sent prophets promising that a Saviour would come for the world, and a God who sent his Son into the world to save the world, and a God whose Son lived on earth offering us an example of how to live and love, and then died and rose again for us, is ever going to be beaten by falling attendances and all of those other depressing things I mentioned earlier.
Those are just distractions which admittedly can discourage us but ultimately should challenge us to confidently tell people the good news about Jesus being born for us all… And that is my third point. We've thought of the invitation to believe. We've thought of the invitation to live as if our lives have been changed. Now we're invited to tell others about it.
The shepherds didn't return to their fields and keep these things to themselves, they told others and I think we have a duty to tell people about news that is potentially life changing for others…
Christmas, like lots of things, has become secularised in lots of ways, but I don't think that's something to sit and moan about, but something to remind us that secularism takes over only when we let it… Each one of us, maybe in small ways, has the possibility of making sure that Jesus isn't forgotten in Christmas, and one of the ways of doing that is by making sure that we don't just celebrate Jesus at Christmas but live as people who are changed by him every day…
The reviews of 2017 looked back over far too many sad and tragic events once again and it's right that we have to reflect on those things, but it's right also that we must reflect and respond with the hope of Jesus, with the joy, goodwill and love of Jesus and make sure that these things, as shared by us, make a difference for others.
May you know, share and offer many blessings in 2018.
IAN
Just in case you are remaining too much caught up in the Christmas spirit, a reminder that Ash Wednesday, the beginning of Lent, this year is on February 14th.

FOODBANK
We continue to support the work of the Swansea Foodbank with regular donations. It is sad that the work of foodbanks is so necessary but it is good that they are there. Shortly before Christmas a couple of us went to the City Church where the work is based and saw the work of volunteers but also the joy of people who had received real lifelines in the parcels of food and other things. Please keep praying for the work of the foodbanks, for the volunteers and for those who receive parcels of help, and please keep contributing if you possibly can.
PARISH SHARE
As most of you will know, each year the churches pay what is called the Parish Share. This contributes to the cost of ministry throughout the diocese, paying for local clergy; which includes housing and pension costs as well as their stipend; diocesan officers and senior clergy (such as the Archbishop, Archdeacons and the Dean). For years this has been partially subsidised by a contribution from the Representative Body of the Church in Wales (a kind of Head Office). For various reasons this grant has had to be reduced over the years and ultimately it will probably disappear altogether meaning that our Parish share inevitably has to be increased. This raises the very real possibility that parishes will have to be pay for their clergy in the future and this is something that is certainly being discussed over Ministry Areas at the moment. While this is certainly a challenge it would put us in the position of many other church denominations who are more used to paying for ministry.
This year there will be a 5% increase in the parish share for each of our churches so we're taking this opportunity to ask you to consider your giving to the church. It may be that you are giving all you can and we are grateful for whatever you can give. Your life in the church isn't and never has been dependant on what you can give, however if you do feel able to contribute more than you do currently, we would be really grateful. Some people are now choosing to pay regularly by standing order and if you would like to do that then please speak to the Treasurer or to the clergy who will be able to give more advice on this.
Ultimately it is a call to mission – the more people we have in our churches, the more the parish share will be 'shared'. And our desire to welcome more people into the church should never be based upon a need to get more money, but a desire to share good news which is for all people and a real desire to respond to the call of Jesus to 'go and make disciples of all nations…' Mission isn't easy but it is the primary role of the church, and doing it together, while challenging, can be amazingly rewarding!
BLESSING OF A NEW STANDARD
On January 16th in Christchurch one of the Royal Artillery organisations will have a new standard dedicated in Christchurch in a short service beginning at 7pm. Anyone is welcome to attend this service.
<![if !vml]>

<![endif]>Last year the Revd Ian Folks went out busking with his guitar outside St Mary's and raised an excellent £663 for Christian Aid. This year he repeated the busking and raised a superb £856 for the excellent Faith in Families project which operates the family centres throughout the diocese. At various times Ian was joined by supporting 'artists' who included the Archbishop of Wales and the Deputy Lord Mayor of Swansea. The donation was boosted by the proceeds of the raffle at the Christchurch Christmas meal. Thanks to all who contributed and thanks to Ian for doing this again.
FRIENDS OF ST MARY'S AT THE MANSION HOUSE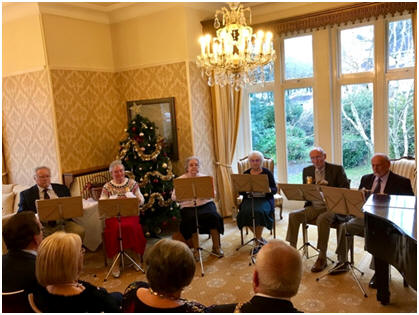 Early in December the Friends of St Mary's were invited back to the Mansion House by the Lord Mayor where we were joined by the Lord Lieutenant and Mrs Hilary Lewis. The afternoon began with music from our handbell ringers who played a seasonal medley which was well received by all.
The Friends have continued to grow since the relaunch back in March 2017 and continue to contribute to various projects in the church. They also contribute very much in the social life of the church and we look forward to the group continuing to grow. If you know of anyone who may be interested, please take one of the leaflets at the back of the church!
RIDING LIGHTS THEATRE COMPANY<![if !vml]>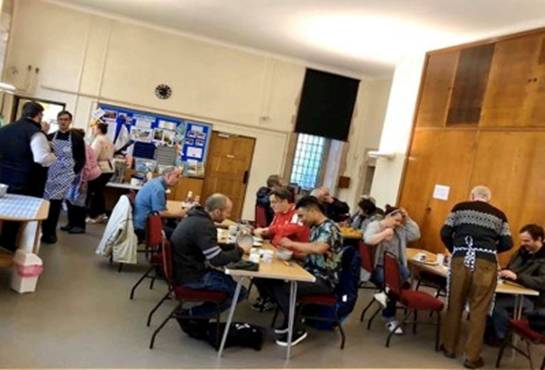 <![endif]>
On February 8th (see the poster) St Mary's are delighted to be hosting the Riding Lights Theatre Company. St Mary's has been chosen as the only church in the diocese to host this special performance which is touring throughout Wales and looking at 'Family'.
Riding Lights are the most famous Christian Theatre Company and have toured extensively throughout Britain and further afield and this is a wonderful opportunity to see them locally so please come along and support this event – you will be guaranteed a good evening.
top
We live in a busy world. There is so much pressure to do things. It can be very tiring and intense. It's no wonder that we may often feel exhausted!
This is reflected to an extent in church life. There are many things which need to be done and those which have to be done. Then there are the countless other matters which never get done, even though we really mean to.
We know that prayer is important, but do we really give God our time?
Early in January I, with most clergy and many lay people of the Church in Wales, attended a Listening Day, organised by the St. Padarn's Institute. There have been many such events around Wales and our own Reverend Helen Rees took one in Nicholaston House.
I was at the Listening Day held in Ty'r Pererin in St. David's, somewhere I know and love. Ty'r Pererin was an old school which was converted in recent years to be a Pilgrim centre where a wide variety of people could meet for various purposes, remembering that nearby is the Shrine of St. David which had been destroyed in former years and restored about six years ago in a very special service of rededication.
So it was that I arrived there for the Listening Day. We talked and said morning prayer. Then we were asked to find a space in the building to look at various objects which had been carefully placed and to sit and pray and try to listen to God.
I sat in a window looking down at the ancient cathedral. There was a framed Lord's Prayer in Welsh with a candle before it. It was amazing to actually stop and be still. The quietness was amazing and, as I looked down to those ancient buildings, I thought of the presence of Jesus. As I sat, I felt not the image of Jesus walking around but of Christ on the Cross. The feeling that the pain which he suffered was for us all, was stark. Then a robin hopped in front of me. I thought that even in the horror of the Cross, the beauty of God's creation is still there.
At lunchtime I walked down to the cathedral and made my way behind the Quire to the Shrine of St. David. As I stood and prayed there, the feeling that I was on the spot where St. David and his monks walked and prayed so long ago was intense. I realised that it was not just us today with our problems. We worship God with David and all those people who did so in the past and those who will in the future.
We think our problems in the church are severe but it has ever been so. The saints and all those who lived at St. David's monastery, where the cathedral now stands, had their problems too. As with them, God will see us through.
Reverend John Anthony
ST DAVID'S DAY / DYDD GWYL DDEWI
On St. David's Day the atmosphere at St. David's is very different to that which I experienced on the Listening Day as a great many people come together to commemorate St. David in that city. The focus is still very much on prayer as the clergy and many worshippers pause to pray at various holy and historic places, culminating in worship at the cross before going down to the cathedral for a service of celebration.
Reverend John Anthony
APPRECIATING MARK'S GOSPEL
During 2018, most of the Gospel readings in church will be from either Mark's Gospel or John's Gospel. Here are some themes of Mark's Gospel which help us to appreciate the wonderful story he is telling us. -
A bit of background
The Gospel was probably written about thirty years after Jesus died, around 64 AD. It's likely that it was written in the persecution from the Emperor Nero against Christians, because persecution is a major theme. Peter may well be the main source, and he knew a man called John Mark, as did Paul (1 Peter 5:13). It's almost certainly the first gospel to be written and forms the basis of the others. Matthew and Luke both use chunks of if, and John seems familiar with it. That could make it the most important thing ever written.
So… it's interesting that the quality of the writing is shoddy. It's as if someone who left school semi-literate is entrusted to write the most important document ever. A reminder that God can use even the things we think we're rubbish at - if we are passionate about doing it. 'But [the Lord] said to me, "My grace is sufficient for you, for my strength is made perfect in your weakness"' (2 Cor 12:9).
Some themes
'For the Son of Man came not to be served, but to serve;
And give his life as a ransom for many.' (Mark 10:45)
This famous verse is like a summary of Mark's Gospel. In the first half of the Gospel, Jesus tours Galilee. He serves: healing, delivering and teaching all who come to him. The second half of the Gospel though journeys to Jerusalem. Jesus' crucifixion becomes the focus, and this verse is the explanation for it. Like a ransom paid to free a slave, Jesus' death sets us free: he delivers us from our separation from God.
Action Adventure Jesus
Mark's Gospel is a breathless series of events. 'And immediately' is the constant refrain linking two stories, as Jesus goes from one miracle or stand-off to the next. You get a sense of being caught up in a whirlwind of action, but with Jesus both in control of it (calming the storm), and able to step out of it to spend time with his Father.
If any want to be my followers, let them deny themselves,
Take up their cross, and follow me
Written against a background of persecution, Mark's Gospel is stark about the cost of following Jesus. Disciples will need to renounce riches, live as servants and may have to pay the ultimate price.
But at the same time, Jesus' disciples are shown not as heroes but as compromised failures. Peter fears for his own life and so denies Jesus - the very opposite of what Jesus calls him to do. The disciples lack faith, are half hearted, betray him, and desert him in his hour of need. Maybe that makes us feel better about our efforts! But remember too these are the people who turned the world upside down with the Holy Spirit in them, and we are promised that Spirit too.
The women around Jesus, however, show much more courage, standing with him at the cross. And they are the ones to witness the resurrection - though they then curiously clam up when asked to go and tell others!
Who do you say that I am?
This is the central verse and the central question of the Gospel. Jesus asks the disciples what the crowds say about him, and then he asks the disciples what they think. Peter gives the answer: Jesus is the Messiah.
The question is asked lots in different forms. When he calms the storm, the disciples ask in fear, 'What kind of man is this, that even the wind and waves obey him?'
And at the crucifixion, faced with darkness covering the land and the report of the curtain temple tearing in two, the centurion in command of his death exclaims, 'Surely this man was God's son!'.
And this is the climax of the Gospel. Mark intends that we come to the same confession as Peter and the centurion: Jesus is God's Son, the Messiah. And in response, we take up our cross and follow Him, who gave His life as a ransom for us.
Rev'd Ian Folks
We send our warmest congratulations to Huw Tregelles Williams on the occasion of his presentation of the honorary degree of D Litt from Swansea University.
As we move into 2018 we look back at Christmas with thanks to everyone who worked so hard in all three churches in the parish to mark the celebration of the Nativity. With Dydd Gwyl Dewi / St.David's Day, Lent, Holy week and Easter not far off we have a busy time ahead. Many thanks to all who have contributed to this edition. Following discussions with the Rector it has been decided that this edition of the magazine will take us up to the end of March, with future editions produced every two months thereafter.
N.B. Contributions for the next edition of the magazine should be submitted by March 18th 2018.
Blwyddyn Newydd Dda Happy New Year
R.I.P
It is with sadness that we learned of the deaths of
Gwyneth Hall
Joan Smith
Brian James
Joan Hammond
Claire Lewis
Thomas Giles
The Reverend Dr. David Walker
We send our sympathy to their families and friends.
May they rest in peace and rise in glory
DYDD SANTES DWYNWEN - ST DWYNWEN'S DAY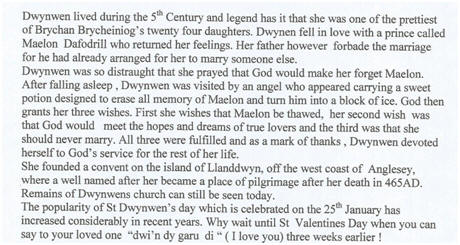 David Williams
N.B. The Pilgrim course at Christ Church - Thursdays at 1.30pm is open to all.
Mrs Gay Davies thanks everyone for the fond wishes, messages, cards and visits folloing her recent operation
M.U. News for JANUARY/MARCH 2018
Our New Year began on 8th January with a service on the Theme of Light, led by Rev'd. Sue Knight. We were depleted in numbers, due to illness, but it was a very thought- provoking afternoon for Epiphany and enjoyed by those present.
Members are reminded that the A.G.M. will take place on Monday, 22nd January, chaired by Revd. Ian Folks. Please come and give your support. This is an important occasion in every organisation.
The New Year Lunch will be held at Mamma Mia's on Monday 12th February, at 12.30pm. Members of the Congregation, Male and Female, are invited, along with all the Clergy and their wives. Come along and share a few hours of fellowship with us. Please ask Margaret Davies, Kitty or Ruth for details.
A Mothers' Union Wave of Prayer will take place on Tuesday 20th February. Our allocated time is from 9.00 – 9.40am.
The Revd. Helen Rees will lead us in our Lenten Reflection Afternoon on Monday 26th February, at 2.00pm.
On 12th March, we have a "Victorian Gentleman from Llanelly House" paying us a visit, at 2.00pm.
We are grateful to Ruth for the new carpet in St. Anne's Chapel, enhancing the area now that the water problems have been sorted out.
We have a busy year ahead of us in our Diocese, with the General Meeting being held in Swansea in September. More on this later in the year.
Kitty Griffiths, Joint Branch Leader
THE END OF CHRISTMAS
Decorations packed away in boxes, Christmas trees put out with the rubbish – or replaced, with much difficulty, in the garden – Epiphany really does mark the end of the Christmas season. A recent article in The Times on the subject of the Epiphany, gave pause for thought.
Commemorating, as it does, the visit of the Magi to the Infant Jesus the feast was a highlight of the Christian year for centuries. In the past, the festival would have continued until the first of February, until Candlemas - the Nativity Scene, complete with Sages remaining on display until that date. The name, from the Greek meaning 'to show', was symbolic of the moment when God incarnate was revealed to the world. Now, the word is more often used in the sense of an artistic or literary moment of inspiration or vision, with little or no appreciation of the religious festival.
Although the story of the Magi only appears in the Gospel according to St. Matthew it has been represented in paintings by artists including Leonardo, Durer, Rembrandt, Velazquez and Botticelli and depicted in stained glass, mosaic and sculpture. The story remains a popular subject for Christmas cards. Early surviving images date back to the 2nd and 3rd centuries. Many of these artistic images show the Magi dressed as ambassadors of subject nations might have been attired when travelling to pay tribute to the Roman emperor.
These paintings of the Magi, of three strangers, depicted in what would have been considered barbarian dress shows them as heathens - those the Messiah has come to save. In these images we see Christianity revealed not just to a small section of humanity, but to the whole world.
Patricia Jenkins
Messy Church: Travelling Nativity
In Mexico, a tradition developed called a 'Posada'. This involves figures of Mary, Joseph and a donkey making their way around various neighbourhood homes en route to the crib at the local church. Gradually this has expanded to whole nativity sets coming to people's homes.
In Christchurch we decided that this would be a good way of engaging children from Christchurch Primary School with the Christmas story. So our Messy Church, which meets in the school, made a Posada in its meeting in early December. It then travelled around a dozen homes in the run up to Christmas. We included a book, and children drew pictures, added photos and said how much they had enjoyed having the Posada in their homes.
A twist we introduced was to that the Posada was accompanied by a flock of knitted sheep. A sheep remained behind in each home, with the intention that it would be re-united with the rest of the flock at the crib, during the Crib service on Christmas Eve. It certainly attracted several additional families to the service.
Many thanks to those who were involved: particularly Jane James for the arduous task of knitting and stuffing fifteen sheep! Also to Angela Reed who developed the crafts and the Posada kit, and Mrs Tucker from the school who arranged the collections. We hope to make it a tradition in years to come.
Christmas celebrations at Christchurch
Around 40 people attended the Christchurch Christmas meal at the Norton House Hotel. People enjoyed a wonderful meal with good company and a lot of fun! Thanks to Jeff Jones for organising this once again.
Celebrations continued with the lovely candlelit carol service. On Christmas Eve there was a really well attended crib service where we were joined by Emily Jones who sang a beautiful Christmas lullaby to begin the service.
The service continued as the crib scene was built up with many children taking the various parts and the costume department once again performing admirably in getting everyone dressed and in the right place!
Thanks are due to everyone who took part in the Christmas celebrations, decorating the church, preparing and helping with services and joining in the services.
Pilgrim Course
The Pilgrim Course has continued at Christchurch but is open to anyone in the parish. The course has gone really well with enjoyable discussion and it offers a chance to reflect on our faith in more detail. It clearly emphasises the need for more bible study and prayer throughout the churches and we hope to expand such courses over the coming months. Please look out for more details!
Rev Ian Folks
In St.Marks and St.Johns life has been progressing well... In November we had our Remembrance Sunday service and started to get ready for December. Christmas preparations began early with the Fayre at the end of November. Various clashes meant it wasn't as busy as normal but we had a really lovely time, raised money and most importantly of all, enjoyed spending time together.
We also had our Christmas lunch in the Smiths Arms. This was absolutely lovely as ever. We left the meal happy to have spent time together and very full of all the yummy food! We had our carols and lessons service with various readers and carols. It was a very good occasion to think about the birth of Jesus.
At the service a tub of Quality Street was passed around. It was decided that at all our Christmas services this year, people would be offered chocolate with the rest of the Quality Street and a tub of Celebrations being shared. There are still some left to share! The idea of the chocolate was to celebrate and to extend our welcome to everyone coming to Church and to treat ourselves as well! As we think of the greatest gift that we can ever be given with the birth of Jesus, it's good to remember how we can be blessed and be a blessing to others.
The congregation, as ever, are enjoying worshipping together and helping those in need through the foodbank and contributing to Baby basics in January. Baby basics is run to provide families with new born babies who are in need with a moses basket full of the things that a new born will need. Some of the ladies in Church have started knitting !
In January we will be holding our Christingle service (on 28th January at 4:00pm). At this service we will be joined by St.Joseph's Catholic Cathedral choir and also the Hafod school choir. It should be a joyous occasion as we continue to celebrate Jesus the light of the world. Please come along and bring your friends and family too !
IT'S NATURAL?
Snowdrops crowding out other growth, lighting both sides of a woodland path, daffodils holding their heads above surrounding grass, crocuses clustered around the base of trees. Those of us lucky enough to have visited Clyne Gardens will have seen the welcome signs of spring. Turning a corner to find a grassy bank studded with primroses, violets' heart-shaped leaves filling in the spaces with the promise of delicate flowers. The scent of a witchhazel's wispy flowers or winter-flowering honeysuckle perfuming a quiet area.
Strolling alongside a stream, it's banks unexpectedly splashed with vivid yellow flags, the shaping and planting of these gardens makes it seem that flowers, shrubs and trees have established themselves naturally. The flowers of early spring, along with, later, bluebells wild garlic and foxgloves might well have been a natural feature of the area but the number of exotic trees and shrubs from far-flung parts of the world highlight the degree of human planning involved.
We are fortunate to live in a part of the world where wild flowers still grow naturally. Gower is just 'around the corner', Carmarthenshire and Pembrokeshire, the Neath and Swansea Valleys all maintain places where natural plant-life flourishes – an irreplaceable resource we need to safeguard. While these are areas which may be more difficult to reach, Clyne is more accessible and while these beautiful gardens might be the outcome of, it must be said, inspired landscaping and constant management, the result is a joy. It could be the perfect illustration of the story of a bishop who, while visiting a garden, spoke to the gardener about the beauty of the garden and the wonder of The Lord's work. 'Yes,' replied the gardener 'but you should have seen this place when The Lord had it to Himself.'
Gwyneth Anthony
Clergy:
Rector: The Revd Canon Ian Rees 01792 472760
Church Office : Tel 01792 655489
Associate Priest: The Revd Helen Rees 01792 472760
Assistant Curate: The Revd John Anthony 01639 638434
Assistant Curate: The Revd Ian Folks 01792 205190
Reader Emeritus Mr Les Taylor. 01792 234639
Parish Wardens: Mr Allan Jeffery - 01792 468015
Mrs Ruth Roberts - 01792 676732
Parish Treasurer: Mr Allan Jeffery 01792 468015
Lord Mayor's Wardens: Mrs Kitty Griffiths. 01792 813651
Mrs Helen Murrary. 01792 535813
St Mary's:
Treasurer: Mr Allan Jeffery. 01792 468015
Director of Music: Dr William Reynolds. 01792 467606
ChristChurch:
Wardens: Mr Christopher Davies 01792 205968
Mr Michael Paddison
Treasurer: Mrs Christina Davies 01792 205968
Safeguarding Officer: Mrs Jen Jones. 01792 423133
Hall Bookings: Ms Pam Jones. 01792 521763
St Mark & St John:
Wardens: Mrs Sandra Davies. 01792 422749
Mr William Moon. 01792 415327
Treasurer: Mrs Betty Jones. 01792 655619
Safeguarding Officer Mrs Sandra Davies.01792 422749
www.swanseastmary.co.uk