<![if !vml]>

<![endif]>
Parish Magazine April/May 2019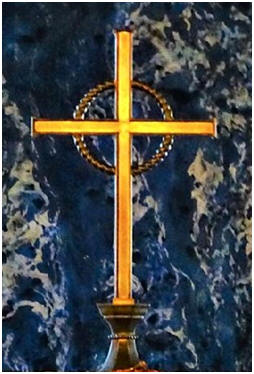 Contents:
1. Service Times and Dates for the Diary
2. Rector's Letter
3. Changing Times
4. From the Editor
5. Wedding Belles
6. The Beating Heart
7. A New Experience
8. St Mary's Ladies Guild
9. Shrove Tuesday
10. Holy Week
11. MU News for April/May 2019
12. A Contest with Big A-peal
13. News from Christchurch
14. St John's Hafod
15. Hot Cross Buns, Easter Eggs - and Mince Pies?
16. Contacts



Service Times
St.Mary's Church
Sunday 11.00 Choral Eucharist
4.00 Choral Evensong
6.00 Sunday at 6 (21st May & 18th June)
Tuesday 12.30 Healing Service (2nd Tues. in month)
12.30 Cymun Bendigaid (4th Tues. in month)
5.30 Choral Evensong (Term Time)
Wednesday 10.30 Holy Eucharist
12.30 Lunchtime Service (Holy Eucharist on 1st in month)
Friday 12.30 Holy Eucharist
(Except 1st in month when MU Archidiaconal at 11.00)
Saturday 12.30 Holy Eucharist

Morning Prayer Tue, Wed & Thursday 9:30am
Christchurch
Sunday 9.30 Holy Eucharist and Sunday School
Thursday 10.00 Holy Eucharist
St John's Hafod
Sunday 10.00 Holy Eucharist
Dates for the Diary
APRIL
3rd (Wednesday) Lent Course 2.15
4th (Thursday) Ladies' Guild 2.00 pm
5th (Friday) Mother's Union Eucharist
9th (Tuesday) Vestry Meeting 7.00pm
10th (Wednesday) Lent Course 2.15 pm
13th (Saturday) Diocesan Guild of Bellringers 5.30 pm
17th (Wednesday) Lent Course 2.15 pm
18th (Thursday) Ladies' Guild 2.00 pm
MAY
2nd (Thursday) Ladies' Guild 2.00 pm
3rd (Friday) Mothers' Union Eucharist 11.00 am
15th (Wednesday) 4D Choir Concert 7.30 pm
16th (Thursday) Ladies' Guild 2.00 pm
25th(Saturday) Choir of St. Martin-in-the-Fields 7.00 pm
26th(Sunday) Dean of Brecon preaching at 11.00 Eucharist
30th(Thursday) Ascension Day Eucharist at 7.00 pm.
8.30 Symphonic Meditation for Organ- L'Ascension by Messiaen
31st (Friday) Wedding 12.00
JUNE
1st (Saturday) Morriston Orpheus Concert 7.00 pm
2nd (Sunday) 60th Anniversary Celebration at St Mary's with the
Archbishop of Wales
N.B.
Articles for the next magazine can be sent to this address
Deadline for June/July edition is 20th May, 2019
Many thanks to all contributors to the magazine
Dear all
This is always a strange time of year in our church calendar. We journey through Lent and into Holy Week before beginning the greatest celebration of the Christian year, Easter. It is such an important time for reflection and perhaps reform of aspects of our lives. Lent isn't something to embark upon merely for the season, but a time to grow as disciples of Christ, ready to serve him more faithfully and grow closer to enjoying the fullness of life that he wants for us.
In a recent sermon I referred to the advice of John Wooden, the former coach of the UCLA basketball team, who said, "Be more concerned with your character than with your reputation… Your character is what you really are while your reputation is merely what others think you are." He's quite right isn't he ?
How many people with good reputations have been brought down by some flaw in their character which has suddenly been revealed. It can work the other way too – I don't know if you're like me but sometimes, and I try not to, I make judgements of what a person might be like – we judge on all kinds of things, but we shouldn't, and I'm really happy to say that I have been proved wrong on so many occasions when I have doubted someone's character.
What we often see on the outside isn't necessarily what that person is like in reality. D L Moody, the American preacher, said that 'Character is what you are in the dark,' reminding us that character isn't what we do when we're in front of others, but what we do when we haven't got others around, or when we don't feel we need to impress the person before us.
During Lent, one of the things that I think we're called to look at is our own character… It's a time to ask ourselves the sometimes painful and probing questions about our relationship with God, and our relationship with other people and I think our readings this morning really help with that.
First of all, in the reading from Genesis (15:1-12,17,18) we're reminded of the account of Abram. He was struggling a little bit, but was promised that God would be his shield, God would protect him. More than that, Abram worried that he didn't have an heir and, according to custom, if he died without a son his eldest servant would become his heir. Much as Abram loved Eliezer, he wanted a son of his own to carry on the family line, and so God instructed him to look up to the skies and count the stars, and God promised that he would have descendants as numerous as the stars… and Abram believed him.
That is really crucial – as we sit in church on a Sunday morning when we could be doing something different, it seems silly to suggest something about what we believe, but here we are told to believe what seems impossible, to have a vision of what God can really do for us. Abram believed that his life would be completely transformed. How confident are we of that ? And how willing are we to let God transform us?
That leads on to Paul's letter to the Philippians (3:17-4:1). The letter to the Philippians is wonderful – in spite of it being written from prison, it is Paul's letter of joy, and joy isn't just happiness, it is something that goes way beyond happiness – it is something that is in him, something that is really lasting, but this letter wasn't just about joy because it also contained some warnings, or perhaps some advice would be a kinder way of putting it.
Paul suggested that people should imitate him in an effort to be more Christlike. Now this could have been the height of arrogance but actually, just a few verses before the section we've heard (v.12) Paul has said that he is far from perfect, but he is trying. He is striving towards this complete transformation in his life – a transformation that will lead him to live more closely with God and with those around him, even those he struggles to like…
Paul urged people to try and be more Christlike in their character by imitating him and we're left with the question of what would it look like if someone imitated us?
Next, Paul warns of people whose minds are set on earthly things, reminding them that their citizenship is in heaven. These people understood citizenship well – this was no BREXIT style discussion. They understood that Roman citizens very clearly had a duty to promote the interest of Rome wherever they were. And Paul suggested that as citizens of heaven we have a role to promote the interests of the kingdom of God and one of the ways we do that is by being more like Jesus.
But this is something that we so often struggle to do – it's easy to see the faults in others, they always have so many, but what about us? What are our faults, what are the parts of us that wouldn't look much like Jesus if people imitated them?
Finally, Paul tells his readers to 'stand firm in the Lord'… He knew that there would be many challenges, temptations and negative influences that people could give in to, but he asked them to stand firm and be confident that God is the one who can give us that strength of character to be more like the people he wants us to be, but for that to happen we must allow God to work in us, expecting transformation.
So we are left with some questions – firstly, how much do we expect God to fulfil his promises, living confidently with the faith that God can do all things? Secondly, what would it look like if someone imitated us? Thirdly, are we willing to allow God to transform us more and more into the person that he wants us to be, or are we comfortable picking and choosing the parts of our lives where we include him?
That leads us to our gospel reading (Luke 13:31-35). In the reading Jesus laments over Jerusalem and its problems. He uses Jerusalem specifically here, but it is a symbol of the world. Jerusalem stood for so much of what the world was about at that time – there were the Roman authorities, the religious leaders, a good measure of wealth and poverty, all kinds of disputes and rivalries, some faithful people , no doubt, trying to live good lives and others who were ready to take advantage of those who were weak in some way.
The world today has all kinds of issues too. This week there has been ongoing conflict in parts of the Middle East, there has been the dreadful attack in New Zealand, the rather shambolic discussions about Brexit and these are only a few of the things going on. I wonder, when Jesus looks at the world, how he laments today, how he grieves for those who are broken or hurting, how he sees through reputations to look at a person's real character.
During the early days of the Salvation Army, William Booth and his associates were bitterly attacked in the press by religious leaders and government leaders alike. People didn't like the fact that they were dealing with all kinds of difficult people, in difficult places - in spite of what the gospel says about how we absolutely must be doing those things!
Whenever William Booth's son, Bramwell, showed him a negative newspaper piece, he would reply, "Bramwell, fifty years hence it will matter very little indeed how these people treated us; it will matter a great deal how we dealt with the work of God."
Good works are vitally important and today the church and individuals within it contribute enormous amounts of time and energy and money to helping others, which is brilliant and essential and good news that we must share, but today and during this Lent season we're also asked to look a little bit more closely at ourselves. Not what we do, but who we are in the eyes of God, and what God really means to us ? Is he someone through whom we seek ongoing transformation or is he a comfortable Sunday friend?"
I've shared that to help us think about the possibility of transformation in our lives and in our churches. As we celebrate Easter we will be reminded of God's ultimate power, the power of life over death, but we're also called to think of the power of transformation, of hope, of love. May we be people who know those things and live them out in our lives.
Finally, later in the magazine there is a tribute to Billy Moon, but I would also like to just mention here his friendship, his service, his humour and his commitment to church and parish life. We will all miss you Billy.
I trust you will all know every possible blessing of Easter.
IAN
CHANGING TIMES
The year is really flying by. Soon Lent will have ended and we will arrive at the joyous season of Easter.
These past few years have been difficult for our country. As I write it has become even more stressful as we see the confusion that exists over the future of Britain and the European Union. Hopefully this will soon be resolved so that we can all again think about other things.
Speaking more personally, our son, Ieuan is to be married in May at St David's Cathedral. For many years he was a young chorister in the choir at St. Mary's before singing as a bass here. He then went on to St. David's and Portsmouth Cathedrals where he was a choral scholar. St. Mary's was an important place for him as he learned to sing and develop his skills. He will always be grateful to so many people in the parish.
For all of us, it is a time of renewal. As the buds appear on the trees after a long winter, we also look forward as we move from Lent to the joy of Easter. In spite of the damage humans do to the environment, nature can still win through and see new life return. So it is for Christians. From those dark moments which we all may experience, we can go forward with Christ to the new life of the Resurrection.
Rev'd John Anthony
With Christmas and New Year barely behind us we are already well into in Lent and are looking forward to Easter. Many of the meetings, talks and events of this season will have already been announced in the weekly bulletins, but do look out for further announcements. Another occasion which is rapidly approaching is that of the 60th anniversary of the re-consecration of St. Mary's. Exhibitions, concerts and other events marking this momentous occasion are quite definitely dates to put in your diary. Not least the services to truly celebrate this anniversary.
WEDDING BELLES
Did you, or any of your family, get married in St. Mary's? If so please let me have a photo with details, for a display of weddings in St. Mary's over the past 60 years.
Thanks, Ruth Roberts.
THE BEATING HEART
It was in 1998 when we arrived in St. Mary's which was then a separate parish. The church at the heart of the city had always been a special place to so many people in the surrounding district. When living in Skewen we, in that parish, often thought of it as a focal point for the area, even though our cathedral was in Llandaff. So it was a great pleasure and privilege to come to Swansea and be part of St. Mary's as a Reader. It was a few years before we were joined by the other churches of our new benefice and this, now called the Parish of Central Swansea was to be a great way of working together in the city.
This year we celebrate the 60th anniversary of the re-consecration of St. Mary's and many events are planned. Many people will have spoken about the devastation after the wartime bombing which left the church as a ruin. Many including our Reader Emeritus, Les Taylor and the late Sid Kidwell have spoken eloquently of what it was like when those bombs had fallen. It was a tremendous act of faith to rebuild the church as a witness to Christ in the heart of what had been a destroyed town. So much had been lost. Ben Evans, the great store often regarded as the Harrods of Wales, was a smouldering shell. It seemed that the heart had been ripped out of Swansea, a town which had been the largest in south Wales before Cardiff began to grow.
Much has changed in Swansea since those bombs fell. In spite of all the changes, it is still that city on the edge of a beautiful bay and we in our churches are part of it, being a welcoming and inclusive group of Christians, set in the city to proclaim God's love.
Each of our churches has much to give and St. Mary's, with its position in the very heart of the city, has a powerful presence where hopefully all people can find a place of prayer and peace.
In all our celebrations this year, we give thanks for the wonderful work and vision of those who rebuilt and those who have continued to show the presence of Christ here in this city.
May we always be the beating heart in centre of the city.
Fr John.
A NEW EXPERIENCE
On coming Swansea University this September, a choral Scholarship in conjunction with St. Mary's Church was not what I'd had in mind. Yet know I find myself thinking, "where would I be without it?".
Not only do I enjoy the endless stream of music that we sing through as a choir - never before have I managed to sight sing something on the Friday and perform it almost perfectly on the Sunday! But it's the wonderful people I've met whilst doing this that have really made Swansea for me. Their welcoming arms have scooped me right up and I'm afraid I'm not going anywhere anytime soon!
But honestly, the breadth of music we've covered has really inspired me to keep going with choral music and cathedral style singing. As well this though, it's continuously fed my love of music and William has really educated to me as to how much beautiful stuff there is out there!
Morgan Rees-Deacon
ST MARY'S LADIES' GUILD
The 2019 Spring and Summer Programme of the Ladies' Guild got off to a good start with our A.G.M., chaired by Canon Ian Rees, which took place on 7th March. Our following meeting on 21st March took the form of the Holy Eucharist, which was conducted by Canon Ian Rees.
Further events are as follows:
4th April The Welfare of Animals - The Pettifor Trust
18th April Care and repair : what you can have - Dawn
2nd May A Talk and Films on a Coastal Theme - Joe Scute
16th May Poetry Reading - Mari Thomas
6th June Bingo
20th June To be announced
4th July Clive Williams will perform a programme of Piano Music
18th July The Summer Trip to Saundersfoot. Details to follow.
Meetings take place on Thursdays at 2.00p.m. All are welcome.
The members of St. Mary's Guild are pleased to take this opportunity to send their congratulations to Mrs. Betty Williams on the occasion of her 100th birthday. (The late Archdeacon Harry Williams was instrumental in forming St. Mary's Ladies Guild, now St. Mary's Ladies Guild.)
Olwyn Dobson, secretary
<![if !vml]>

<![endif]><![if !vml]>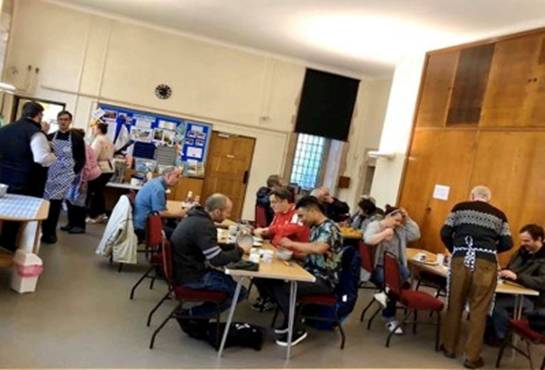 <![endif]>

Following evensong on Tuesday 5th March the small congregation enjoyed an evening of pancakes and conversation. We know that Shrove Tuesday is the day before Lent on Ash Wednesday, on which day we ask for forgiveness in our lives within the Church, and begin preparation for fasting during Lent.
Pancake day derives its origin from an old custom of using up all fattening ingredients in our homes, which were, in general. eggs, milk and flour. Our pancake evening didn't differ much from that old tradition: 'Fat Tuesday' saw us combine the ingredients of flour, eggs and milk to make our pancakes, we did, however, add a filling of stewed apple and topped the pancake with cream – Yummy!
Allan & Margaret Jeffery
HOLY WEEK 15th - 21st APRIL 2019
Monday
12.30pm Eucharist & Reflection in St Mary's
followed by bread and cheese lunch
Tuesday
9.30am Ministry Area Morning Prayer in St Mary's
5.30pm Choral Evensong in St Mary's
Wednesday
10.30 Eucharist in St Mary's
12.30pm Service in St Mary's followed by lunch
Maunday Thursday
7.00pm Eucharist and stripping of the altar in St Mary's,
Christchurch and St John's
Good Friday
10.30am Messy Church in Christchurch
2.00pm Holy Hour in St Mary's, Christchurch and St John's
Holy Saturday
12.30pm Lunchtime prayers & reflection in St Mary's
7.00pm Easter Vigil in St Mary's and St John's

Easter Day - We celebrate the Risen Jesus
Easter Eucharist Celebration: Christchurch 9.30am
St John's 10.00am St Mary's 11.00am
4.00pm Easter Evensong at St Mary's
<![if !vml]>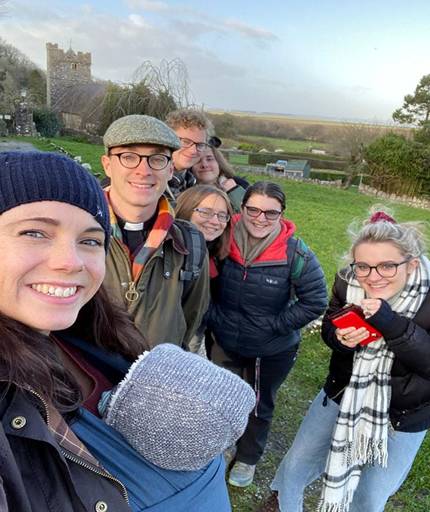 <![endif]>
Having relinquished my role as Diocesan President there was a request to "pick up the reins" once more as branch leader. I was happy to do this and at the A.G.M. the decision was ratified. Kitty and Margaret have managed so well over the past 3 years and I thank them so much for that. The A.G.M. was a jolly meeting – all present commented on that. My thanks to Canon Ian – he obviously lifted the mood!
Our Annual dinner was held in The Woodman in Blackpill – almost 30 members and friends enjoyed a happy time of food and fellowship.
The Global Wave of Prayer reached our branch at the early hour of 9a.m. on a Wednesday in February. For me this is such an important act of witness and worship when we remember all our members worldwide, but specifically those in our link Diocese of Free State, South Africa; Bondo in Kenya; Offa and Ogbia in Nigeria; and Argentina in Argentina. This prayer wave goes continually around the world and so it is of immense importance that we continue that wave – what a privilege to be a small cog in the huge wheel that is our Global Christian Organisation. Just 5 members, plus 1 excited dog, were present to light the 7 candles, say prayers, sing hymns and listen to facts about our links. It was a beautiful 45 minutes.
Anita gave us a very interesting illustrated talk on her visit to Monet's Garden at Giverney, France – it's somewhere I've always wanted to visit. That would be a wonderful MU outing for sure!
Anita talked of Monet's life and his acquisition of the site that was to become his masterpiece. There was so much more to it than the "bridge over the waterlilies". Anita and Ken also toured the house itself to see it as it would have been in Monet's time – there was so much of Monet's artistry in there too, which was fascinating. Thank you Anita. Thanks also to Allan who helped with the "visuals"
At the same meeting we welcomed and enrolled Ray into our branch and M.U. and transferred Helen from her previous branch. We are now 27 members, 4 of whom we regard as Indoor Members.
Canon Stephen Ryan agreed to lead us in a Lenten talk at the beginning of this season of contemplation and preparation for the glory of Holy Week and Easter Day. It was a much appreciated and insightful look at the traditions and deep religious connotations of this Lenten Season. Our thanks go to Canon Stephen who has become such a regular part of our congregation since his retirement. We look forward to a close friendship with him in the years to come.
Patricia and I supported the Women's World Day of Prayer held this year in the Citadel and celebrating the peoples of Slovenia. It was a very special service this year and it is so lovely to be a part of this ecumenical recognition of women around the world.
We look forward to the Lady Day service planned for the 25/03 with Rev. Sue leading us and to which we have extended a welcome to friends from the church and the Deanery.
Mothering Sunday falls on the 31/03/19.
Dates for your diaries.
5/4/19. 11a.m Archidiaconal Eucharist.
8/4/19. 2p.m. An "in house" meeting.
11/4/19. 10a.m. Diocesan Council, Brecon.
21/4/19. Easter Day.
1/5/19. 10a.m Spring Retreat at Nicholaston House.
3/5/19. 11a.m Archidiaconal Eucharist.
13/5/19. 2p.m. Raul Richards.
21/5/19. Diocesan Festival/Commissioning. Brecon.
We remember in our prayers all our Indoor Members and those who are unable to be with us at our regular monthly meetings, at which we extend a warm welcome to new members and friends.
Every Blessing, Ruth Roberts. (Branch Leader).
Despite the general shortage of tower bellringers in some areas, it was reported recently that the ancient art of bellringing is attracting a growing number of enthusiastic youngsters around the country.
The Ringing World National Youth Contest to be held in Liverpool next July, has attracted entries from over 250 campanologists. 24 teams will take part on this occasion, compared with 12 teams when the competition started in 2011. To enter, the ringers must be mature enough to be able to handle and control a bell (usually about 11 or 12 years old) and under the age of 19.
Apart from the challenge of the competition, youngsters are attracted to the prospect of being part of a team and take pride in ringing with regular timing and learning call changes and 'methods'. For some, the attraction will be the chance to meet new people and visiting other churches, seeing parts of the building which are often not accessible to the general public - and learning about the history of the church and the bells. Some ringers are more aware of the people outside and the appeal of listening to the joyful sound as it spreads far beyond the confines of the building.
At the 2018 competition in London The Sussex Young Ringers and the Oxford Diocesan Guild won both won awards. This event gives us hope that, with some encouragement, we may find potential bellringers who will be able to carry on the tradition of bellringing at St. Mary's.
Sid Kidwell, a former chorister at St Mary's, told of hearing the sound of the bells crashing to the ground as the beams in the belfry burned when the church was destroyed in 1941. It is a tribute to the faith of the people of Swansea that not only was the church rebuilt, but the peal of bells was also restored. We pray that the sound of St. Mary's bells will continue to ring out over the city in the future.
Anita Morgan
NEWS FROM CHRISTCHURCH
In memory of…
Les French
Les was a well-known and well-loved figure at Christchurch for many years: a funny, kind, and generous man. He married Elaine in Christchurch in 1957 and they spent over 60 devoted years together, until his death on St David's Day this year. He leaves Elaine, his children Tracy and Christopher, as well as three grandchildren and 6 great-grandchildren.
Les was a passionate rugby man and was head doorman at St Helen's Rugby Club for over 15 years. At our church, he always enjoyed the social occasions, and was the life and soul of them! Before I ever met Les, I had heard so much good about him, and when I did meet him, it was obvious why. He was a lovely, warm, contented man, full of good-natured banter. He will be missed by all.
Rev Ian Folks
Evelyn Richards
Evelyn is remembered fondly by all at Christchurch. She was a warm person with a bright smile and laugh. She grew up in Swansea through the war years and married her sweetheart Gwyn after he returned from Burma in the war. Gwyn was a great organiser of events at Christchurch, with its army connections, being heavily involved with both Burma and Normandy veterans and Evelyn was always helping behind the scenes. She was a proud Welsh speaker and loved Welsh traditions - Cymanfa Ganu and male voice choirs. We trust that she is singing and speaking the language of heaven now.
Rev Ian Folks
Community Cafe: Opening in May
On Thursday mornings, from the middle of May onwards, we're looking forward to hosting a community cafe at Christchurch, from 10.45-12.30pm. As well as tea, coffee and snacks, we'll have a games table, a crafting corner and the chance to just relax and chat. We're having a painting party to spruce up the small hall on Thursday 9th May before it starts, so let us know if you want to join in! We'll run the cafe on a monthly rota in teams of two or three, and we'll need volunteers from the church or wider community to do that, so if you're interested, please speak to Ian Folks. It will be a great way to meet new people in the local community, encourage some who are isolated to get out and make friends, and make sure that Christchurch remains at the heart of the Sandfields community.
Rev. Ian Folks
Coming Soon: Faith Together - intergenerational worship
In September, we're starting a new congregation at Christchurch: Faith Together. Our vision for it is that children and adults, from 1 to 100 can enjoy worship together in an informal way. We'll have a music group featuring younger musicians; Godly play sessions and prayer stations which spark faith in adults and children alike. Young and old will make banners and artwork together to decorate the church and create conversations. After the service, as an integral part of the event we will sit down to enjoy a cooked meal together (smartphones banned!).
We hope the service will attract those we have a good relationship with through community activities, Messy Church and Christchurch school; the wider families of current members of the congregation members and other families around Swansea for whom getting to church on Sunday morning is difficult.
These services will be held on the second Sunday of every month, between 4 and 6pm. We will also be holding a midweek Alpha course to go along with them, to enable adults to deepen their knowledge of Christian faith. If you're interested in going, or encouraging members of your family to come, please either speak to Ian Folks or just come along when it starts.
Rev. Ian Folks

In Hafod we continued our celebration of Christ the Light of the World with our Christingle service in February, soon after the celebration of Candlemas. At this service we were again joined by St. Joseph's Roman Catholic Cathedral choir. This was a wonderful way to meet friends from Waun Wen as they led us in singing. We were also joined by Hafod school choir who sang for us. It was great to see the children and their enjoyment of the service and to hear their singing. It was a joyous occasion in a full church.
In other church matters, Hilary Port arranged for a poem by a friend of hers to be sent to me. He has kindly agreed for us to print the poem. It is a wonderful poem which is written below...
THE GIVER OF LIFE, HOPE AND LOVE
You love is like a river that washes out our sin
The current is your gospel that guides us from within
The ebb and flow is your great plan that takes us on our way
To the great sea in eternity that we swim to everyday
Life's trials and tribulations are the rocks and falls we face
That you gently help us over with your patience and your grace
But even when we edge you out and swim against your tide
You take us back with open arms and forgive our foolish pride
When the world and it's temptations tries to drag us to the deep
You hear our prayers and worries and our souls will you safely keep
Though when our own strength leaves us and we struggle just to live
You breathe new life into us with each brand new day you give
You sacrificed your perfect son to pay our ransom debt
And still you fill our lives with love quicker than our hearts forget
So we thank you Lord and praise you now for the miracles you've done
And forever we'll have faith in you for many blessings yet to come. Amen
A poem by Laurence, a friend of the Port family in Hafod.
Billy Moon
In February it was with shock and sadness that we received the news that our Church warden and dear friend Billy Moon had died. We don't normally share details of obituaries in the magazine now for various reasons but as a Churchwarden vital to the life of the Church we include, with the permission of Sylvia Moon, her thoughts and the eulogy shared at the funeral service.
With a huge thank you to Billy and to everyone who helps out so much in the Hafod Church family, here are thoughts of Billy spoken by Helen Rees at Billy's funeral ......
"Billy was one of four children, an older brother John (deceased) and two younger sisters Rosalind and Patricia. He left school at 16 to start an apprenticeship in the Botanical Gardens in Singleton Park, the love of gardening stayed with him throughout his life.
We met in a coffee bar in Swansea one Sunday night, and were engaged and later married in St.Matthew's Church in High Street in the snow on the coldest Boxing Day imaginable.
After we were married Billy worked at IMI Waunarlwydd as an Ultrasonics Inspector, and in time Kevin and Simon were born. We spent many happy years as the children grew up with Ann and Norman and their children Elizabeth and David enjoying holidays and time together. Billy loved holidays, and we had many holidays abroad with Ann and Norman, Billy was always thinking of the next holiday we could go on.
Through the years the family has grown, Amy and Desiree became his much loved daughters-in-law and to his delight he had four lovely grandchildren, Rhys, Lucy, Alex and Cerys. He loved his days out with the children, particularly the visits to Folly Farm, which he never tired of -but the children did.
Billy's two passions in life were Bowls and Rugby. He followed the Ospreys, and really enjoyed the six nations games, to the extent that he managed to go to three games last year, no small thing when you have to get a scooter on a train packed with rugby supporters.
He played bowls for many years for BSC Landor, where he was treasurer for the club. After retirement he joined the Swansea Retired Men's Bowling Club, where he again took on the role of treasurer, continuing in that role even though his mobility had forced him to stop playing.
Last year he managed to obtain a customised wheelchair which enabled him to play bowls again. It was quite a sight to see him set off for bowls, with wheelchair, scooter and bowls bag.
While retired he decided to return to studying and took a part time degree course at Swansea University achieving a BA degree."
I met Billy when my husband and I arrived at this Parish in 2016. Billy had long been part of the life here in St. Johns and of course he was Churchwarden. This was a role he took up under my predecessor Sue Knight.
Sue has written that, "Throughout the time I knew Billy he showed himself as one of those generous people who find a deep satisfaction in life in devoting themselves to the welfare of others and always being sensitive to the needs of those around them. He gave of his time, of his energy, and his love and that's what made him so special, because he made those around him feel special. He will be greatly missed.'
Sue went on to say, 'I first met Billy and Sylvia when I was involved with St Matthews Church. Its life and its worship and activities were very much part of their lives as they both contributed a great deal of time, skill and resources to the mission of the church, sadly it became redundant and we were joined by St Matthews folk who had been through a difficult time but integrated well into church life at St Johns, and with the retirement of Betty Jones as people's Sub-Warden, Billy was unanimously elected for that position. Someone I knew said he would give me sound advice and guidance at a difficult time in the life of the church, and so it proved to be -always available and willing, giving of his time to chat whenever needed, whether on the phone, in church or in Cwmgelli Close with a welcoming cup of tea. He was an invaluable source of information and knowledge which was invaluable to me when I needed help on specific issues.
I know that Billy suffered ill health at times but his strength of character and determination and great resolve and of course that wonderful sense of humour, shone through his illness, as he was never one to complain or feel sorry for himself.'
I have found Billy to be very much the person that Sue has described. A really wonderful man. I met Billy when my husband and I moved here in June 2016. Billy gave me a lovely welcome and along with Sylvia and others really helped me settle into life at St. Johns.
There are so many wonderful things about Billy and not least of these was that for him faith was important. Sylvia said that Billy always threw himself into everything that he did wholeheartedly.
This was so true and Billy would always be in Church ready to tease me, which is something he enjoyed (and I did too!), always able to advise me wisely and always ready to talk about the rugby too. In fact, I remember how much he enjoyed it when my husband and I, both Cardiff Blues supporters, became chaplains to the Ospreys and the Ospreys women respectively.
Billy was such a vital part of the Church, if anything might need organising or sorting out, Billy would get his hands stuck in. He was Churchwarden here, and he always managed to keep everything in order...
The Archbishop of Wales sent a card to Sylvia in which he mentioned Billy's support and help in the Church. He, like so many others, respected Billy.
Billy, a genuinely lovely man, a man of strength, a man of fun, a man of faith... you will all have your own memories of Billy and it is important to keep these with you at this time as this will help you both now and in the days to come... we now take a few moments of silence to remember Billy and all that he has both meant and continues to mean to family and to his many friends"
HOT CROSS BUNS, EASTER EGGS - AND MINCE PIES?
Are you ready for Easter? Preparations can take very many forms. In the church we use the solemn season of Lent to help us prepare for Easter. In chapel, I remember the time before Easter would be used to study and discuss the Bible readings leading up to the season of Easter. Palm Sunday - Sul y Blodau was when families decorated graves with the bright colours of spring flowers, and Good Friday meant not only the darkest day of the Christian year but also Hot Cross Buns, collected early from the bakers for a yearly treat – and, a great occasion, walking to a sister chapel for the Cymanfa Ganu, the hymns practised and new compositions learned over weeks. Then Easter Day. A great celebration. And Easter Eggs.
Times change and Easter is anticipated now - in the shops, at least – soon after Christmas. Easter cream eggs sit in boxes from Boxing Day. Hot Cross Buns are on the shelves even earlier. I looked, stunned, when I saw hot cross buns on the next shelf to the mince pies. The 'instant society' must never wait, never anticipate. The ancient tradition of the Easter hare has become the chocolate Easter Bunny.
From half-term onward, schools look forward to Easter – to the Easter holidays and perhaps, if they can spare the time, help younger children to make chocolate and cornflake 'nests' for tiny chocolate eggs, often decorated with fluffy yellow chicks. The youngest pupils may 'make' Easter bonnets for their Easter parade (as mothers and grandmothers may become milliners). Older pupils might possibly learn something of the Easter story in religious studies – but how well and how widely the subject is taught is questionable. Think about the young customers in the jewellers requesting a cross on a chain – 'one with a little man on it'. It's hardly surprising that supermarkets have no idea why a cross is piped on a hot cross bun.
Have a good Lent and when it comes, a joyful Easter.
And - enjoy your hot cross buns on Good Friday and the Easter eggs after the service on Easter Day.
Gwyneth Anthony
Clergy:
Rector: The Revd Canon Ian Rees 01792 472760
Church Office : Tel 01792 655489
Associate Priest: The Revd Helen Rees 01792 472760
Assistant Curate: The Revd John Anthony 01639 638434
Assistant Curate: The Revd Ian Folks 01792 205190
Reader: Robert Leonard 01792 655613
Reader Emeritus Les Taylor. 01792 234639
Parish Wardens: Allan Jeffery - 01792 468015
Ruth Roberts - 01792 676732
Parish Treasurer: Allan Jeffery 01792 468015
Lord Mayor's Wardens: Kitty Griffiths. 01792 813651
Mrs Helen Murrary. 01792 535813
St Mary's:
Treasurer: Allan Jeffery. 01792 468015
Director of Music: Dr William Reynolds. 01792 467606
ChristChurch:
Wardens: Christopher Davies 01792 205968
Michael Paddison 01792 463255
Treasurer: Angela Reed
Safeguarding Officer: Jen Jones. 01792 423133
Hall Bookings: Pam Jones. 01792 521763

St Mark & St John:
Robert Leonard 01792 655613
Treasurer: Betty Jones. 01792 655619
Safeguarding Officer Sandra Davies.01792 422749
www.swanseastmary.co.uk
Facebook: St Mary's Swansea
Christchurch Central Swansea
St John's Hafod
Twitter: @stmaryswansea