<![if !vml]>

<![endif]>
Parish Magazine August - September 2018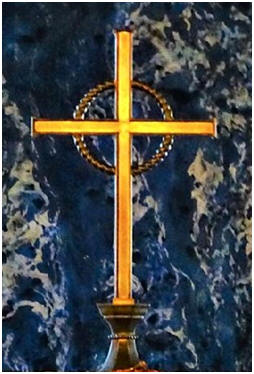 Contents:
1. Service Times and Dates for the Diary
2. Rector's Letter
3. Prayer for Growth
4. Leading Your Church into Growth
5. Ministry Area Morning Prayer
6. Pastoral Visiting
7. Launch of St Thomas Way
8. Ministry Area BBQ
9. A Holiday with Jesus
10. "Old" Faces
11. End of Year Service, Christchurch School
12. Healing Services
13. Overheard at Clergy School
14. Mothers' Union News for Summer 2018
15. From the Editor
16. News from the Royal School of Church Music
17. Will of Christopher Locke of the Town of Swansea
18. The Diocesan Mothers' Union
19. One Foundation
20. News from Christ Church
21. News from Hafod
22. Brecon by Bus
23. Parish Contacts


The deadline for contributions for the October/November edition is 10th September 2018.
Please send to
Many thanks to all contributors to the magazine.
Service Times St.Mary's Church

Sunday 11.00 Choral Eucharist
4.00 Choral Evensong
6.00 Sunday at 6 (Monthly as advertised)
Tuesday 12.30 Healing Service (2nd Tues. in month)
12.30 Cymun Bendigaid (4th Tues. in month)
5.30 Choral Evensong (Term Time)
Wednesday 10.30 Holy Eucharist
12.45 Lunchtime Service (Holy Eucharist on 1st in month
Friday 12.30 Holy Eucharist
(except 1st in month when MU Archidiaconal at 11.00 )
Saturday 12.30 Holy Eucharist
Morning Prayer 9.30 Tuesday, Wednesday & Thursday.
www.swanseastmary.co.uk
Dates for the Diary
August:
Friday 3rd M.U. Archidiaconal Eucharist 11.00am
Handbells (Vestry Hall) 9.30am
Saturday 4th Craft Fair
Sunday 5th Choral Eucharist sung by Coro Velca of Rome
Tuesday 7th Organ Series – Dr Ian Rutt 1.10pm
Friday 10th Handbells (Vestry Hall) 9.30am
Sunday 12th Choral Eucharist 11.00 am & Choral Evensong 4.00 pm sung by Hemiola
Tuesday 14th Organ Recital – Hugh Tregelles Williams
Friday 17th Handbells (Vestry Hall) 9.30am
Tuesday 21st Organ Recital – Martin Brown 1.10 pm
Friday 24th Handbells (Vestry Hall) 9.30
Sunday 26th Choral Eucharist 11.00 & Choral Evensong 4.00 pm sung by Vox Angelica
Tuesday 28th Organ Series - Dr. William Reynolds 1.10pm
Friday 31st Handbells (Vestry Hall) 9.30am
September:
Tuesday 4th Organ Series- Carl Grainger 1.10pm
Thursday 6th St. Mary's Council 7.00 pm
Friday 7th M.U. Archidiaconal Eucharist 11.00am
Handbells (Vestry Hall) 9.30am
Monday 10th Unitas AGM- Vestry Hall 7.00pm
Tuesday 11th Civic Service 11.00 am
Organ Series- Dr Alan Sykes 1.10pm
Friday 14th Handbells (Vestry Hall) 9.30am
Saturday 15th Craft Fair
Monday 17th Mothers' Union
Tuesday 18th Mothers' Union & Evening Concert
Thursday 20th PCC 7.00 pm
Thursday 19th Ladies Guild 2.00pm
Friday 21st Handbells (Vestry Hall) 9.30am
Saturday 22nd Concert 7.00 pm
Tuesday 26th Archbishop/Archdeacon Visitation 6.30 pm
Friday 28th Handbells (Vestry Hall) 9.30am
Baptism 2.00pm
Saturday 28th Dunvant Male Choir - Concert 7.30pm
Dear all
Figures released at the recent Church of England synod meeting suggested that it is 8 times more likely that a worshipper will be aged 80 or over than 18 or under. This, combined with the Archbishop's recent question about how many of our churches will exist in 10 years' time if we don't do something different, must really focus our minds.
There's a rather unkind suggestion sometimes offered that people are only interested in keeping alive 'their church' and are not overly concerned with what happens after their time. I don't believe that's true for many people but there is, I think, both a lack of confidence in the future and a fear in what that future might look like if changes are made.
Well, it is time to move on because the reality is that in many cases what we are doing at the moment is not working well in attracting people from outside the church. We can say (in some ways rightly) that numbers in church don't matter and that it is the spiritual depth of the people that is important (which it is), but we are at best naive and at worst foolish if we really believe that numbers are not a good indication of where we are.
So, let's start with the question of confidence and be assured that in Jesus we can have confidence. In our worship we begin by emphasising that we meet in the name of the Father, the Son and the Holy Spirit and in so doing we are reminded that we are in the presence of the living God who knows us intimately and loves us limitlessly. This is God who came into the world in the form of Jesus to show us a perfect example of courage and, above all, love. This is God who performed miracles and who destroyed death to offer eternal life and a full and flourishing life today.
We can be confident that if we are truly seeking to behave as God wants us to behave, loving as he wants us to love, then we can do all things, because the Bible tells us and he has shown us, that with God all things are possible.
Then there is the question of doing things differently. We all have a preferred way of doing things and worship is no different, but worship is not an experience just for us. It is primarily for God, to whom we offer our praise and devotion. It is for the glory of God. If worship is for God, it must involve seeking to obey the commands of God - the greatest of these being to 'love the Lord with all your heart and soul and mind and to love your neighbour as yourself'.
Loving our neighbour extends to sharing the good news of Jesus with them honestly, confidently and passionately. This means going out of our way to welcome others into our worship, into our churches, into our Christian family. Community is essential in the life of our churches - it is not just trying to get together for the sake of it, or certainly not just to raise money, but to enjoy a real fellowship, united by God as his children. This is the community we must continually be striving to build, with Christ at the very heart of this community.
So what does this mean in practical terms? Well, it must mean that we are confident and joyful in our churches. Churches that look depressed or worried or talk about the 'grass being greener' elsewhere might as well close the doors now and we need to be really honest and ask ourselves if that is sometimes us.
So, confidence and joy are essential but not a forced confidence or fake joy but a confidence and joy based on the reality of the life transforming love and message of Jesus. Change also has to be faced - this might not mean getting rid of what we do or have that is precious to us and others, but building upon it to do new and varied things.
Later in the magazine there are details of things that we have planned as a Ministry Area in the near future. Courses such as 'Leading your church into growth' are not for others, they are for you. Pastoral visiting is not something just done by others, it might be done by you. Joining in other things such as the social events (a BBQ and a quiz) are things we can do together as we seek to build our community.
In a recent sermon I quoted the words of Anne Frank, the child whose diaries were immortalised following her time in hiding from the Germans and ultimate death in World War 2. She wrote: 'How wonderful it is that nobody need wait a single moment before starting to improve the world.'
There are many ways, big and small, that we can change the world for the better and we can begin by continuing to develop our relationship with Jesus, recognising our dependence on him and his love for us and sharing that love with others as we introduce them to his message and his life that can change their lives positively forever.
Every blessing,
Ian
It was agreed recently in a Parochial Church Council meeting that the following prayer should be offered regularly during the prayers in each of our churches. Please also pray it regularly yourselves:
God of Mission Who alone brings growth to your Church,
Send your Holy Spirit to give
Vision to our planning, Wisdom to our actions,
And power to our witness.
Help our church to grow in numbers,
In spiritual commitment to you,
And in service to our local community,
Through Jesus Christ our Lord. Amen.

LEADING YOUR CHURCH INTO GROWTH
This course is designed to do what it says, lead our churches into growth! Growth comes in all kinds of ways, numerically, spiritually and as a community/family. We are running the course over 4 sessions, October 13th, November 17th, January 19th and February 16th. Further details will follow about the venue and exact times, but we hope members of each church will commit themselves to joining the course.
The course is intended to be fun and informal as well as practical. Put the dates in your diaries!
MINISTRY AREA MORNING PRAYER
Morning Prayer is held regularly in St Mary's Church but each Tuesday at 9.15am there is a service of Morning Prayer focusing on the Ministry Area. All are welcome!
PASTORAL VISITING
Ministry has changed a lot in recent times. Ministry in our own churches in recent times has involved welcoming people who are homeless or struggling, donating items to the food bank or baby basics or even babysitting a child whose mother had to go to an urgent appointment and had nobody else to approach.
The ministry of visiting has long been the perceived domain of the clergy but never should have been and today certainly can't be if we are going to do it effectively. Visiting is a concern for all people and caring for our neighbours, whoever they may, be is the responsibility of all Christian people. As a practical point to add to this, the number of clergy have reduced drastically over the past 5/10 years.
So, the ministry of a pastoral visitor has become increasingly prominent. Many people would love to use their skills and interests to become more involved in visiting those in need of support in their local communities.

So many in both our churches and community would welcome a visit and the support that the church can offer whether they are elderly, housebound, lonely, struggling having recently been bereaved, sick or recovering from an operation.
There are also many opportunities to connect with fringe members of the church and new arrivals in the parish by adopting a more co-ordinated and better staffed approach to visiting.
Much of pastoral care happens informally but some people have a heart and vision to visit on behalf of and under the direction of, the church, but often feel they lack the necessary skills and confidence necessary to be a good and effective pastoral visitor.
If you are one of those people, please discuss this with your parish clergy and talk about joining a training course which will be running in the Ministry Area – details below
The training will involve two morning sessions which, if you complete the course and your application is supported by your PCC and you have a clear DBS check, will enable you to be commissioned as a Lay Pastoral Visitor.
For more details or to enrol please let one of the clergy know.
Training: St Samlet's Church, Llansamlet
8th September and 29th September: 9.30am – 1.00pm
LAUNCH OF ST THOMAS WAY
A number of pilgrims from Swansea made the trip to Hereford to mark the launch of the St Thomas Way where the choir of St Mary's Church in Swansea were delighted to sing at two services in Hereford Cathedral to mark the launch of a new pilgrimage route from Swansea to Hereford.
The pilgrimage, known as the St Thomas Way, marks a pilgrimage in 1290 by Lord and Lady de Briouze, along with William Cragh, to see the tomb of Thomas Cantilupe, the former Bishop of Hereford, who was accredited with performing a miracle to bring back William Cragh to life following his hanging (for more details please see the website : thomasway.ac.uk).
Canon Ian Rees read the story of William Cragh during the dedication ceremony while the choir sang at both that service and later at choral evensong.
The project has been organised by Southampton University who have worked closely with Hereford Cathedral, churches along the route and with St Mary's, who are really grateful for the work carried out, particularly that done by Catherine Clarke and Chloe McKenzie.
This launch day will hopefully mark the start of many journeys by pilgrims from Swansea to Hereford. There will also be an exhibition coming to St Mary's in September. More details to follow!
There will be a BBQ for people from the Swansea Ministry Area on September 2nd at 4.30pm in Christchurch. More details will follow.
August is the month when schools are off and many of us go on holiday. The trouble is that holidays soon come to an end! Yet Jesus offers us a rest which has no end:
'Come to me, all you who are weary and burdened, and I will give you rest. Take my yoke upon you and learn from me, for I am gentle and humble in heart, and you will find rest for your souls.' (Matthew 11: 28-29). Are you tired or burdened? Jesus invites you to take a holiday with Him!
The Invitation: Our holiday destination is Jesus himself: 'Come to me, all you who are weary and burdened.' We can come just as we are, with all the burdens, weaknesses and sinfulness that we carry. Jesus doesn't offer a '10 steps programme' to deal with our issues; He simply offers himself!
The Promise: Jesus promises us the gift of refreshing, sustaining and everlasting rest. When we go on holiday, we usually look forward to doing very little and yet this is not the kind of rest Jesus offers. His rest involves taking up His yoke and learning from Him! A yoke was the wooden collar that ran across the shoulders of a pair of oxen and, in some instances, of the farm workers and enabled them to work the fields. Jesus says to us: 'My yokes fit well. They do not rub your neck and shoulders. Come to me and get yoked to me. Make an act of loyal obedience and trust in me. And you will find a deep peace and satisfaction that you could never find anywhere else. I have come for you. Come to me!'
What's so amazing about this holiday is that you don't have to go anywhere; you can find rest by simply staying at home!
Canon Ian Rees
"OLD" FACES
I was told many years ago of my grandfather. Wherever he was, he would find someone he knew. It was said that if he had walked to the top of Mount Snowden or even got to the summit of Everest, he would suddenly meet someone he knew or who knew the family.
Over the past few weeks I've been surprised to have met a number of people from quite a few years ago. One day we were walking through Neath when a group of young ladies approached. "Hello, Sir", said one and the others gathered around to greet their former teacher - Me!
It was strange but very nice to see them. A few days later, we called for a coffee in another establishment, only to be greeted again by a former pupil. It was really a lovely experience and I couldn't believe it when they wanted me to pose for selfies.
We can never tell how we affect others. We meet many people and very often think that we make no difference. I remember in my teens I would walk to church on a Sunday. I didn't realise that my former Sunday School teacher lived on the route. He had been ill and in later years he said how he looked forward to hearing me walk past his house on my way to church.
We never know what others notice about us.
No matter how little contact we may have or how little we say to someone, we can never fully understand how we may help them in some small way. It may be a smile or a simple "hello" which people may remember. Never forget that you may be the one to have touched someone's life in a special way.
As Saint David said," Do the little things". We may think that we make no difference to other people, but we usually do. As we meet people over the coming months, may they see something good in us.
Reverend John Anthony.
END OF YEAR SERVICE, CHRISTCHURCH SCHOOL
'For all your goodness I will keep on singing - 10,000 reasons for my heart to find.'
We are very closely involved in the life of Christchurch Church in Wales School. Within our ministry area, it is one of the main opportunities to encourage Christian faith in younger people. Ian Folks or Helen Rees take a whole school assembly every week; several members of Christchurch are school governors, we hold a monthly Messy Church and this year we ran a Prayer Space event for one week. All of this is a joy - the school is always wonderfully welcoming, it is a truly caring community and it is wonderful to see how children naturally relate to deep questions of life and God.
On 12th July we welcomed the Year 3-6 pupils to church for an end of year service to give thanks for the year past and pray for the year ahead. Pupils read out personal memories from the year for which they were thankful. Some were very moving, some amusing! We had a slideshow of memories and events from the school year, which was accompanied by Matt Redman's 'Bless the Lord, O my soul' which the students had learned. The theme of the service was the line '10,000 reasons' from this song, as quoted above - we always have so many things to thank God for, and this thankfulness in God's provision gives us confidence for our next steps along life's journey. Students also gave a dramatised Bible reading and read prayers they had prepared.
Mrs Helen-Marie Davies, the headteacher, said afterwards that in schools they are always looking forward - but it had done them good to look back over the year and give thanks for the year. And as with a school, so for all of us - we can all look back with thanks, see God's gifts to us, and draw on the reminders of his goodness as we go forward.
A feature now of the parish's life are regular healing services. St Mary's has a monthly healing service on the last Saturday of every month at 12.30pm, during the usual lunchtime communion service. Christchurch holds a healing service when there is a fifth Sunday in the month during its usual 9.30am service.
The services are deliberately low key, meditative and aim to enable us to open ourselves up to God's work in us. We have some quiet hymns and songs, and readings and talks help us think about God's healing work. We pray for healing and offer anointing with oil, a biblical symbol of healing. There is no pressure to come forward or expectation that people will want personal prayer.
God's healing of course may involve physical healing, but it's not limited to that - the healing of anxieties, attitudes, hurts, past traumas and relationships are equally important to our wellbeing. We come in the simple faith that God 'knows how to give good gifts to his children,' (Matt 7:11), and does answer prayer. In my experience, dramatic events of healing are rare, but God certainly uses these times - often powerfully - as a part of his ongoing work of healing us.
Those who have come remark that the services are peaceful and moving. We're aware that people who might not normally come to church may be open to coming to a healing service, so pluck up the courage and invite them to come with you sometime! The next services will be Saturday 28th July and Saturday 25th August at 12.30pm (St Mary's), and Sunday 29th July and Sunday 30th September in Christchurch.
On the recent 'clergy school' residential for Swansea and Brecon diocese, there was an evening trip to a microbrewery. One person was asked if he was coming. 'Well, I don't really like beer,' he replied, 'but I am going. I'm curious to see if clergy can organise the proverbial event in the brewery.'
But that's all we can say about the event. What goes on at clergy school, stays at clergy school…. Rev. Ian Folks
MOTHERS' UNION NEWS FOR SUMMER 2018
Our summer session May – July was, once again, a varied and interesting one. The talk on May 14th, "Dementia and how it can and is being dealt with", was given by the Provincial MU Chaplain Revd Tim Williams – accompanied by his wife Helen who is Diocesan MU Secretary. We were given and encouraged to wear a "Dementia Friends" badge plus information about the organisation Dementia Friends Action. Information given included the understanding that there is more to a person than their dementia and that, with support, the people concerned can still take an active role in life.
Ruth, our Diocesan President, led the meeting on June 11th which was a "Mothers' Union Listening, Observing, Acting (MULOA) Group Bible Study concerning the story of Blind Bartimaeus. The main question asked was how MU groups today would react to such outsiders.
On July 25th eleven members and three friends visited Llanelly House where they had a guided tour followed by a wonderful afternoon tea. This was our summer outing and was thoroughly enjoyed by all those who took part.
The Strawberry Tea on July 9th completed our session for the summer. We begin again on Sept 10th with a Eucharist Service led by Revd Canon Ian Rees. This will be closely followed by the MU Global General Meeting on 17th and 18th Sept in Swansea at the Brangwyn Hall, with associated services and a celebration concert in St Mary's.
Dates for Information:
Aug 3rd. Archidiaconal Eucharist 11am. St Mary's.
Aug 9th. Mary Sumner Day.
Sept 7th. Archidiaconal Eucharist 11am. St Mary's.
Sept 17th 3pm and 6pm. Services in St Mary's for the Global Meeting of the MU.
Sept 18th 10.30am. Global Meeting of the MU in the Brangwyn Hall.
Sept 18th 7pm. Concert of Celebration for the MU Global Meeting in St Mary's.
Margaret Davies, Joint Branch Leader
Summer has arrived with a vengeance. St. Mary's has even been described as 'too hot'. Even more shocking, Brecon Cathedral needed no extra cardigans, coats or scarves for a recent service. Hopefully the stones will retain enough heat to help warm worshippers during autumn. Summer months have brought fayres, fetes and other celebrations. Many thanks are due to all who worked so hard to make these events such a success.
We are fortunate to be able to enjoy the organ recitals in St. Mary's, which continue on Tuesdays at 1.10pm. St. Mary's Choir is taking a well-earned break until September, when the choir will return, suitably refreshed.
During August we have the privilege of welcoming three visiting choirs to St. Mary's:
Velca Choir of Roma will join us from Italy to sing Choral Eucharist on 5th August
Hemiola will sing Choral Eucharist and Choral Evensong on 12th August
Vox Angelica will make the journey from St. Davids's to sing Choral Eucharist and Choral Evensong on 26th August.
Choral Treats
Two choirs visited St. Mary's recently. The first was the Kammerchor Bad Homburg from Germany. They sang a superb concert in the evening of June 27th and enjoyed visiting our city.
Then in July the choir of the Chapel of Abbot's Bromley School sang evensong and a concert in the early evening. The school chaplain is the Reverend Philip Conway whose daughter Bethany has been a choral scholar at St. Mary's. It was good to welcome both choirs.
NEWS FROM THE ROYAL SCHOOL OF CHURCH MUSIC
The RSCM has recently appointed a New Director, Hugh Morris, who has held a number of prestigious positions, most recently Director of Music at Derby Cathedral. The Rt Hon Lord Gill, Chairman of the RSCM Council, comments that "Hugh brings with him considerable expertise to continue to develop a strong charity to meet the needs of today's church ensuring diversity of church music within all our churches and communities". The RSCM Swansea and Brecon Area look forward to working closely with Hugh in exploring how the RSCM can best support church music in the region.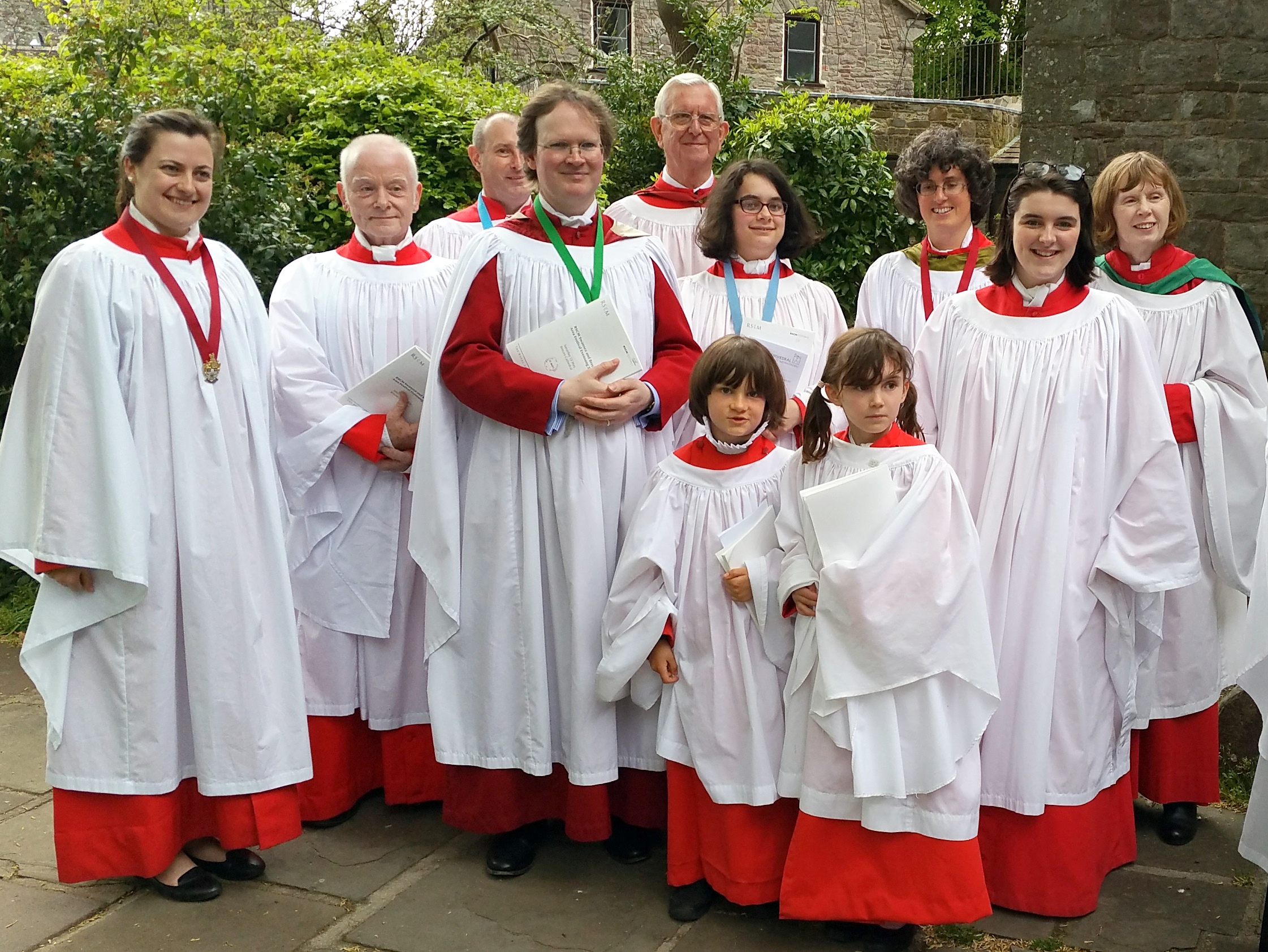 The RSCM Area Annual Choral Festival on the theme of "Christ's Ascension into Heaven", with music by Mendelssohn, Radcliffe, Francis Jackson and Smart, was held on May 12th in Brecon Cathedral, directed by Stephen Power and accompanied by Thomas Coxhead. There were seventy participants in the choir (those from St Mary's choir are shown on the right), including a gratifying number of younger choristers. The impressive Choral Evensong which concluded the Festival had a very high standard of musical performance. Many thanks to the Dean, Dr Paul Shackerly and Archbishop John Davies for the help and support they gave to the Festival.
The next Area RSCM event will be an Organ Workshop in Brecon Cathedral directed by Stephen Power (Director of Music at the Cathedral) between 11.30am and 1.30pm on Sat 29th Sept. To round off the year's activities, Dr William Reynolds will hold a Singing Workshop on Thursday 18th Oct (the feast of St Luke) in Holy Cross Church, West Cross, Swansea, starting at 6.45pm. William will be rehearsing a wide variety of music appropriate for the occasion. The evening will end with a short act of worship followed by light refreshments and an opportunity to socialise.
If you would like more details about RSCM activities and courses, please contact me on 01792 429543 or email adavies55@ntlworld.com.
Tony Davies, RSCM Area Secretary
WILL OF CHRISTOPHER LOCKE OF THE TOWN OF SWANSEA
Innkeeper (c.1649-1716) by Katie Millien
An extract of an article, which appeared in the Annual Swansea History Journal of The Royal Institution of South and reproduced by kind permission of Kate Millien, Archivist West Glamorgan Archive Service.
Very few records survive for the 17th and 18th centuries at the West Glamorgan Archives. But those that do, such as Corporation and Parish records and wills, give a glimpse of what life might have been like in a Swansea that has long since disappeared. By studying a will and inventory picked at random it is possible to see behind doors that have been closed for hundreds of years.
This article attempts to find out more about Christopher Lock, Innkeeper, who lived in Swansea in the later 17th century. His date of birth is not known but he died on 2 August 1716, aged 67 and was buried in the parish church of St Mary's on 3rd August.
There are two slightly different versions of the will. I have used the version held by West Glamorgan Archives, with reference to the National Library of Wales. What follows is a straight transcription of the will and inventory of Christopher Lock:
In the name of God Amen, I Christopher Locke of the Town of Swanzey in the County of Glamorgan Innkeeper being sicke of Body but of Sound mind, memory and understanding for which I praise God, doe make my last Will & Testament in manner and forme following. First I commend my Soul into the hands of Almighty God my Creator hapening through the alone meritts of Jesus Christ my Saviour and Redeemer to be Saved and to inherite life everlasting. I comitt my Body to the Earth to be buryed in Decent Christian buryal according to the discretion of my Executrix hereafter named. And as touching the temporal Estate wherewith it hath pleased Almighty God to blesse me in this life. I dispose thereof as followeth: Imprimis I Give and bequeath towards the repairation of the Cathedral Church of St David's the Sume of five shillings. (1) I Give and bequeath unto the poor of the Town of Swanzey aforesaid the Sume of ten shillings to be distributed amongst them. (2) I Give and bequeath unto my Kinsman William Locke of Attaunton in the County of Somersett, Clockemaker and to his Brothers James and George and to his Sister Bridgett and to Martha Mawdy and Jane Young twelve pence apiece. (3) I Give and bequeath unto my well-beloved wife Elinor Locke the use of my Silver pint Tankard dureing her life and after decease I Give and bequeath the said Tankard unto Elizabeth Smith my wife's Kinswoman. (4) All the rest of my personall Estate whatsoever I Give and bequeath unto my said wife Elinor Locke whome I doe hereby Nominate and appoint Sole Executrix of this my last Will and Testament. In Wittnesse whereof I have hereunto Sett my hand and Seal the Second day of March in the year of our Lord one thousand Seaven hundred and fifeteen.
Christopher Lock
Signed, Sealed, published and declared
in the presence of:
David Thomas, Edward Colchurst, William Watkins
A true and perfect Inventory of all and singular the Goods, Chattles and personal Estate of Christopher Locke of the Town of Swanzey in the County of Glamorgan, Innekeeper late deceased. Appraized and valued the seaventh day of August Anno Domino 1716 By Abraham Ayres, Alderman and Robert Rogers, Mercer as followeth5
A SHORT SELECTION OF SOME OF THE HOUSE HOLD ITEMS
| | |
| --- | --- |
| Imprimis His wearing apparell and Bookes | 100s |
| In ye Kitching | |
| Twelve pewter dishes, two dozen of pewter plates and a warming pan and other Latten ware | 50s 6d |
| One Iron grate and other fire Implements | 12s 6d |
| Eight wooden Chaires | 2s 4d |
| Two small Tables with frames and a Dresser | 12s 6d |
| A Dog wheel and earthen ware | 1s |
| In ye Brewing Kitching | |
| One Copper brewing bottom, four brass panns and one Kettle, four pewter porringers, one pewter Chamber pott and other wooden vessells for washing (and brewing) | 110s |
| In ye best Chamber | |
| One feather bed, one boulster, blankett and Quilt, Kiddermaster Curtains and bedstead | 75s |
| Eight cane Chairs and Case of Drawers, one small (Glass, two) small tables, a pair of brass andirons and other fire Implements | 43s 4d |
| Window Curtains and other Lumber | 5s |
| In ye Garrett | |
| One feather bed with Curtains and valions, one quilt, five wooden Chairs, two Chests | 45s |
| In ye garret over ye little Chamber | |
| One brass Kettle, one old truckle bed16 and bedstead, one small end of hopps | 21s 6d |
| In ye hall | |
| One large table and frame, one small little table, six wooden Chairs and one old settle | 10s 9d |
| One grate with other fire Implements | 5s |
| (In the Hall of the house over the way) | |
| Thirty-five bushells of Malt | 8l 5s |
| (In the Croft over against the Stable) | |
| One Rick of hay | 50s |
| Ffive small piggs and poultrey | 20s |
| In Ready money (at the time of his decease) | 28l 14s 6d |
| One silver tankard, six silver spoons, one silver tumbler | 5l 2s 6d |
| Booke Debts due to ye testator | 50s |
| The profitts of two leases | 30l |
| Total | 126. 04. 08 |
Abraham Ayres, Robert Rogers, Appraisers
<![if !vml]>

<![endif]>
The will shows that Christopher Lock was an innkeeper and that one of the rooms is next to Wind Street, so the Inn can be assumed to be on Wind Street. We also learn of his kinsman William Lock, clockmaker, and his siblings James, George and Bridget. Could Christopher also have come from Somerset? The will names Christopher's wife, Elinor. No marriage record has been found but their burial records gives some interesting information. The inscription on the headstone taken from the Churchwardens & Sextons Book reads as follows:
<![if !vml]>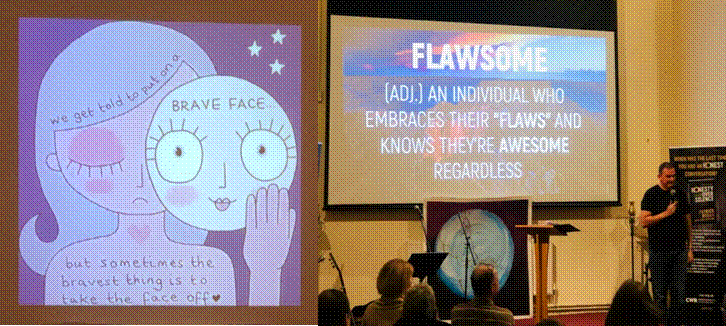 <![endif]>
Elinor Lock, (his widow) married John Griffiths on 5 January 1717 at St Mary's. Swansea. W. H. Jones later wrote "This lucky John Griffiths was a bit of a buck in his day; and a church warden; also he was landlord of the Star Tavern". He certainly seems to have landed on his feet in marrying the recent widow! Not only did he benefit from Christopher Locks' hard-earned cash, house and belongings, he also took over his pew at St Mary's Church. Moreover, in his own will he bequeaths "unto the said Elizabeth Smith five silver spoons and one broken silver spoon marked with the letters C. L., two silver saltcellars, one silver pint tankard, and one old silver quart tankard also marked with the letters C. L. (besides that tankard left her by her late uncle Christopher Lock)."
<![if !vml]>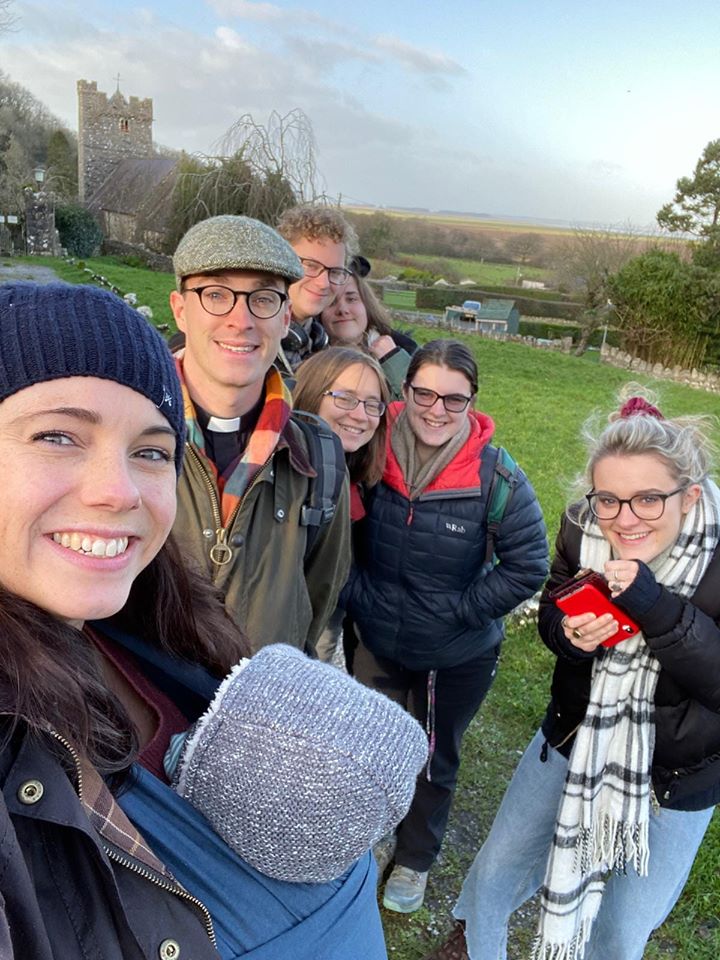 <![endif]>The inventory gives a good idea of what the house would have looked like. It has a cellar and two little rooms next to the cellar in the basement. On the ground floor it has a kitchen, brewing kitchen, little chamber next to the kitchen; the hall and a little room next to Wind Street. A chamber over the brewing kitchen, a best chamber, a little chamber upon the stair head, a half moon, and the rather grandly named Star Chamber and Heart Chamber, with a little room next to the Heart Chamber were on the first floor. There were also two garrets. It must have been quite a substantial building. Certainly big enough to be run as an inn. There were 10 beds, but only one chamber pot gets a mention! There were 65 chairs and 16 tables; room for a banquet in the hall and a quiet pint in the Wind Street room. Each bedroom had a feather bed with bedstead, bolster, blankets and curtains. The 1852 Local Board of Health plan shows the higgledy-piggledy nature of the building (all or part of numbers 38-41), and the photograph of the Old Star Tavern taken c. 1870 shows the building was built around the Tudor period. It is fascinating to think that this building stood for over 200 years and of all the comings and goings it must have witnessed.
As for Christopher Lock, he appears to have played a fairly active role in church affairs, but there is no mention of him amongst the Corporation records of the period. No record of his admission as a burgess of the Corporation has been found. As an innkeeper, it may have been that he didn't see any particular benefits to being a burgess: the main perks being the right to vote and the possibility of nomination as MP. Instead, Mr Lock was an Overseer of Poor. His signature appears on a number of Apprenticeship Indentures for the period and he is recorded in the poor rate books, but we know very little else about him. Without the will we might never have known he even existed.
So, to any budding researchers out there looking for their next project: take a will, any will and start digging because you never know what you might find!
Submitted by Lyndon Morris
(A more complete version of this article is available on request.)
The Diocesan M.U. is working alongside the Province to bring the Worldwide M.U. General Meeting to Swansea in September. It is the first time the G.M. has come to Swansea, the first time it has come so far west in the Province, so it is quite a coup to host such a visit. We expect up to 1,000 delegates to be in and around Swansea over the 17th. and 18th. of that month, many staying in, or near, the city. These M.U. members will come from all parts of the U.K and Ireland and some, hopefully, from our link Diocese overseas.
It will be the last G.M. for our Worldwide President, Lynne Tembey, who finishes her 6 year tenure in charge of Mothers' Union at the end of this year and of course this adds to the expectations of us all. Lynne has been a wonderful W.W. President- visiting so many countries worldwide and all the many Diocese in the U.K. We have fond memories of her visit here a few years ago. She is a very capable person and so much has been achieved during her Presidency, but to me she will be remembered for her warmth, her spirituality and her honest and humble interaction with all members.
The two days begin with a service of celebration here in St. Mary's on Monday, 17th. September. Not just one service but, due to the numbers wishing to attend, we have two services - at 3p.m. and 6p.m. We are already at capacity (600 reservations) for 3p.m. and almost certainly will be the same at 6p.m. Many dignitaries have been invited and we will be blessed with Archbishop John and the Bishop of St. David's, Joanna Pemberthey, at both services. How wonderful it will be to see our church stretched to full capacity and to have the choir leading us under the guidance and expertise of our organist and choirmaster, Dr.William Reynolds. Revd. Ian Rees has been busy putting together a service reflecting our theme of 2018, "In Mary Sumner's Footsteps", and of our Welsh heritage too.
On Tuesday !8th. September the General Meeting will take place in the Brangwyn Hall from 10.30 – 3p.m. Souvenirs will be available to celebrate this special event: lovespoons, tea towels and notebooks.
Then, to finish everything off in true Welsh style, we have a choral concert here in St. Mary's at 7p.m. on the 18/09/18 at 7p.m. with Morriston R.F.C. choir and Llanelli Boys/Girls choirs along with Angelicus Celtis. This promises to be a choral delight, and I should have a few spare tickets available in August.
It's going to be such a hectic two days but hopefully hugely enjoyable, really putting Swansea and St. Mary's on the map. There is so much to do but slowly, slowly plans are coming to fruition.
Please keep us all in your prayers during this time so that we can truly forward the work of M.U. Worldwide, remembering the vision of our founder member, Mary Sumner, who started this Global Christian Organisation 140 years ago to support families in need in times of stress and hardship, hoping to see all people enjoying loving, respectful and flourishing relationships. Her personal prayer sums up her vision so clearly and is so relevant even today:
All this day, O Lord, let me touch as many lives as possible for thee;
And every life I touch do Thou by thy Spirit quicken,
Whether through the word I speak, the prayer I breathe, or the life I live. Amen.
Ruth Roberts, D.P. Swansea and Brecon M.U.
A review of 'One Foundation' by Ian Rees.
If you Are planning to spend some time on the deckchair this summer, you could do worse than using it to read the rector's book. The title gives us a good idea of the theme. It calls to mind the hymn,
'The church's one foundation is Jesus Christ her Lord'
Ian has combined experiences from different times in his (and others') lives to illustrate what we might all think about in relation to our church and its role in our world. More than that, about us and our relationship with our world. The question 'If you lived in a country which persecuted Christians, would there be enough evidence to convict you?' is not included, but there is a very telling anecdote from a different viewpoint.
This records how a priest became worried when he noticed his congregation leaving coats and bags - and, inevitably, keys, money and other valuables – when they went to talk to others or went to receive communion. They obviously felt safe. Too safe? Shouldn't there have been some 'outsiders' there? Had that church become like a private members club? Why weren't 'non-members' there?
I was shocked at how shocked I was at his surprise, because of course that that priest was right. A city centre congregation (like us) should not be able to suppose that all those around them are what is known as 'saved', so would not think of stealing from them.
Ian writes of a number of other things and at the end of One Foundation includes an Easter sermon which makes me wonder if perhaps the modern Church does not pay sufficient attention to Good Friday as publicly as it once did. Surely the joy of Easter Day is enhanced by the solemnity and suffering of the week leading up to it.
Patricia Jenkins
TOGS - Parent/toddler group at Christchurch
Christchurch has a long-established Parent - Toddler group held on Monday mornings, 9.30 - 11.15am in Christchurch hall (entrance on Rodney St.). It is a lovely, friendly group run by the evergreen aunties Jen and Jane - it's smaller and less frenetic that many other nearby groups! So it's a great place for mums, dads, nanas, childminders and others to chat over coffee while the children play. If you know of people who look after little ones on Monday morning, do recommend it.
As part of our summer activities, everyone at Christ Church enjoyed the cream tea. Thanks to everyone who worked so hard for this event.
Revd Ian Folk
We have been busy celebrating in Hafod. In the last magazine I wrote about the service when Chris Box was confirmed. The week after this we had a party in St.John's. The party was partly because it was Pentecost, which is the birthday of the Church throughout the world and also a party to celebrate Chris' confirmation. We were joined by people who don't normally come to Church as we had invited people to come and celebrate with us. It was a great time, with lots of cake and fun.
We had our summer fayre in June on a nice hot day. Everyone had a lovely time with plenty of stalls and a chance to catch up with different members of the community. We are really grateful to those who worked so hard for this.
On 14th July we were treated to a concert by local singer and performer Ryan Port. He joined us fresh from a performance for the Chelsea pensioners. Ryan gave us a concert full of songs from the musicals and we were able to enjoy tea, coffee and cakes, with and a raffle afterwards!
At the end of July, Tea and Talk, who meet fortnightly, will be going out for a meal. We do like to eat and we also like to be a happy family who enjoy spending time together!
In September there will be training for pastoral visitors and we are thrilled that Robert Leonard and Betty Jones have agreed to do this training and become visitors for the parish.
As we move towards a new term for the school, so we will be praying for all staff and pupils in our local schools of Pentrehafod, Hafod Primary and Waun Wen Primary.
Rev'd Helen Rees
Waiting at Victoria Gardens the bus to Brecon passes St. David's Church, the tower housing a carillon of bells. A last glimpse through the trees to the Gardens and the Victorian bandstand as we leave Neath. Over the River Nedd and on our way.
'I'm meeting friends in Aberdulais. They want to see the Falls. Can we get tea there?' A chorus of advice as the bus pulls up. More passengers - old friends. The way through the wooded Dulais Valley punctuated with reminiscences. Cefn Coed Museum brings tales of life in a mining village - 'Remember Uncle Joe? The undertaker. Loved watching him making coffins.' 'Skilled work, that. They stood all along the walls.' 'Well - it was the colliery. In case of accidents.'
Crynant. The church with a sheet of ice on the wall next to the organ one Sunday morning. My frozen fingers on the organ keys. The road to the infants' school where lambs jumped into the yard but found no way out. Across the common, leaving the Dulais Valley, down into Ystradgynlais and the Swansea Valley and halting next to the Miners' Welfare Hall where performances range from Guitar recitals to plays to rock concerts.
On through Abercraf, past St. David's Church, now closed – a remembered summer morning's service and following tour of the churchwarden's vegetable garden – to Ynysowen. 'The Ancient Briton'; an institution in the area. The carpenter's 'apprentice' - 'Uncle Joe sized people up if he'd heard they were ill', replaced by booted and backpacked walkers.
Green fields and grazing cattle, Penycae and, high on the mountainside, Penwyllt and Madam Adelina Patti's private railway station. Craig-y-nos, her castle, the tiny opera house built for private performances, where she summoned the record company for her recording of 'There's No Place Like Home'. Signs pointing to the country park, then Dan-yr-Ogof cave complex, storage for Government and Military during World War II.
Climbing towards the Beacons, the Gwyn Arms where one weekend no meat was ordered for Sunday lunches. Past tiny Callwen Church and, shockingly, chairs and tables with umbrellas outside Tafarn-y-Garreg, the last pub in the valley.
On to the Beacons and grass-whitened mountains, paltry grazing for sheep. Fences replacing crumbling dry-stone walls. The shepherd's cottage unrecognisably improved, a well-kept quadrangle of farm buildings then the shining expanse of Crai's rain-starved reservoir. Hayfields and pink-fleeced sheep then the lime-washed tower of Defynnog church with its ancient yew.
On to Sennybridge, an exchange of passengers the only sign of life, then the road past Penpont House, where early music packed audiences into gracious rooms. From Penpont on to Llanspyddid, its small stone church, then past Llanfaes Church, Christ College, the bridge over the Usk and glimpses of Brecon Cathedral past the façade of the castle and hotel. Up the hill past the library and stop opposite St. Mary's Church, a venue for past concerts – and the funeral of a friend.
Church to church, town to town, over river and mountain and river. Brecon By bus.
Gwyneth Anthony
PARISH CONTACTS
Clergy:
Rector: The Revd Canon Ian Rees 01792 472760
Church Office : Tel 01792 655489
Associate Priest: The Revd Helen Rees 01792 472760
Assistant Curate: The Revd John Anthony 01639 638434
Assistant Curate: The Revd Ian Folks 01792 205190
Reader Emeritus Mr Les Taylor. 01792 234639
Parish Wardens: Mr Allan Jeffery - 01792 468015
Mrs Ruth Roberts - 01792 676732
Parish Treasurer: Mr Allan Jeffery 01792 468015
Lord Mayor's Wardens: Mrs Kitty Griffiths. 01792 813651
Mrs Helen Murrary. 01792 535813
St Mary's:
Treasurer: Mr Allan Jeffery. 01792 468015
Director of Music: Dr William Reynolds. 01792 467606
ChristChurch:
Wardens: Mr Christopher Davies 01792 205968
Mr Michael Paddison
Treasurer: Mrs Christina Davies 01792 205968
Safeguarding Officer: Mrs Jen Jones. 01792 423133
Hall Bookings: Ms Pam Jones. 01792 521763
St Mark & St John:
Wardens: Mrs Sandra Davies. 01792 422749
Mr William Moon. 01792 415327
Treasurer: Mrs Betty Jones. 01792 655619
Safeguarding Officer Mrs Sandra Davies.01792 422749
www.swanseastmary.co.uk