<![if !vml]>

<![endif]>
Parish Magazine 60th Anniversary Edition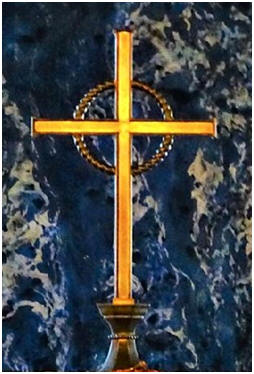 Contents:
1. Service Times and Dates for the Diary
2. Rector's Letter
3. St Padarn's Students
4. Falklands Memorial Service
5. Ordination
6. Busy Times
7. Swansea - 50 years a city
8. Church Supporting the Homeless
9. From the Editor
10. Cooking the Book
11. Mothers' Union Deanery Festival
12. Theology for Life
13. Music Notes
14. Renovating Christchurch for Mission
15. Events at Hafod
16. Where did you get that Hat?
17. 60th Anniversary Choral Eucharist
18. Contacts


Service Times
St.Mary's Church
Sunday 11.00 Choral Eucharist
4.00 Choral Evensong
6.00 Sunday at 6 (21st May & 18th June)
Tuesday 12.30 Healing Service (2nd Tues. in month)
12.30 Cymun Bendigaid (4th Tues. in month)
5.30 Choral Evensong (Term Time)
Wednesday 10.30 Holy Eucharist
12.30 Lunchtime Service (Holy Eucharist on 1st in month)
Friday 12.30 Holy Eucharist
(Except 1st in month when MU Archidiaconal at 11.00)
Saturday 12.30 Holy Eucharist

Morning Prayer Tue, Wed & Thursday 9:30am
Christchurch
Sunday 9.30 Holy Eucharist and Sunday School
Thursday 10.00 Holy Eucharist
St John's Hafod
Sunday 10.00 Holy Eucharist
Dates for the Diary
June
1st (Saturday) Craft Fair
Morriston Orpheus Concert 7.00 pm
4th (Tuesday) MU Deanery Festival 2.30 pm
Preacher Revd Aled Edwards
6th (Thursday) Ladies' Guild (Bingo)
7th (Friday) MU Eucharist 11.00
Kairos Prayers 12.30
9th (Sunday) Pentecost (Whit Sunday)
10th(Monday) MU 2.00 pm
14th(Friday) Falklands Memorial Service 11.00 am
16th(Sunday) Trinity Sunday
18th(Tuesday) Gower Chorale rehearsal 7.00 – 9.00 pm
20th(Thursday) Ladies' Guild – Maggie's Speaker
1st(Friday) 60th Anniversary Dinner – Sketty Hall
22nd(Saturday) Gower Chorale Concert. (Rehearsal 2.00 pm)
24th(Monday) MU 2.00 pm
25th(Tuesday) Cymun Bendigaid 12.30
29th(Saturday) Concert by Voldil Vokal from Norway
July
2nd (Tuesday) Organ Recital Series - 1.10 pm
3rd (Wednesday) 50th Anniversary of Swansea's City Status.
4t h(Thursday) Ladies' Guild
5th (Friday) MU Eucharist 11.00 am
Kairos Prayers 12.30 pm
6th (Saturday) Dunvant Male Choir Concert
9th (Tuesday) Organ Recital Series - 1.10 pm
13th(Saturday) Gower Festival – Karl Jenkins Concert 7.30 pm
14th(Sunday) 50th Anniversary of Swansea being granted City Status. – Service 2.30 pm
15th(Monday) D-Day Exhibition (Until November 12th)
16th(Tuesday) Organ Recital Series - 1.10 pm
18th(Thursday) Ladies' Guild Summer Trip
23rd(Tuesday) MU Summer Outing
Cymun Bendigaid 12.30 pm
Organ Recital Series - 1.10 pm
26th(Friday) Wedding
27th(Saturday) Ringing Guild- Training Session - 10.15-12.15.
28th(Sunday) 50th Anniversary Renewal of Vows
30th(Tuesday) Organ Recital 1.10 pm
N.B.
Articles for the next magazine can be sent to this address
Deadline for June/July edition is 20th May, 2019
Many thanks to all contributors to the magazine
Dear all,
This week we've been celebrating the 60th anniversary of the re-consecration of St Mary's. It's been a busy but enjoyable week and also an important one, not just for St Mary's but for us all as a parish for a number of reasons.
1) Celebrating is always good! So many of the psalms contain all kinds of emotions, but praise is so often associated with joy and in one of my favourite bible readings from Paul's letter to the Philippians (Ch 4), he writes from his prison cell not about misery or worry but about the need to 'rejoice in the Lord always, again I say rejoice !' As churches we need to be joyful as we recognise the wonderful gifts that God has given to us day by day and that joy is something that sustains us, as it sustained Paul in his prison cell, through even the darkest of times.
2) Milestones are important in the life of any church as they help us to focus on what we're doing now. In St Mary's there was an exhibition and various displays and events relating to the past, but it's essential that we also think of the present and the future. It's pointless celebrating 60 years if we have no hope for the future. Too often we get dragged down by worries about money or buildings or people and forget that we are to live out our faith through the hope, peace, joy and love that God gives us and calls us to reveal to others. Any church that is not seeking to build a future is not seeking to go and make disciples, which Jesus absolutely commanded us to do.
3) In joining together for a celebration which recognises a particular milestone we are recognising that none of our churches are ivory towers simply to be protected and maintained. The walls of our buildings are simply for keeping us warm when it's cold or wet, not to build up barriers that divide us. They may rightly become precious to us as we treasure memories that we have from those buildings, but the church must always be the people of God, people committed to love and serve, people committed to growing both spiritually and numerically.
It was appropriate that the celebrations took place in the week of Ascension Day as we remembered Jesus ascending into heaven and leaving his people, supported and strengthened by the Holy Spirit, to be his body in the world. As his body we are to live as he calls us to live, exercising the love and care and compassion for all that he exercised.
As a church, on June 9th we celebrate the Feast of Pentecost as we recognise the gift of the Holy Spirit which we are given and we are reminded that we can trust God who can strengthen us, empower us and who is with us always.
May we as churches join together as a parish and much further afield, rejoicing in the power of God to transform us and others and to reveal through our words and through our actions his love for all. May we be and share good news.
With every blessing,
Ian
ST PADARN'S STUDENTS
St Padarn's is the training college for ministry within the Church in Wales and from 12th-14th June we will be joined by some of their students who will be conducting a mission in Swansea. This will begin with a student led service at 12.30pm on Wednesday 12th June in St Mary's, to which everyone is very welcome and conclude with the Friday Eucharist at 12.30pm on 14th June when the Revd Helen Rees, who works as a tutor in St Padarn's, will preach. During their time with us the students will be undertaking a community survey, as well as offering assistance in some schools including Christchurch, which will be having prayer stations that week. We look forward to welcoming them to Swansea.
This will take place on Friday 14th June at 11am. As usual, anyone is welcome to attend this service.
ORDINATION
The ordination service will take place on 29th June at 3pm in Brecon Cathedral. Please pray for those to be ordained and for the parishes where they will serve :
Priests : Sue Rumbelow (Gowerton) Petrina Lodge (Llyn Safaddan)
Deacons : Sam Aldred (Central Swansea), Meinir Ronicle (Gwastedyn), Peter Letson (Glan Ithon), David Owen (Ystradgynlais), Janet Day (Builth Wells), Gill Todd (Llanddew and Brecon), Sister Marian (Sketty).
We look forward to welcoming Sam and his wife Helen to the parish. Their first Sunday with us will be on June 30th and there will be a combined parish Eucharist in St Mary's that day at 11am where we hope as many people as possible will come together to welcome them. Sam will be preaching at that service.
BUSY TIMES
There is a lot happening this year. 3 couples who were part of St Mary's are being married this year. In the coming months Edward Murray and Kate Murray will be married at St. Mary's. In May it was our son, Ieuan who was married in St. David's Cathedral. I had the great privilege of marrying them in the cathedral at St David's. Ieuan had been a member of St. Mary's choir for a number of years before moving to St. David's.
We have just seen the 60th anniversary of the reopening of St Mary's following wartime bombing. There were many events planned to celebrate this anniversary. I can remember as a very young child standing below the lych gate with my parents and staring up at the church just about reopened. I have a memory of seeing my grandmother walking past the west door. For some reason in my childish way I seem to have thought that she was the Queen Mother but of course she was not. It has been a great privilege to, first, be part of St Mary's and then to serve as a priest in the parish of Central Swansea. It has been a wonderful experience to take part in the celebrations and anticipate a great future for the church at the centre of the city.
Cars are amazing things but when they go wrong, it can make things very difficult. In our church life, visiting really needs the ability to get around and it's not easy to do so by bus or on foot. We all live in a very wide area. This is what happened to us. After our son's wedding our car "died". We took a while to sort things out. Hopefully, I'll get back to seeing people who must wonder if I've disappeared from the face of the earth.
Fortunately, there are many of us who take time to pop in or pick up a phone to see that members of our congregations are well. It's good to have support for those in our communities who need it.
During June we have remembered the 75th anniversary of D-Day when so many died in France in order to win freedom for France, Europe and the world. There have been many moving moments when people have remembered these events. We must never forget what has been done for us all so that we are free.
Fr John
SWANSEA - 50 YEARS A CITY
In July 1969 Swansea was made a city, although the actual charter was not granted until December that year.
To commemorate this event there will be a special Evensong at 4pm on July 14th with the Archbishop as the preacher. At the service, prayers will be said giving thanks for the city and praying for the city today and in the future.
All are very welcome!
Rev'd Canon Ian Rees
CHURCH SUPPORTING THE HOMELESS
We're a small team of volunteers who do what we can with the resources we have to provide a little comfort and some breakfast to those who, in many cases, suffer from various forms of addiction, mental and medical conditions.
We tend to work with people of all ages who are homeless or threatened with homelessness, or just unable to see to themselves, in order to enable them to actively address and come to terms with the issues that have made them homeless. We try to meet the emotional and practical needs of our guests who, because of their homelessness and difficulties, find themselves estranged from their families and become socially excluded. Coming to the Church on a Tuesday morning means a lot to them, it's out of the wet and cold and is a place where they can chat with their friends and volunteers alike. On a typical Tuesday morning we serve anything from a dozen to 20 breakfasts and copious amounts of tea and coffee - with heaps of sugar.
<![if !vml]>

<![endif]>
Our regular volunteer team, Elaine O'Connell, Karen Phillips (St. Pauls), Ann Peregrine-Davies (St. Pauls), Mike Summers (Wesley Methodist), Rev'ds Ian and Helen Rees, Allan & Margaret Jeffery, Terry Davies and Paul Kirby (Priest) are often supported by one or two visiting helpers all geared up to help with the serving of food and chatting with the guests. It all becomes worthwhile and rewarding when we hear from some that without us; they question just where they would be.
The 'Club' has been up and running for 14 weeks and appears to have established itself as a regular venue for a good breakfast and a place of comfort. Volunteers are in short supply, if you're able to help we would welcome your support. However, without having to be there you too can help. Donations of any description would be very much welcomed and appreciated.
Allan
Christmas, Epiphany, Lent, Easter. The church year follows the expected pattern – and then something extra crops up. This year at St. Mary's the additional event is the 60th anniversary of the re-consecration of the church following the building's near destruction during WWII. The series of events in celebration of this anniversary have taken place as a result of a great deal of hard work by a number of people. Grateful thanks are due to all those involved.
So much time has passed since the re-opening of St. Mary's and we have seen many improvements in peoples' lives. The fact that so many live on the streets of this country (we are often told That Britain is one of the wealthiest countries in the world) is hardly an improvement, neither is the level of care for those in need. Allan Jeffery's article telling us about the 'Tuesday Club' at St. Mary's demonstrates how much this type of help is needed.
Ieuan and Sophie Anthony send their thanks to all who have sent good wishes and congratulations on the occasion of their marriage
Many thanks to all contributors to the magazine
COOKING THE BOOK
You've all probably heard about cooking the books, although I'm sure you never would.
Well now, thanks to an old 1930's cookery book I've just found, you can cook the Scriptures.
Bible Cake
4 ½ cups of 1Kings iv 22
1 Cup Judges v 25 (last part)
2 cups Jeremiah vi 20
2 Cups` 1 Samuel xxx 12
2 Cups Nahum iii 12
1 Cup Numbers xvii 8
½ Cup Judges iv 19 (last part)
6 Jeremiah xvii 11
Season with 2 Chronicles ix 9
2 tablespoons of 1 Samuel xiv 25
A pinch of Levicticus ii 13
2 teaspoons of Amos iv 5
Follow Solomon's prescription for making a good boy. Proverbs xxiii 14. I may not make it but be satisfied with PROVERBS 20 X III (last part)

Happy baking
Margaret McCloy
MOTHERS' UNION DEANERY FESTIVAL
<![if !vml]>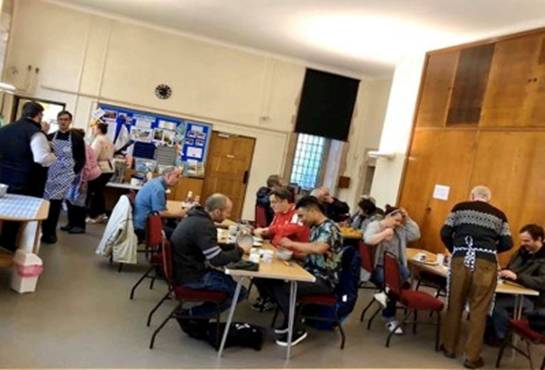 <![endif]>

St Mary's hosted the Afon Tawe Deanery Festival at the beginning of June. There was a good crowd of members from across the Deanery present for the service and we were delighted to welcome The Rev'd Canon Aled Edwards as the preacher. Aled is the Chief Executive of Cytun, Churches Together in Wales. He is also a member of the College of St Mary.
Ruth Roberts led the prayers and a reflection and also introduced some members who were receiving Long Service Awards. These were presented by the new Diocesan President, Sally Freedman. One of the awards was presented to a lady who has been a member for 60 years with her enrolment being led by Canon Harry Williams, the Vicar of St Mary's. The enrolment took place at St James' Church as this was shortly before St Mary's was re-consecrated.
Refreshments were served at the end of the service by members from St Mary's.
Future events: On June 10th Helen Jones (Bishopston) will give a talk on her trip to Haiwaii.
Rev'd Canon Ian Rees
Theology for Life
Have you, like me, ever felt that we don't really do much as Anglicans to educate ourselves after our confirmation instruction (and/or Sunday school)? As we live our interests change and develop, our needs change and we (hopefully) mature, but do we develop our religious understanding? If so, the Church in Wales may have devised a solution for us. A course has been proposed which will meet all sorts of different needs for different people.
The basis of this programme is a weekly discussion group, meeting for three terms of eight weeks a year, over, possibly, six years. This is the minimum commitment, but it allows for missing individual sessions as these do not necessarily depend on participation in the previous meeting.
If you wish, you can use these group discussions, with a small amount of reading, and even commit to some written work, which will lead to a certificate after two years – these are optional commitments.
The course itself will eventually yield a diploma, then a degree and will be a basis of training for ordinands, but don't let this frighten you off because we all need to understand more about our own beliefs to give more helpful answers when asked about our faith.
The next course will start on the 21st September, but we need to register for it by the end of June. Rev'd Helen Rees is the co-ordinator for us, so, to consult her if you think you would be interested.
Patricia Jenkins
Since the last issue of this Magazine, St Mary's Choir has maintained its musical momentum with the privilege of supporting the rich liturgies of Holy Week and Easter. There was a total of eight choral services between Palm Sunday and Easter Day, and much glorious music by Haydn, Victoria, Mozart (including chamber orchestra accompaniment) and S.S. Wesley. Afterwards, the choir was appreciative of their well-earned Easter break. Thanks, as always, to our team of assistant organists Huw, Alan and Andrew; and to Frank Philips for covering on Low Sunday.
<![if !vml]>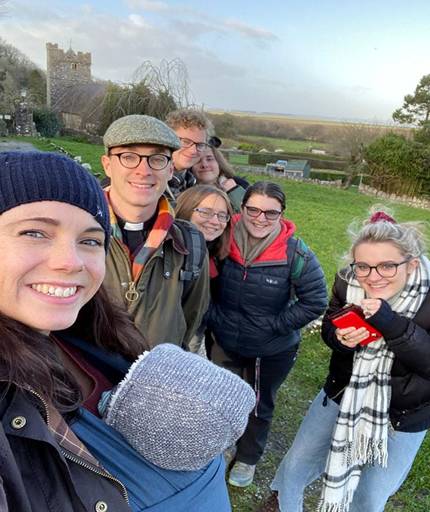 <![endif]>On Palm Sunday Canon Ian presented Emily with her RSCM Voice for Life Light Blue level certificate and medal. Congratulations, Emily!
May proved an exciting month in the musical life of St Mary's. There was the RSCM Swansea & Brecon Area Choral Festival at Brecon Cathedral on Saturday 11th May, and the beginning of the St Mary's 60th Anniversary celebrations. It has been fascinating to look through the album prepared by Margaret Fox, displaying a vast array of photos of St Mary's Choir spanning the last hundred years.
The St Mary's 60th Anniversary celebration week began with the Choir of St Martin-in-the -Fields, conductor Tom Williams and organist James Gough, for a Concert of Choral Classics including Handel's Zadok the Priest and Parry's I was glad. Highlights included Arvo Part's Beatitudes and a rousing rendition on the organ of W.T. Best's Concert Fantasy on 'Men of Harlech'. We look forward to James performing in the St Mary's Organ Series on Tuesday 6th August.
On the Tuesday 28th May (the actual 60th anniversary date of the re-opening) a lunchtime Song Recital was given by our Choral Scholars William Playel-de Vries and Morgan Darcy Rees-Deacon, with music by Pergolesi, Purcell, Britten, Gluck, Dilys Elwyn-Edwards, Monteverdi and Mozart. We wish Morgan success In the summer when she competes in the Pendine Voice of the Future Competition at the Llangollen International Eisteddfod.
Thursday 30th May was Ascension Day. A performance by our Director of Music of L'Ascension: Four Symphonic Meditations for Organ by the twentieth-century French composer Olivier Messiaen followed the Choral Eucharist. While Organ Scholar at Bangor Cathedral, I would always look forward to the annual performance of L'Ascension given by Andrew Goodwin, Organist & Master of the Choristers at Bangor Cathedral (now one of the team of assistant organists here at St Mary's).
The music continued with Morriston Orpheus performing a 60th Anniversary Concert on Saturday, 1st June and included many popular male voice choir favourites.
St Mary's Choir was again in fine voice for the Anniversary Choral Eucharist on the morning of Sunday 2nd June, the Archbishop of Wales presiding. The Revd Lionel Hopkins reminisced after the service that he was one of the boy choristers at the opening service in 1959 (Decani 8). The week of celebrations then concluded with a Celebratory Choral Evensong, the music for which included the hymns, psalm canticles by Heathcote Statham in E minor, John Goss O praise the Lord and Charles Villiers Stanford Te deum in B flat to match that of the dedication Evensong 28th May 1959. The responses, meanwhile, had been composed by the Director of Music for the 50th anniversary service in 2009.
During June, I will participate in the Royal College of Organists study tour to Paris, which will include masterclasses on notable organs of La Trinité, Saint Sulpice, L'Oratoire du Louvre, Notre-Dame d'Auteuil, and the organ at Maurice Durufle's apartment. There will be the thrill of playing music by composers Widor and Messiaen on the actual instruments where they were organists.
Looking ahead…
On Saturday 22nd June the Gower Chorale will perform a concert at St Mary's. The programme includes Leonard Bernstein's Chichester Psalms, Morten Lauridsen's Lux aeterna, Faure's Cantique de Jean Racine. It will also include Peter Conibear's Chorale fanfare, There shall be no more night, composed for the dedication of the St Mary's Millennium Window, whose inscription from the Book of Revelation provides the text. The Counter-tenor soloist in the Bernstein will be William Playle-de Vries, one of St Mary's Choral Scholars.
The run of Saturday concerts continues with the Norwegian chamber choir, Volda Vokal with us on Saturday 29th June, the Dunvant Male Choir Annual Patrons Concert on 6th July, and the Gower Festival's Sir Karl Jenkins 75th Birthday Concert on 13th July. Meanwhile, the St Mary's Summer Organ series begins on Tuesday 2nd July 1.10pm-1.50pm running weekly through to September. Do come along and support
Dr. William Reynolds, Director of Music
RENOVATING CHRISTCHURCH FOR MISSION
It's been a busy time of building work over the last two months at Christchurch! The main change has been the creation of disabled access to the front of the church, by means of a ramp with a tarmac surface from the pavement to the main entrance. It looks excellent and makes our church much more welcoming to those using wheelchairs and pushchairs. The work was made possible with funds from the sale of St Mark's Waun Wen, from which all churches in the parish have benefitted.
We are also creating a children's area at the back of the church. For that, we needed to not only re-orientate pews in the back right hand corner, but also to re-plaster walls above which had been previously damaged by damp. The area will get a lot of use when our all age congregation, Faith Together, starts later in the year.
We are also opening a Community Cafe every Thursday, starting in the summer (date to be announced). But before we do that, we needed to carry out work on the toilet drainage, which was causing problems, andwe also wanted to paint the small hal,l which was looking a bit tired! So a painting party has hit the hall on a couple of occasions, with Patrick 'DIY SOS' Harris doing sterling work with a brush and roller in between. Unfortunately, as with any old building, there is a Pandora's box effect when some problems start being addressed, and there is further work going on in the hall to treat localised dry rot and woodworm.
We would like to commend our builders, Samlet Decorating Services, who have worked considerately throughout with excellent quality and reasonably priced work. Thanks also to Mike Paddison and others who have helped us to arrange and oversee the work.
Easter Services
Two of our Easter services drew good numbers of younger people. Our Good Friday Messy Church featured Easter crafts and a multi-sensory walk through of the Maundy Thursday and Good Friday story - with feet painting instead of washing; a last supper, and various interactive Stations of the Cross. Easter Sunday had the children discovering a terrifying angel in white robes in an empty tomb at the side of the stage. Chilldren and adults were both challenged to see which disciple they identified with - Mary Magdalene, who believed, then ran off and told others, or the male disciples who considered it an idle tale.
There are two special events coming up at St John's:
· The Summer Fete will take place on 6th July at 1pm.
· On 29th July there will be Bingo in the evening.
Where did you get that Hat?
Looking at many of the photographs which formed part of the exhibition marking the 60th anniversary of the re-consecration of St. Mary's, I was struck by the number of hats on show. From the processions, where female choristers wore hats and the bishop's mitre was in evidence, hats could be seen in all directions – on women and men gathered outside to witness the event, on female members of the congregation. But not on the men's heads inside the church. Civic representatives had their own style of headwear.
The images reminded me of older members of my family who would not have dreamed of going to chapel without a hat, of Aunty Martha who wore her hat when doing her shopping and even on the chapel outing to Tenby. Girls were expected to wear straw hats to services and, of course, there were the dreaded school berets.
Falling out of fashion, hats were sometimes replaced with flowers in the hair (even if not going to San Francisco), or, in the case of many of the trendy young men, with ties fastened round heads, not necks. Intended to show signs of rebellion, these styles indicated the wearers place in society as clearly as the Bishop's mitre or the judges' wig.
More recently, hats have made something of a return in certain circumstances. Woolly hats to keep warm in winter, babies' bonnets of course, hats to keep the sun off the heads of men with certain 'hairstyles', hats to indicate certain occupations – soldiers, sailors, or think of builders in their hard hats.
One area where hats seem to have kept their place is at weddings. From top hats for the men to hats, fascinators or feather and flower decorations for mothers of the bride and groom (the agonies over the choice!), the family of the couple, or friends who want to dress for the occasion. And, of course, the supreme example of the headdress, the bride's veil.
Fashions change, but the world of millinery seems here to stay.
Gwyneth Anthony
60TH ANNIVERSARY CHORAL EUCHARIST
CLERGY AND WARDENS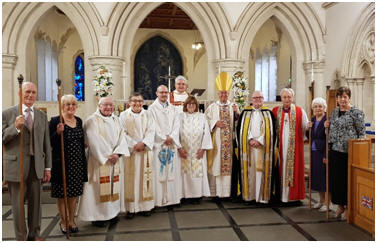 ---
Clergy:
Rector: The Revd Canon Ian Rees 01792 472760
Church Office : Tel 01792 655489
Associate Priest: The Revd Helen Rees 01792 472760
Assistant Curate: The Revd John Anthony 01639 638434
Assistant Curate: The Revd Ian Folks 01792 205190
Reader: Robert Leonard 01792 655613
Reader Emeritus Les Taylor. 01792 234639
Parish Wardens: Allan Jeffery - 01792 468015
Ruth Roberts - 01792 676732
Parish Treasurer: Allan Jeffery 01792 468015
Lord Mayor's Wardens: Kitty Griffiths. 01792 813651
Mrs Helen Murrary. 01792 535813
St Mary's:
Treasurer: Allan Jeffery. 01792 468015
Director of Music: Dr William Reynolds. 01792 467606
ChristChurch:
Wardens: Christopher Davies 01792 205968
Michael Paddison 01792 463255
Treasurer: Angela Reed
Safeguarding Officer: Jen Jones. 01792 423133
Hall Bookings: Pam Jones. 01792 521763

St Mark & St John:
Robert Leonard 01792 655613
Treasurer: Betty Jones. 01792 655619
Safeguarding Officer Sandra Davies.01792 422749
www.swanseastmary.co.uk
Facebook: St Mary's Swansea
Christchurch Central Swansea
St John's Hafod
Twitter: @stmaryswansea