<![if !vml]>

<![endif]>
Parish Magazine 60th Anniversary Edition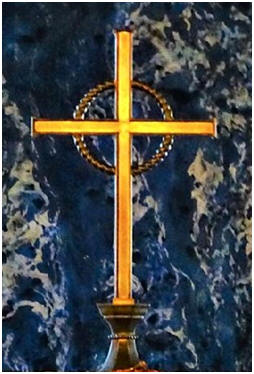 Contents:
1. Service Times and Dates for the Diary
2. Rector's Letter
3. Possible Trip to Tintern Abbey
4. Coffee Shop in St Mary's
5. Some History
6. A Break
7. A Bit of Seasoning
8. Faith Together: a new congregation at Christchurch
9. Sam Aldred - perfume salesman
10. From the Editor
11. Mothers' Union
12. Music Notes
13. Around Bristol
14. Arts Review "Lux Aeterna"
15. Sir Karl Jenkins' 75th Birthday Gala Concert
16. The Royal College of Organists Study Trip to Paris
17. From Christ Church
18. News from St John's Hafod
19. Home? Away?
20. Contacts

Service Times
St.Mary's Church
Sunday 11.00 Choral Eucharist
4.00 Choral Evensong
6.00 Sunday at 6 (21st May & 18th June)
Tuesday 12.30 Healing Service (2nd Tues. in month)
12.30 Cymun Bendigaid (4th Tues. in month)
5.30 Choral Evensong (Term Time)
Wednesday 10.30 Holy Eucharist
12.30 Lunchtime Service (Holy Eucharist on 1st in month)
Friday 12.30 Holy Eucharist
(Except 1st in month when MU Archidiaconal at 11.00)
Saturday 12.30 Holy Eucharist

Morning Prayer Tue, Wed & Thursday 9:30am
Christchurch
Sunday 9.30 Holy Eucharist and Sunday School
Thursday 10.00 Holy Eucharist
St John's Hafod
Sunday 10.00 Holy Eucharist
Dates for the Diary
August
2nd (Friday) MU 2.00 pm
6th (Tuesday) Choral Trust Vestry Hall 10.30
Organ recital James Gough 1.10
7th (Wednesday) Coffee Shop Training
9th (Friday) MU Mary Sumner Day
13th (Tuesday) 1.10 Organ Recital
15th (Thursday) St. Mary's Council
17th (Saturday) Wedding
18th (Sunday) Services sung by Vox Angelica
20th (Tuesday) Organ Recital
25th (Sunday) Services sung by Hemiola
27th (Tuesday) Organ Recital Dr. William Reynolds
September
3rd (Tuesday) Organ Recital – Dr Ian Rutt
5th(Thursday) MU World Wide President Trinity Chapel.
6th (Friday) MU 11.00 am
9th Monday) MU Start of session. Holy Eucharist Revd John Anthony
10th (Tuuesday) Pins & Needles 11.00
Organ Recital Huw Tregelles Williams 1.10 pm
22nd (Sunday) Royal Marine Association Laying up ceremony within evensong
26th (Thursday) Parish Trip
28th (Saturday) Craft Fair
Evening Concert Gwalia
N.B.
Articles for the next magazine can be sent to this address
Deadline for October/November edition is 15th September, 2019
Many thanks to all contributors to the magazine
Dear all,
It's hard to believe that it's magazine time again. Time really does seem to have flown over the last few months. Of course ,we had the celebrations for the 60th anniversary of the re-consecration of St Mary's Church at the end of May and beginning of June and later in June a large group enjoyed a meal at Sketty Hall as part of the celebrations.
We also welcomed a group of students from St Padarn's, the theological training college for the Church in Wales. They joined us for a short mission and took part in the Wednesday lunchtime service at St Mary's and various other activities. Sadly, the weather wasn't particularly kind, but it was a good few days and they were able to get into various interesting discussions with people outside the church.
We have also celebrated the ordination of The Rev'd Sam Aldred. He was ordained at Brecon Cathedral on June 29th and welcomed to the parish with his wife Helen in a joint service on June 30th. They have already begun to settle in well and Sam was involved in the most looked at photo of the year yet on Facebook working in the breakfast for homeless people! We look forward to getting to know Sam and Helen better over the coming months.
One of the links from the things I've mentioned is hospitality and as I write this (mainly because it was one of the readings this morning!) I'm thinking about the bible account of Mary and Martha, the two sisters who greeted Jesus at their home (Luke 10:38-42). Mary sat at the feet of Jesus and listened while Martha rushed around doing things and we're reminded of a need for both of those things. There is a time to sit and listen and pray and reflect but there's also time to be people of action, doing things. Our faith calls us to exercise both.
We need to set aside time for prayer and for bible study and reflection, but we also need to be seen as people of good news, people who are looking to be a blessing to others. Another of the bible readings in this morning's service was Genesis 18:1-10a. In that account Abraham welcomed God in the form of 3 strangers. Hospitality was and is a very important part of life in the Middle East, but it is also for us as Christians and we are, I think, called to exercise generous, even extravagant hospitality.
That is done in all kinds of different ways, sometimes in our homes, sometimes in things we do outside, and sometimes in our churches. Hospitality may consist of sharing food or a drink with someone and it may also just be offering a listening ear or a kind smile. Abraham was not even slightly grudging in his provision of hospitality, but generous and eager to offer it and that is a huge example to us to look out and see how we can be a blessing to others, practising hospitality again and again until it becomes who we are.
There is of course a word and an action that extends hospitality to something even greater and that is love. As Christians we are called to love as Jesus loves and that sort of love is for all, even those who are difficult to love. That love is limitless and never based on what is deserved or earned but on God's grace and ability to love. We'll get it wrong at times but there is no excuse for not trying.
We've enjoyed over the last couple of months' time spent together socially, we've celebrated with Sam on his ordination, supported the students who visited the church for those few days, provided free breakfasts for people who are homeless or just needing some company and have begun the community cafe in Christchurch and welcomed people there. We've also continued to run the cafe in St Mary's, again offering support for people in need as well as welcoming visitors day by day.
Hospitality and love - two things we are called to exercise, two things that are not just things for others to do, two things that aren't dependent on the merits of the recipient, two things that make a massive difference as we seek to be a blessing to the people of Swansea.
With every blessing
Ian
POSSIBLE TRIP TO TINTERN ABBEY
We are thinking of having a trip to Tintern Abbey if there is enough interest. This would be on 26th September 2019 leaving from St Mary's at 9.30am and returning by about 6.30pm. During the day, time will be free to make your own way around and have lunch etc. For those who wish to, there will be an optional trip to Parva Farm Vineyard from where you can walk down into Tintern after the visit.
The cost is obviously dependent on numbers, but the coach fare is likely to be a maximum of £15. If you're interested please complete your name on the list at the back of the church or email : stmarysswansea@gmail.com or let one of the clergy or church wardens know. We need to decide on the viability of the trip fairly soon so please could you let us know numbers within the first couple of weeks of August at the latest.
COFFEE SHOP IN ST MARY'S
We need help in the coffee shop in St Mary's on a rota basis. To help people think about this we will be holding a taster and refresher session and will,have a date for that soon. Please come along if you possibly can, either as a veteran with experiences to share and no doubt some learning still to do or whether you are just thinking about this - turning up for won't commit you to anything! Why not give it a try!
SOME HISTORY
A video has been produced which looks around the church and which can be viewed on You Tube. On youtube.com search for it under the title 'A brief history of St Mary's Church Swansea' – please have a look at it and share it with friends. It really is a fascinating story and thanks are due to Paul Murray, Peter Hall and Greg Ballantine for putting this together.
We also have CD's available of the talk about the history of the church which was given by Colin Wheldon James during our recent week of celebration.
Canon Ian Rees
A BREAK
It's holiday time again! For some people every day may be a holiday but, for most of us, we look forward to that time when we can take a break and have a complete change of routine. Life can be very busy and often frenetic. We need a moment to rest from ordinary things.
These past few weeks have seen unusually hot weather and people are concerned about global warming. Hopefully the nations of the world can start to redress the balance in nature and we can pray that such extremes of weather decrease rather than increase.
Also, we have seen many changes in the political world with a new prime minister taking over near the end of July. There are many challenges facing the country at the moment, but we hope and pray that our leaders will take the correct action at all times.
It's all been so busy and sometimes stressful. We really do all need a holiday. We need some time to step back and recharge our batteries. It even affected Jesus when he was tired with the crowds following him everywhere. He jumped into a boat to get some peace.
I hope you will all be able to have a wonderful summer and return to normal life refreshed and ready to start all over again.
Fr John
A BIT OF SEASONING
Gardens can be wonderful places. In fact, we love visiting gardens when on holiday and it is always wonderful on a hot day, to sit under the shade of a tree to relax. Yet it is not only during hot summers when we can enjoy gardens. In Autumn, with the beautiful colours, we seem to have a respite from the coming Winter when, even then, there is still beauty. When the frosts cover the ground and all seems dead, we know that Spring will come and new life will emerge.
All this sounds like a sermon but really it's just me thinking about the way a garden changes and each season has its beauty.
So enjoy the Summer and then the Autumn, because we live in a wonderful world where God's presence is ever near.
Fr John
FAITH TOGETHER: A NEW CONGREGATION AT CHRISTCHURCH
How often have you heard a conversation in church which goes along the lines of '(sigh) Children and young families just don't come anymore.' What started as a decline has become more like a haemorrhage in recent years. Over half of Anglican churches in Wales don't have any young children attending; on a typical Sunday we have fewer than 10 across the three parish churches.
Over the last few years at Christchurch, we have worked hard at building up relationships with young families - through TOGS, our parent-toddler group; through Messy church, prayer spaces, running Collective Worship and lots of other activities at Christchurch school, and through seasonal events.
But still, they don't come to our regular church services. Even those who sometimes come, or would like to come, find the Sunday morning time very awkward. And there's a further barrier: the language that the church speaks is a foreign one now, to those not raised on bible stories, choirs and liturgy. To connect the Gospel to them needs a new approach in a tongue familiar to them. Just as missionaries learned African languages in the nineteenth century, so we need to speak to a culture which is secular but hungry for spiritual meaning. The message doesn't change; the delivery needs to.
'Faith Together' is an attempt to reach out to bring in families and inspire people to take Christian faith seriously. We will meet once a month between 4 and 6pm on the second Sunday of the month. It is designed to be an informal and relaxed atmosphere which stimulates both child and adult spirituality. Stories, discussion and video clips take the place of sermons. A music band takes the place of a choir. Most of all, it is an inclusive experience: adults and children work together on banners, dramas and crafts for worship; they participate together in 'godly play' sessions; children rehearse and play in the band alongside adults. And as a cornerstone of Jesus' ministry was eating together, so we deepen our time together with a meal together at the end.
We have had a grant bid of £5500 approved by the Swansea and Brecon diocese mission committee for the work, for which we are grateful. A team from the church is involved in developing and delivering the sessions and doing the catering. The first date is Sunday 13th October. We encourage you to attend - and even more, we encourage you to invite and bring any family who may feel a lingering connection to church but wouldn't typically attend. And still more, we encourage you to pray for it; that God would do something wonderful through it.
Rev'd Ian Folks
SAM ALDRED - PERFUME SALESMAN
I am thrilled to have joined the ministry team here at St Mary's to serve as Assistant Curate. I can think of no better place to begin my ordained ministry than this sacred space at the heart of Swansea.
The path leading to this point has been somewhat convoluted, but I am certain that the hand of God has been guiding me along the way. I am originally from the town of Stourbridge, in Worcester Diocese, which is where my parents still live. I spent many of my childhood holidays in the Gower, where I have an aunt and uncle (originally from Morriston!). It was whilst walking along the coast near Three Cliffs that I had my 'conversion experience' at the age of thirteen, and first began thinking seriously about the Christian faith.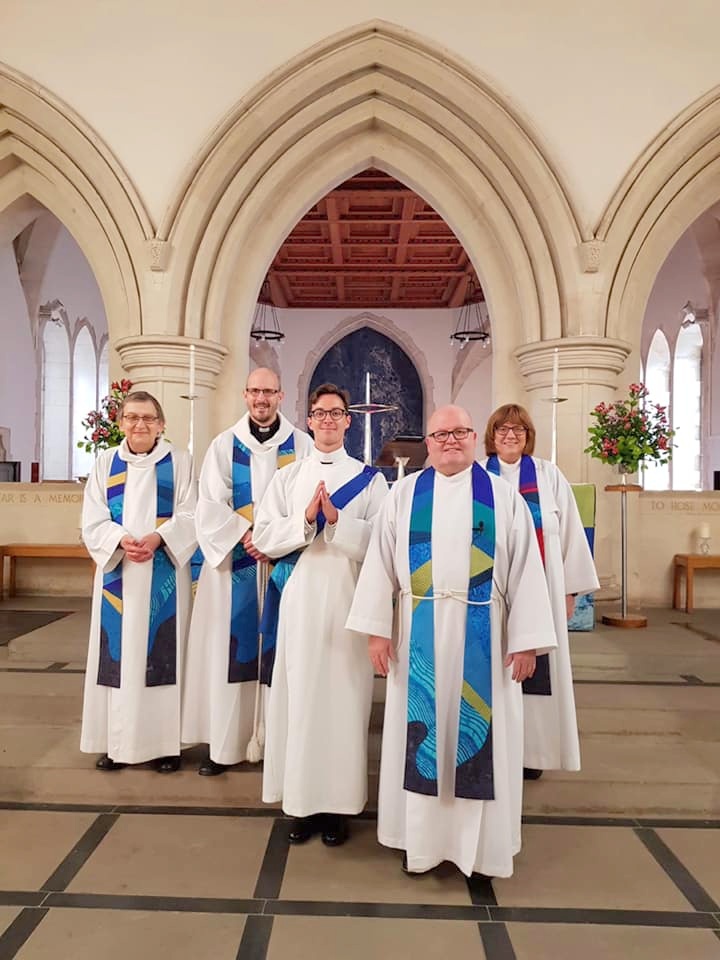 In 2006, at the age of eighteen, I went to Keble College, Oxford to read History. The following year I was Baptised and Confirmed in Keble College Chapel, and so began the next stage on my faith journey. Alongside my studies and devotions, I also found a bit of time to row, dance, and act. Indeed, I met my future wife, Helen, during a production of Oklahoma!
After graduating from Oxford in 2009 I worked for one bizarre year as a perfume salesman, first in North Cyprus and then in Kazakhstan. During my time in Kazakhstan I worshipped in a Roman Catholic Church (there being no Anglican presence) and made friends with an eclectic group of people, including several US Marines, an order of nuns, some Italian oil executives, and the Brazilian Ambassador.
After returning to England I took up a post as a schoolmaster, teaching history at Brighton College, down on the South Coast. It was at this time that I first began thinking seriously about my vocation to ordained ministry.
After a couple of years teaching I returned to Oxford as a student once more, reading for an MPhil in Ecclesiastical History. Although I was based academically back at Keble, I lived, worked, and worshipped at Pusey House: an Anglo-Catholic chaplaincy with an active student congregation. This was a glorious two years. As John Betjeman put it half a century earlier, 'at Pusey House I learned the Catholic Faith'.
It was also at Pusey House that Helen and I, after several years of friendship, first began dating. In this time Helen had moved to Wales to become a Barrister in Iscoed Chambers. The inexorable pull to Wales had just got stronger!
In 2016 I moved up the Cowley Road to train for the priesthood at St Stephen's House. In 2017 Helen and I were married in Keble College Chapel, the same place where I had been Baptised and Confirmed ten years previously.
Another degree – this time in theology – followed. All of which takes us up to the present point. As I type this brief article I have been a curate here at St Mary's for slightly less than two weeks. The people are friendly, the rector is wonderful, there is Choral Evensong twice a week, the building is spectacular, and I have access to as many corned beef sandwiches as I can eat. God is good.
Rev'd Sam Aldred
FROM THE EDITOR
The height of summer, so it seems, and we are already planning for the autumn, as the edition of the magazine demonstrates – August and September. September, with hints of colder nights and the disappearance of many soft fruits from the market stalls, only to be replaced by pears, apples, plums – and, of course, blackberries in the hedgerows. Where these have escaped the ravages of council or developers' machinery! Living where we do, we are relatively lucky. Gower, the Swansea and Neath Valleys, much of South West Wales retains a reasonably healthy degree of biodiversity. With the world facing the challenges of climate change and the destruction of so much of the natural world, we can only pray that world leaders may think of future generations and do what they can to protect the world from the worst effect of global warming and soil erosion – and ensure a place for humanity on the earth.
As we begin to look forward to Harvest Festival services, maybe the Church should remember that we can only hold harvest festivals as long as there is a harvest – and that no longer seems as certain as it once was.
Celebrations commemorating the 60th Anniversary of St.Mary's re-consecration and those for the 50th anniversary of the granting of city status to Swansea have been marked by a number of events, including special services held here at St. Mary's, concerts and recitals by, among others, our choral scholars, The Gower Chorale, Dunvant Male Choir and Volke Vokal from Norway. This last proved to be a memorable experience. Coming from an unfamiliar musical tradition, the (regrettably small) audience was transfixed by the repertoire, which was largely based on that from the Scandinavian area. The choir's expertise and musicality could not be faulted. If they should return to Swansea, this excellent choir well deserves the city's full support.
While St Mary's Church Choir enjoys a holiday during summer months, it should be remembered that both the morning Eucharist and Evensong continue throughout August – with visiting choirs during the second half of August. Vox Angelica, from West Wales, will sing Choral Eucharist (at 11.00a.m.) and Choral Evensong (at 4.00p.m.) on Sunday 18th August, while Hemiola will sing Choral Eucharist and Choral Evensong on Sunday 25th August.
Choral Evensong, with the choir of St. Mary's, will resume on Sunday, September 1st 2019, while Tuesday Choral Evensong will continue during term times at 5.30 p.m. Everyone is welcome at these contemplative times of peace and prayer.
MOTHERS' UNION NEWS AUGUST 2019
<![if !vml]>

<![endif]>

The first meeting in June was led by Helen Jones, a branch member and also a Trustee board member. Helen gave an illustrated talk on her visit to Hawaii, a long held wish of hers since childhood, after seeing Elvis Presley star in the film "Blue Lagoon". Helen's holiday began in San Francisco – a wonder in itself, as I know personally. Everyone was captivated with Helen's talk, which she completed by sharing with everyone the Lord's Prayer in Hawaiian.
At the second meeting we welcomed Ross Davies from Llanrhidian, along with Jill McPherson the branch leader from that beautiful part of the Gower. Ross came to talk about the many methods of praying with beads. She talked also of the power of prayer and how strengthening it can be in times of trouble and also in times of joy. Of course we are all aware of the Rosary used extensively within the Catholic tradition, but Ross told us of the many other forms of praying with beads in our Anglican tradition too. Beaded and knotted ropes are also forms of praying with beads. We all then had the opportunity to make our own prayer beads from a glorious array that Ross had provided for us. It was such an entertaining afternoon with everyone happily talking and sharing experiences as we produced our prayer beads – a real therapy session!
Our last meeting in church this July was down as a "text and parcel" afternoon. This was a new experience for us all – I had asked members to provide an item (parcel) that could then be attributed to a text in the Bible. These items were then to be auctioned at the end of the session. It was really interesting to find a gift and then a text to accompany it and though we were few in number that afternoon it was a joyful time and something we will return to on another occasion, now that we know exactly what we are doing!
We finish our session with a short outing first to the Lamplighter in Bishopston for coffee, cake and a "browse", and then on to Verdi's in Mumbles for a lunch together. We are looking forward to this immensely.
We remember in our prayers all our members who, for many reasons, are not able to be with us at our monthly meetings and we ask God's blessing on them.
My thanks to all our members and supporters for their attendance, fellowship and support of M.U. throughout these last few months. I hope you all have a happy holiday and come back refreshed for the new session which begins with a Eucharist celebrated by Revd. John Anthony on 9th September 2019 at 2.00p.m.
However, prior to that, we have a visit from our new Worldwide President, Sheran Harper, on Thursday 5th September 2019 at 3.00p.m. This will be an Archdeaconry meeting and our branch will be involved in putting on the refreshments in the Vestry Hall. Please make every effort to attend.
Dates for your diary.
2/08/19. 11.00a.m Archidiaconal Eucharist. Clydach &St. Mary's to host. Celebrant, Revd. Canon Ian Rees.
9/08/19 Mary Sumner Day. Remember her in your prayers.
MUSIC NOTES
We will all be aware that this summer is packed with anniversaries – particularly half centenaries – the moon landing, the investiture of HRH the Prince of Wales, Swansea becoming a city, with other anniversaries and significant birthdays alongside, as St Mary's continues its 60th anniversary celebrations.
On 2nd June the 60th Anniversary Week ended with a Choral Evensong which featured music from the Dedication Evensong of 28th May 1959 – Magnificat and Nunc Dimittis in E minor by Heathcote Statham, the anthem O Praise the Lord by John Goss, and Charles Villiers Stanford's famous Te deum in B flat. The responses, however, were the set I composed for the St Mary's Golden Jubilee in 2009.
At home I have music lists from 1959 through to the mid-1960s, and these demonstrate that the repertoire sung under the direction of Mr Haydn James was at the forefront of Anglican choral music nationally at the time. Contemporary composers sung at St Mary's included Herbert Howells, Maxwell Davies, Francis Jackson, John Joubert and Herbert Sumsion, and works by sixteenth and seventeenth century such as Thomas Tomkins, Orlando Gibbons, Thomas Weelkes and Adrian Batten had such an influence on Peter James and David Evans that they wrote PhD theses on Gibbons and Batten respectively, and were later to publish scholarly articles and musical editions. Indeed, many of the young men singing in the choir at the time went on to establish careers in music, singing in cathedral choirs, or achieved significant academic or professional careers. People still speak to this day of having attended organ recitals given by Mrs Dilys Lloyd and having been introduced to the exotic sounds of Olivier Messiaen.
This summer we look forward to welcoming back Peter Irving to perform in the St Mary's Summer Organ Series. Peter's father David Irving and uncle Peter Irving both sang in the St Mary's Rededication Service in 1959. Peter tells me that he was profoundly influenced by hearing the music at St Mary's from an early age.
Meanwhile, Peter Thomas, who now sings bass in St Mary's Choir, was among the first to be baptised in the newly re-opened church and whose father and grandfather sang in the choir at the time. Prof Tony Davies, although not in the choir in 1959, joined soon afterward, and remains a loyal member.
The choir's end of term coincided with a Choral Evensong marking the 50th Anniversary of Swansea becoming a city, and at the archbishop's request we sang Edward C. Bairstow's large-scale anthem Blessed City, heavenly Salem. This was new to the choir and an ambitious addition to our repertoire. For the third year running the choir has completed two terms of not repeating any Sunday evening canticles
We congratulate Morgan Darcy Rees-Deacon, one of our choral scholars, who came in first place in the 16-19 vocal solo competition at the Llangollen International Eisteddfod. Our other scholar William Pleyel de-Vries excelled himself as counter-tenor soloist in Bernstein's Chichester Psalms for the Gower Chorale Concert at St Mary's in June. The same concert included Peter Conibear's anthem There shall be no more night, written in 2000 for the dedication of the St Mary's Millennium Window, paired with my choral arrangement of God that madest earth and heaven (to the tune Ar hyd y nos).
While St Mary's Choir appreciate a well-earned rest for the summer, the music continues with the Summer Organ Series and visiting choirs during August include Vox Angelica and Hemiola.
Dr William Reynolds
, Director of Music
AROUND BRISTOL
Arriving at Bristol Temple Meads by train the impressive curve of the station is noticeable.. Why the curve? In 1840 the GWR station was opened but in 1841 a junction to the Bristol and Exeter Railway at right angles to the GWR station was made, and in order to form an enlarged station the platforms needed to be curved to conform with the junction lines.
The exterior is equally impressive. A railway station that looks like a cathedral with its clock tower! ' What no spire?' Well it did have a wooden one but was destroyed in the last war.
A new station Bristol Parkway was built in 1972. There are two lines to London – one from South Wales via Parkway and Swindon and the line from Temple Meads via Bath, Chippenham and Swindon. Both are busy stations serving also the West Country to the North of England and Scotland.
Boarding a bus, why not get out at College Green? Looking across the Green you might think you have here a perfect example of a mediaeval cathedral…..And yet …..you'd be wrong.
The foundation certainly is – in 1140 an Augustinian abbey was founded by Robert Fitzharding, but only the easternmost part is mediaeval. From the central tower above the clock to the twin towers in the west is…..Victorian.
By the fourteenth century the nave was in poor shape and efforts were made to rebuild it. However, in 1539 the monasteries were dissolved. Henry VIII created New Foundation cathedrals of which Bristol was to be one and rededicated to the Holy and Undivided Trinity.
Sadly ,Bristol seemed to have been a 'stopping off' post for bishops, although the noted Bishop Butler stayed for ten years and they had to manage without a nave.
On this dawned the Victorian age. In 1868 Street had the nave rebuilt – there were twin towers at the east end with a beautiful rose window. Bristol had arrived!
Inside at the crossing is a stone screen and on the south side a stone pulpit. The screen seems to me to be very delicate, not an adjective I associate with the Victorians ….! not a solid screen like Gloucester, but it has openings and you can see through to the high altar and the quire.
There are two Lady Chapels – the Elder Lady chapel around 1220 and behind the high altar the Eastern Lady Chapel, around 1298. As one walks east one is entering the oldest parts of the cathedral.
One should be aware that these old cathedrals and churches are of their time. Even I nearly went flying on the uneven floor. There is a café and there are toilets, but not easy if you're confined to a wheelchair.
I was there over Easter and could not help being impressed by the size of the congregation over the triduum. On Holy Saturday the new bishop, Bishop Vivien, presided and held her first confirmation. The Dean mentioned that something fizzy would be available in the cloisters and fireworks set off in the garden. Easter had arrived!
There are other churches which are worth mentioning as, indeed, are other aspects of this city but they will have to wait as this article is already getting somewhat long.
Stephen Morris
Choral Music by Faure, Lauridsen and Bernstein
The Gower Chorale, directed by Dr William Reynolds gave a delightful concert in St Mary's recently. Faure's Cantique de Jean Racine needs little introduction, the graceful simplicity of the vocal line complementing the flowing triplets of the accompaniment. Following Llewelyn Ifan Jones' harp solos, Crepescule and Visions in Twilight, Morton Lauridsen's Lux Aeterna provided an illuminating contrast, the controlled, ethereal tones of the Latin text describing all aspects of light.
It was exciting to hear Leonard Bernstein's Chichester Psalms performed in Swansea once again. I have several friends who sang this work years ago with West Glamorgan Youth Choir, but it was the first time for me to hear it live. William Playle-de-Vries sang the totally exposed counter-tenor solo sections beautifully.
The programme included Peter Conibear's Choral fanfare, There shall be no more night, composed for the dedication of the St Mary's Millennium West Window. Peter said that he was glad to hear it performed again. William programmed it to run straight into his own God that made earth and heaven, using the familiar tune of Ar hyd y nos. The choir stayed in tune beautifully on the unaccompanied sections, giving the whole work poise and stature.
Delyth Holland
SIR KARL JENKINS' SEVENTY-FIFTH BIRTHDAY GALA CONCERT - A REVIEW
It was, commented one of the organisers of the Gower Festival, 'quite a coup' for St Mary's to host such an important concert as Sir Karl Jenkins' Seventy-Fifth Birthday Gala. The church was packed to capacity for the occasion (a very different crowd, it must be noted, from those streaming to Singleton Park to see The Stereophonics that same evening).
I have a confession to make. Neither being from South Wales nor a habitual listener of Classic FM, I had not heard of Sir Karl until a week before the concert. I came therefore as a blank slate, ready to be written upon.
The first thing to note was the wonderful atmosphere. The concert did indeed have the feel of a birthday party, with 600 well-wishers there to pay their respects to one of the greatest of Welsh musicians.
The second thing was, of course, the music. The programme was designed to showcase the breadth of Sir Karl's work over the decades. The evening began with the monumental 'Palladio', leaning into the haunting 'He Wishes for the Cloths of Heaven' and the 'Lament' from Stabat Mater, both of which featured soaring solo performances by Olivia Gomez. The first half was rounded off with the 2005 'Requiem', notable for the pulsing, rhythmic 'Dies Irae' (Day of Wrath) which made full use of the orchestra's percussion section.
The second half was equally wide-ranging, and was notable for featuring a world premiere of the 'Appassionata for Cello and Strings'; based on one of the greatest of Beethoven's piano sonatas. The concert ended with the thunderous 2002 'The Armed Man: A Mass for Peace', surely the highlight of the evening.
Amidst the applause the organ led the audience (I almost wrote 'congregation') in a hearty rendition of 'Happy Birthday'. Sir Karl beamed. It was truly a night to remember.
The Rev'd Sam Aldred
THE ROYAL COLLEGE OF ORGANISTS STUDY TRIP TO PARIS
Following the Choral Eucharist on the Day of Pentecost, I drove to Cardiff Wales Airport for a flight to Paris to take part in a study trip organised by the Royal College of Organists. There would be opportunity to play some world-class instruments with masterclasses focusing on the music of Jean Langlais and Olivier Messiaen. My favourite twentieth-century French organ composers – an opportunity not to be missed! I was one of seven organists from across the United Kingdom and the Republic of Ireland enrolled as active participants on the course. A similar number of observers were present.
The course began on the Monday afternoon at Église de Notre Dame d'Auteuil in the south-west of the Paris. A talk on the history and a demonstration of its organ was given by Frédéric Blanc (Titular organist). We each took our turn to play our chosen pieces – mine was Meditation (from Suite Médiévale) by Jean Langlais. The three-manual 56 stop organ is situated in the west gallery, up a set of spiral stairs to second floor level (at least double the height of St Mary's, Swansea organ loft). Built by the nineteenth-century French master organ builder Aristide Cavaillé-Coll in 1885 it has undergone several restorations over the years, most recently by Lacorre in 2018. The church has extremely generous acoustics and it was a real pleasure to appreciate the vast expanse of sound.
We then took the Metro to Place du Panthéon and the home of Frédéric Blanc, which had previously been the home apartment of twentieth-century composer and organist Maurice Duruflé. The eighth floor apartment, in a 1920s apartment block, has a roof terrace commanding one of the most spectacular panoramic views of the city – the Panthéon stood across the road, the Eiffel Tower in the distance to the left, and panning round there was Sacré-Coeur atop Montmartre, and downwards to the right, the fire-damaged Notre-dame Cathedral. In the music room, packed floor to ceiling with French musical history, Duruflé's writing desk remains in position with an inspiring view through the window to Notre-dame. His three-manual 30-stop organ (built by Gonzalez in 1967) fills the other half of the room. Following a demonstration of the organ by Frédéric Blanc, we each played a piece by Duruflé. I played his Prélude sur l'Introit de l'Epiphanie Op.13 – a real privilege to play on the composer's own instrument.
Social time ensued as the group retired to experience traditional French cuisine at a nearby restaurant, and I savoured each of my three-courses – escargots, bœuf bourguignon and a tarte tatin.
On Tuesday morning we visited L'Oratoire du Louvre. Founded in 1611 as Oratory of the French branch of the Oratory of St Philip Neri, it became a royal chapel to the Louvre Palace for Louis VIII in 1623, and following suppression during the French Revolution it became a Protestant church in 1811. It is relatively plain internally, but the tall wooden stalls in its apsidal east end with a large pulpit alongside are noteworthy. This church played an important part in concealing Jews in its roof space during the war. Its three-manual organ, built by Gonzales in 1962, is positioned in a West Gallery and was rebuilt 2012-15 by Dargassies. An unusual feature of this instrument was a sustain function that could be applied to hold chords on the uppermost manual. A masterclass on the music of Jean Langlais was given by his widow Marie-Louis Langlais, a respected recitalist and teacher in her own right. I chose to play Théme et Variations (from Hommage à Frescobaldi) by Jean Langlais.
During the afternoon a visit had been arranged to Montparnasse cemetery. A map was available to locate the many famous names in art, literature, music, artists, and from many other walks of life. Among the composers were César Franck, Camille Saint-Saëns, Louis Vierne, Alexandre Guilmant and Emmanuel Chabrier, and there was the family tomb of master organ builder Aristide Cavaillé-Coll. The group moved on to enjoy a visit to a creperie.
That evening we visited St Sulpice where we were hosted by the titular organist, Daniel Roth. (In 2009 Daniel Roth performed as organist in the Swansea Festival for the Saint-Saëns Organ Symphony with the BBC National Orchestra of Wales.) A stone spiral staircase led to the west gallery for the mighty organ of five manuals, 102 stops and over 7000 pipes! The organ was built by Cavaillé-Coll in 1862, though some of its parts date back to the 1781 instrument by Clicquot. Amongst the illustrious rollcall of former organists at St Sulpice are Louis-Nicolas Clérambault, Lefébure-Wély, Charles-Marie Widor and Marcel Dupré. Appropriately, as my chosen piece I played the Adagio from Symphonie No.6 by Charles Marie Widor.
The final session of the course was at Église de la Trinité on the Wednesday morning and, as this was where Olivier Messiaen had been organist, there was to be a masterclass on the music of Messiaen presided over by Thomas Lacôte (Titular organist). In common with St Sulpice, this has a Cavaillé-Coll organ dated 1862, though of more modest proportions having just three manuals and 61 stops! I played Messiaen's Alleluias sereins d'une âme qui désire le ciel (from L'Ascension) with the thrill of playing with the actual registrations that Messiaen would have experienced.
That evening I attended a choral concert by a touring American choir at La Madelaine, and then at 10.50pm I climbed the Eiffel Tower. Thursday morning afforded me free time to visit Montmartre – with fond but distant memories from a primary school trip many years ago! I climbed the steps to Basilica de Sacré-Coeur, attending mass where a choir of nuns chanted the service accompanied by a psaltery. I then climbed yet more steps to reach the dome for time up close with the gargoyles and a spectacular view across the city. Neighbouring sights include the twelfth-century abbey church of St Pierre and, as an alternative to the steps, a funicular railway.
The study tour was a tremendous experience – with access to so many incredible organs associated with famous organists and composers and with opportunity to play music so closely associated with them, the same pipes sounding! These are truly historic instruments at many levels. Furthermore, to top it all there was expert tuition at the highest level, and fresh insight into familiar and less familiar repertoire.
We are fortunate here at St Mary's with the quality and versatility of our magnificent organ, and while some people share their holiday snaps on their return home, I felt inspired to share the pieces I played on my visit to France in the first recital of the St Mary's Summer Organ Series, and no doubt about it, I will be learning yet more French repertoire in the future.
Dr William Reynolds, Director of Music
"The Sea"
The sea has many moods…
As it caresses the shore,
Never standing still! Always working!
The sea has a beauty of its own,
Whatever the mood shall be…
Whether blue and sun-kissed,
Or grey, when rain is falling,
It captures the moon and her silvery beams
As she rides through the dark night sky,
And when the sun shines brightly,
The sea will sparkle, like jewels,
Gentle lapping waves o'er rocks and sand
Sometimes change… dashing!... foaming!
All these different moods are observed,
For the sea never ceases to fascinate mankind
by Jean Summers
NEWS FROM ST JOHN'S HAFOD
A number of our regular congregation have, sadly, been unwell recently and we wish them well. As a family, we always miss people who are not able to be with us on a regular basis and assure them of our prayers.
Coming up we are looking forward to our Summer Fayre. The date had to be changed and this will now be held on August 10th at 1pm. This is always a fun event - lots of people work very hard for it so please do your best to support it if you possibly can. Obviously the Fayre raises much needed money for the church but even more importantly it allows us to make contacts with the community as well as bringing together members of the church for fellowship.
We continue to support the Foodbank and Baby Basics, both of which remind us of the need to care for those in need in society today. God calls us to love our neighbor, whoever that neighbour is and the support for these charities is one way in which we can do this. Please also remember to pray for those who receive support from these organisations and for the staff and volunteers who help the organisations to run.
Rev'd Helen Rees
HOME? AWAY?
Holiday time again – time to relax, to forget day to day concerns. So we are told! The problems start long before any actual holiday plans are made. Where to go?
You'd thought of….. What about…..? Discussions go on for weeks. Beach? Country? Historical sites? Music festivals? Gardens? Steam trains? Horse drawn caravan?
Clergy:
Rector: The Revd Canon Ian Rees 01792 472760
Church Office : Tel 01792 655489
Associate Priest: The Revd Helen Rees 01792 472760
Assistant Curate: The Revd John Anthony 01639 638434
Team Vicar: The Revd Ian Folks 01792 205190
Reader: Robert Leonard 01792 655613
Assistant Curate: Revd Sam Aldred
Reader Emeritus Les Taylor. 01792 234639
Parish Wardens: Allan Jeffery - 01792 468015
Ruth Roberts - 01792 676732
Parish Treasurer: Allan Jeffery 01792 468015
Lord Mayor's Wardens: Kitty Griffiths. 01792 813651
Mrs Helen Murrary. 01792 535813
St Mary's:
Treasurer: Allan Jeffery. 01792 468015
Director of Music: Dr William Reynolds. 01792 467606
ChristChurch:
Wardens: Christopher Davies 01792 205968
Michael Paddison 01792 463255
Treasurer: Christina Davies 01792 205968
Safeguarding Officer: Jen Jones. 01792 423133
Hall Bookings: Pam Jones. 01792 521763

St Mark & St John:
Wardens: Robert Leonard
Chris Box
Treasurer: Betty Jones. 01792 655619
Safeguarding Officer Sandra Davies.01792 422749
www.swanseastmary.co.uk
Facebook: St Mary's Swansea
Christchurch Central Swansea
St John's Hafod
Twitter: @stmaryswansea