Online Parish Magazine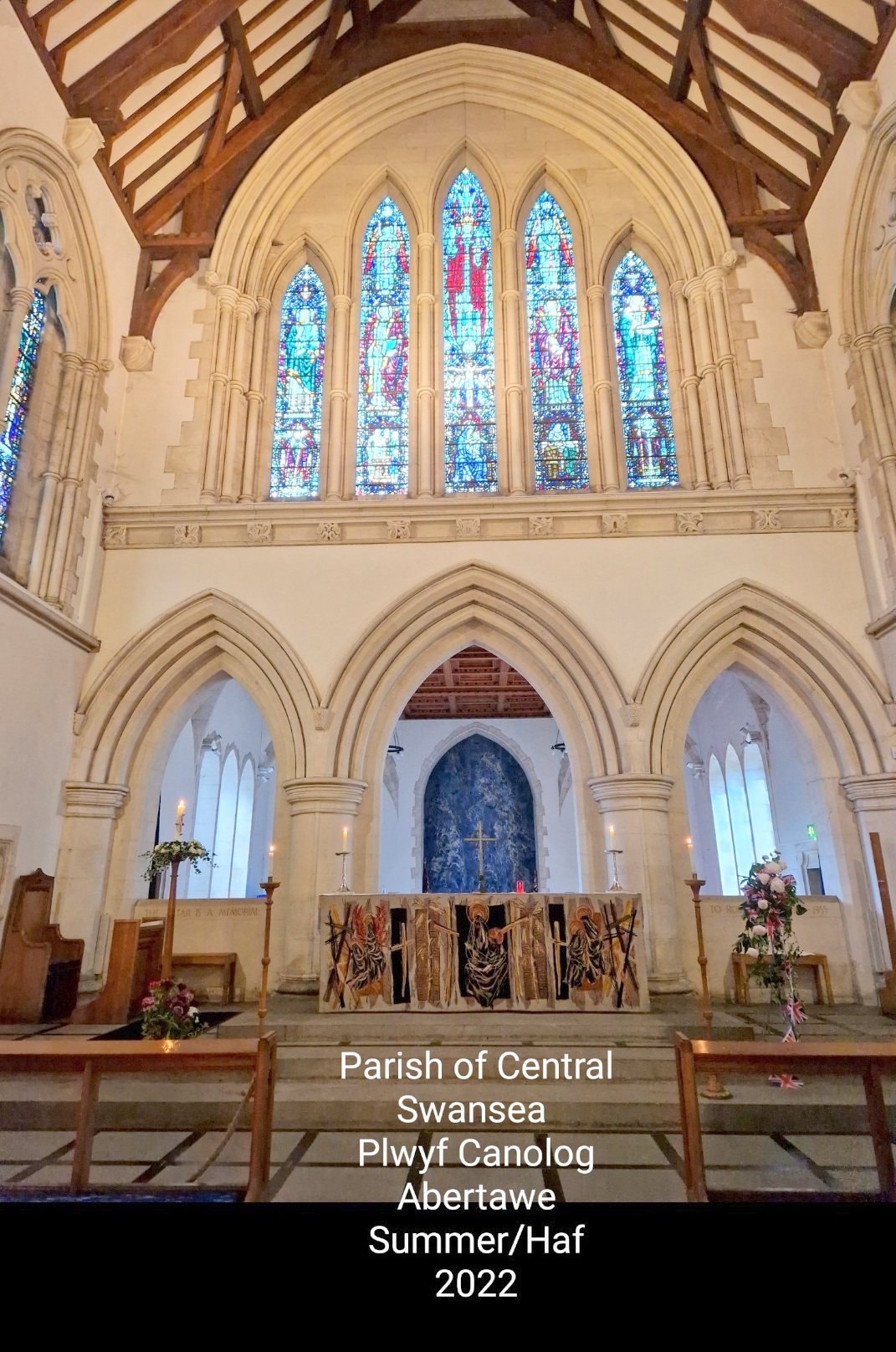 Contents:
1. Service Times and Diary
2. From the Editor
3. Becoming a Priest
4. Thanks to Wardens and PCC members
5. "Thank You" to Allan Jeffery
6. Christchurch 150 years young
7. The Falklands War
8. Jubilee
9. In Memory of Anita Morgan
10. Mothers' Union July 2022
11. Thanks
12. R.I.P
13. St Mary's Summer Organ Recitals

SERVICE TIMES AND DIARY
St. Mary's: Sunday 11.00 Choral Eucharist
4.00 pm Choral Evensong
17th July Choral Evensong with Induction of Rev'd Justin Davies
and licensing of Rev'd Sam Aldred
4th Monday in month 12.00 Cymun Bendigaid
Tuesday 5.30 Choral Evensong (Term time. Otherwise said, as announced)
Wednesday 11.00 Holy Eucharist
Saturday 12.00 Holy Eucharist
Christ Church: Sunday 9.30 Holy Eucharist
St. Mark & St John: Sunday 10.00 Holy Eucharist

Diary:
St. Mark's and St. John's: 11th July, 7.00p.m. Bingo with raffle and light refreshments
18th August 7.00p.m. Bingo with raffle and light refreshments
St Mary's : Tuesday Lunchtime Summer Organ Recitals commence on July 19th
Many thanks to all contributors to the magazine
Welcome to the final Parish Magazine of the interregnum in the Parish and Ministry Area of Central Swansea. This is, of course, a happy occasion as we look forward to the induction of the Rev'd Justin Davies as the new Rector of the parish. We extend a warm welcome to Rev'd and Mrs. Davies and family, remembering them in our prayers.
Croeso cynnes iawn i'r Parchedig Justin Davies a Mrs. Davies o Plwyf Ganolog Abertawe.
Fr. Sam Aldred is also to be licensed as Vicar in the Ministry Area during this service. We remember him and his family in our prayers.
Several notable occasions have taken place in the parish recently: the service of confirmation, led by Bishop John Lomas, the 150th Anniversary of Christchurch, Jubilee Services in the parish, the service marking the anniversary of the invasion of the Falklands and the Bicentenary of the University of Wales Trinity St.David. We should not, of course, forget the triathlon, the half-marathon and the Airshow. During my years as a Reader, I had grown to know him from our various
The Service of Ordination which took place at Brecon Cathedral was a memorable and joyful occasion and our prayers and congratulations are offered to Rev'd Sarah on the occasion of her ordination to the priesthood.
Also in our prayers are the Rev'd Ben Jones, ordained Deacon and all those ordained in the Church in Wales this Peter tide.
Welcome
We offer a very warm welcome to the Reverend Justin Davies as Rector and Ministry Area Leader. I have known him for many years as we were both Readers and would attend the Provincial Readers' Conference in various venues, as well as those in our own diocese. We look forward to his time with us and remember him in our prayers as he takes on this new role.
John
BECOMING A PRIEST
A couple of months ago I attended a Newly Licensed Ministers (NLM) course, 'Becoming a Priest in the Church of God'. Although that is what I now am, I feel that the process of becoming a priest will be a lifelong journey.
In the 'The Sound of Music', Maria tells the children to think of ABC. When you sing, you begin with do, re, mi. Rev'd Helen Rees told me some years ago that the difference between a Deacon and a Priest is ABC- Absolution, Blessing, Consecration! So, I went on a course to learn my ABC! Older clerics will refer to Newly Licensed Ministers training – Post Ordination Training- as 'Potty Training'. I think these things are reminders, if any were needed, that I am very much a learner, a 'baby minister'!
The week before my ordination, I joined a group of fellow Ordinands at the retreat house in Llangasty, near Brecon. It is a beautiful peaceful place, on the side of Langorse Lake, surrounded by the Brecon Beacons. A place to unwind, slow down and just 'BE'. The retreat was shared with Ordinands from Llandaff Diocese, some of whom I knew from my time at St Padarn's, and was led by two of the Canons of Llandaff Cathedral, Jan van der Lely and Mark Preece. Our time was punctuated by morning and evening prayer, compline and daily eucharist, as well as reflections on scripture in the mornings and afternoons. Apart from this and mealtimes, we were encouraged to maintain silence, and use the time to prepare ourselves spiritually. It is something I find quite challenging- I enjoy company- it was good to be able to get out for a walk, catch up with old friends and make new ones.
Bishop John met us at the Cathedral for lunch on the Wednesday, and gave us a bit of a 'pep talk'. He spoke about Imposter Syndrome, which is something which affects many of us. He encouraged us to remember that God has called us as we are, because we are who we are, and for us to be secure in our calling and God's affirmation of us. He said we cannot do this on our own or in our own strength, and we don't have to! God's strength is made perfect in our weakness. To paraphrase Rowan Williams, mission is finding out what God is doing and joining in.
On the Saturday morning, most of the Llandaff contingent left after an early breakfast. Rich and Ben, ordained deacon in Brecon, opted for a full cooked breakfast at Wetherspoons. It meant the final few hours at Llangasty were relaxed and gentle.
We arrived at the Cathedral to find it was already filling up. Last year, the numbers of guests was limited; it was such a joy to be unrestricted. Family and friends had travelled from far and wide to support us.
Before we were ordained, there was an Examination- thankfully not one which required equations or essay writing- a series of questions and vows. The response to the questions was 'By the help of God, I will'. I think that sums up ordination- we are not special people, we have faults and failings like everyone else, but by the help of God, we will do what Deacons and Priests are called to do.
Then the Bishop addressed the congregation, 'People of God, do you believe and trust that they are worthy to be ordained?' What a question! In all honesty, I wanted to say, 'no, I am not!' However, the congregation responded 'we trust they are worthy: thanks be to God. BUT he also asked, 'Will you support them in their ministry?' to which the congregation responded, 'we will support them'. None of us can do this on our own, we all need the support of our brothers and sisters in Christ.
Celebrating the Eucharist for the first time at St Mary's was exciting and nerve-wracking in equal measure. It felt a little like passing my driving test, here I was driving for the first time, and it all felt so unfamiliar and a little out of control. It was a great joy to welcome Reverend Canon Phil Gwynn to preach. He was the Vicar of my sending parish and encouraged me. Dr. Reynolds and the choir provided perfect musical accompaniment and allowed me to choose some of my favourite hymns.
As I stood at the Altar, I was very nervous. It was hard to remember what I was supposed to be doing with my hands, but as I elevated the elements, I looked up at the west window, depictng the Holy Spirit as a dove and as flames. With the sunlight shining through, and the outline of the trees moving outside, the window seemed to come alive. In that moment, I felt a sense of affirmation. From outside, the beauty of the window cannot be seen, but inside, with the light shining through, it was animated. A child was once asked what a saint is, and thinking about the stained-glass windows, he said, 'someone the light shines through'. A priest is no more or less a saint than any other believer, the light can and should shine through each one of us. I count it as a great privilege to serve as a Priest, and by the help of God, I will.
Rev'd Sarah Harris.
THANKS TO WARDENS AND PCC MEMBERS
St. Mary's
We offer our grateful thanks to all who have served so diligently as PCC members or Wardens and have now stepped down. The past few years have been very challenging and we now look with hope to the future.
We thank and support those who have newly taken on these roles.
Churchwardens Mrs Helen Murray MBE
Mr Ryan Thomas
Lord Mayor's Wardens Mrs Jacqueline Morgan
Mr Julian Mamiso
PCC Members Mr Jeremy Harris, Mr Paul Murray
Mrs Karen Phillips, Mrs Kitty Griffiths
St Mary's Church Council Mr David Evans, Mr Ray Morgan, Mrs Yvonne Pitt, Mrs Alison Thomas,
Mrs Ruth Roberts, Miss Margaret Fox, Prof Tony Davies
Safeguarding Officer Mrs Helen Murray
Health and Safety Officer Mr Paul Murray
Sacristan Mrs Yvonne Pitt
Verger Mr David Evans
Assistant Verger Terry Davies
St Mark's and St John's
At St Mark's and St John's we have two churchwardens, Robert Leonard and Christopher Box. Four PCC members, Diane Hugglestone, Jean Franklyn, Betty Jones and Sylvia Moon. Our Church Treasurer is Betty Jones, and Church Secretary Sylvia Moon.
Robert Leonard
Robert has worked in the Benefice for many years, both at St Marv's Church and at St John's. Robert is a dedicated and hard-working churchwarden, organising readers and intercessions for Sunday services, seeing that the structure of the building is maintained, and addressing any problems that might occur. Robert is always available to give advice and help in any way he can. He is a Licensed Lay Reader and a Pastoral Care worker for the area.
Christopher Box
Christopher is a newer member of the Church and was confirmed into the <![if !vml]>

<![endif]> Church in 2018. He became churchwarden in 2019. Chris works with Robert in overseeing the fabric of the Church. Chris is a very faithful and committed worker, always willing to help and support with any activities.
Diane Hugglestone
Diane is a long-standing member of the Church. She has lived in the Hafod area all her life, and as such is an invaluable source of information on the area and its residents. Diane is a church council member and a PCC representative. Diane wholeheartedly supports all activities in the Church, helping with fundraising, welcoming people into the Church and helping with tea and coffee making.
Jean Franklyn
Jean was introduced to the Church by Diane, and quickly became an enthusiastic member of the congregation. Jean is a church council member and a PCC representative. Jean is always willing to help and actively take part in all events that are held in the Church.
Betty Jones
Betty is Church treasurer, a role that she carries out with dedication and expertise, Betty was treasurer at St Mark's Church and when it combined to become St Mark's and St John's, she became treasurer to both. As treasurer, Betty provides the incentive in her financial reports for us to do the fundraising necessary to keep a financial balance and is actively involved in organising these events. As well as doing the horrendous job of treasurer Betty is also Lay Pastoral visitor for the area.
Sylvia Moon
Sylvia joined St John's Church after the closure of St Matthews Church where I had been a long time member. I took over as Church Secretary in2015 with the Rev. Sue Knight. St John's is a very friendly active church, and I am happy to be involved in all activities. I would add that we receive tremendous support from the congregation with all fundraising and activities.
Christ Church
The members of Christ Church thank Michael Paddison and Chris Davies for continuing in their roles as wardens, roles which they have very ably filled over the years. Grateful thanks are offered to Claire Cobley who stood down from the PCC at a recent meeting and we thank Jennifer Davies, Angela Lloyd, Sue Harris and Wendy Davies who are continuing in this worthwhile role.
"Every church needs an Allan." These words were spoken to me by our former Rector, Ian Rees, when I first arrived in Swansea. I quickly saw the truth in this statement. Allan became warden at the vestry meeting in 2016, just before Ian arrived. He was already treasurer for the church, and had his finger in innumerable other pies. Who to call if the clock stops chiming? Allan. What if the gutters get blocked? Allan. What if water leaks in the vestry, or the photocopier refuses to comply, or the toilet door gets stuck or there's a seagull on the high altar? Allan, Allan, Allan.
When St Mary's began its Brunch Club on a Wednesday (formerly the Breakfast Club on a Tuesday) it was Allan who did the cooking, fetched the food, and buoyed everyone else along.
Put simply, Allan is one of the most energetic men I have ever met, and someone whom I'd happily refer to the Pope for canonisation, as a model Christian in the "Martha" mould. He was awarded the Queen's Maundy Money in 2021 as a recognition of his ministry to the people of St Mary's, and in Swansea more widely.
When we heard the news, therefore, that Allan had suffered a terrible heart attack, the first reaction was disbelief, then grief, then (I confess to you, my brothers and sisters) a guilty selfish thought… who was going to do all the work that Allan so selflessly and quietly got on with?
Of course others have stepped up to take Allan's work, but it says a lot about his dedication that it has required several people to try and fill the gap left by one remarkable man.
We were overjoyed to see Allan and Margaret back in St Mary's on Pentecost Sunday, and Allan looking significantly restored to health. He has been on the hearts and lips of all of us since the news of his cardiac arrest first reached St Mary's. We pray that God will continue to give him the gift of new life (which is – after all – the true meaning of the Christian faith), and that he will be among us for many years to come. But, we pray, as a worshipper, rather than as a warden-treasurer-chef-builder-bellringer-everything-man.
Well done, thou good and faithful servant, and thank you.
Sam
Christchurch celebrated its 150th anniversary in June of this year and to mark the occasion a week of events was organised, starting with an outstanding organ recital from Swansea born Mr Huw Williams, Director of Music at Bath Abbey, where the sounds of our wonderful organ resonating around the church took your breath away and culminating in a Sunday service of worship with the Rt Rev John Lomas, Bishop of Swansea and Brecon which was followed by a buffet and a rather large birthday cake! In the months leading up to the anniversary our church was made ready for the celebrations with everyone busy organising events and finally, the week before, our church was bedecked with flower displays and photographic exhibition boards. It looked absolutely beautiful. Thanks have to be given to the ladies of St Mary's, St James' and St Paul's churches for their help with the floral displays. Events included Songs of Praise at the old Vetch Field, lead by Mr Kevin Johns together with the Salvation Army band and pupils from years 1 and 2 of Christ Church School. An informative talk on the history of the Sandfields was given by local historian Mr Gerald Gabb, where even the oldest of our community learned something new and a peaceful meditative Taize service was given by Rev. Jan Gould of Ely.
Our strong bonds with the local Christ Church Primary school meant that all the pupils were heavily involved in helping us celebrate. Year 5 and 6 pupils were trained as guides for when the church was open to the public and what a great job they all did. Wonderful display boards were made with their own personal memories of the church and one lucky pupil won the contest to design our anniversary logo. On the Thursday we were treated to a wonderful concert by the whole school celebrating 150 years of history both local and worldwide. Their theme was a lighthouse and focused on the church being a beacon to welcome people into a safe harbour. The pupils of the other local school, St Helens Primary, also paid us a visit and were shown around the exhibitions, displaying a great interest in what they saw. We enjoyed a social evening held at Clyne Golf Club and a sumptuous afternoon tea with entertainment by Mr Jonathan Lycett. There was a Youth Club reunion, a boisterous Fun Day and a fantastic evening of entertainment with Morriston Rugby Club Choir featuring the vocal talents of Mr Liam Edwards and Miss Lauren Williams, showcasing young talent from LARS. All our events were greatly supported and we had really good turnouts. What a hectic but wonderful week it was!
The whole world has gone through some trying times in the last 2 years and God's love has lead us through it all and it was wonderful to have a joyous occasion to celebrate at long last. Our church has seen many changes in the 150 years since it has been open but the message of God's love is still as relevant today as it was then. We had many visitors through our doors during the week and we hope that many will come to see us again. Christchurch has shone out like a lighthouse for 150 years, welcoming people of the Sandfields community into the heart of the church and into God's arms and we pray that this will continue for many more years.
Wendy Davies - Christchurch
'When you stop a dictator there are always risks, but there are great risks in not stopping a dictator.
My generation learned that long ago" Margaret Thatcher 1982
<![if !vml]>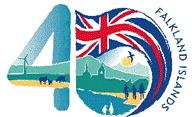 <![endif]>
THE FALKLANDS WAR (2nd April to 14th June 1982)
While we make plans to celebrate the 150th Anniversary of our Christchurch, it is also an important year for the residents of the Falkland Islands, it is 40 years since these Islands were invaded by Argentina.
649 Argentinian soldiers were killed
255 British military personnel were killed
and 3 Falkland Islanders.
The actual history behind the Argentinian claim is very complex and protracted, too much to go into here but very interesting to research.
The Falkland Islanders are very grateful for our involvement in, what they refer to as, the 'liberation of our Islands', and celebrate 14th June each year as Liberation Day, a national holiday.
This year there are many events planned for this special commemorative year referred to as 'Looking Forward at Forty', making it a time to look back
on their hard-won freedom and forward to the next 40 years.
Having had the privilege to spend time on these incredible and unique Islands, I have many stories to tell about day-to-day life which I will relate in future issues (if allowed).
Watching the news of the Russian invasion of the Ukraine, it is impossible not to make the connection with previous conflicts, all of which seemed to relate to the claims of sovereignty over another country's land. We keep these people in our prayers and hope that, one day, the world will realise that war is not the answer.
Argentina still to this day, claims the Falkland Islands belong to them!
Jen Davies
On 6th February this year Her Majesty The Queen became the first British Monarch to celebrate a Platinum Jubilee, marking 70 years of service to the people of the United Kingdom, the Realms and the Comononwealth.
To celebrate this unprecedented anniversary, events and initiatives have taken place throughout the country and further afield and St Mary's was no exception. Following the Jubilee themed Saturday Eucharist we all joined together and enjoyed a stunning bring and share lunch. Thanks to everyone who contributed in any way, to Ryan for his marvellous Jubilee Trifle and fresh fruit Union Jack cake and to Jackie for her wonderfully decorated Jubilee cake.
On the following Sunday afternoon we were delighted to welcome HM Lord Lieutenant, the Lord Mayor, Bishop John Lomas and guests to a special Choral Evensong which was followed by refreshments.
There was a thread running through all the Jubilee celebrations - service - service to family, to mankind, to country and to the world. Let us hope that we can take inspiration from HM The Queen's incredible example and strive to make our city, country and world a place of peace, harmony and respect and gain inspiration and strength from the words she spoke on her 21st birthday:
"I declare before you all that my whole life whether it be long or short shall be devoted to your service and the service of our great imperial family to which we all belong.
But I shall not have strength to carry out this resolution alone unless you join in it with me, as I now invite yo to do: I know that your support will be unfailingly given. God help me to make good my vow, and God bless all of you who are willing to share in it."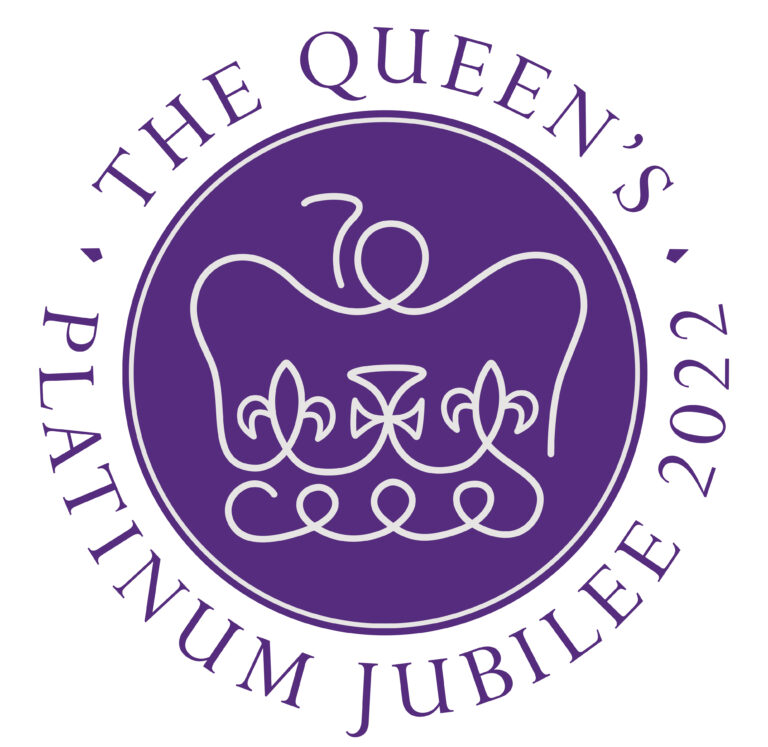 We have lost such a dear friend and church member in Anita Morgan. Anita has been closely connected to St. Mary's for almost a life time – having been a member of the choir initially, before all the many close associations with almost every group within the church. She was a member of Mothers' Union, Ladies Guild, Flower Guild, Hand bells and Tower bells. Anita was always ready to arrange those memorable church " bell ringers" trips , to serve teas, make cakes, manage a bric-a-brac stall, plants and flower stalls, or anything else that was needed to boost church funds but, more importantly to Anita, to increase fellowship amongst us all. Who can forget her thoughtful and carefully constructed Intercessions. Anita also served the church as Mayors Warden and Peoples Warden. But more than all of this Anita was a loving wife to Ken and devoted mother to her "boys" – Ian, Andrew, Robert and Gareth, and wouldn't she have been so proud of their contribution to her beautiful Funeral service here in St. Mary's! Anita was a dear friend – throughout the past difficult pandemic years I have spoken with Anita weekly, sharing memories and thoughts on life in general. It was a huge privilege to visit her at home in her last weeks and an enormous privilege to have known and loved her for so long. She was a faithful and committed servant to this church and to her Lord and Saviour. We will miss her enormously and ask for God's blessing on her.
May she rest in peace ,and rise in glory.
Ruth. x
We continue to meet monthly We may be few in number but not in our commitment to the worldwide M.U.
Revd. Ryan Thomas regaled us with his Desert Island Discs – what a revelation and what beautiful music, but will we ever forget the inclusion of Florence Foster Jenkins and her rendition of the aria The Queen of the Night from Mozart's opera, The Magic Flute! Oh dear. Thank you Ryan.
I had to improvise for one of our meetings as 2 speakers had reasons to be unavailable. We talked about "chairs" – firstly keeping an empty chair for our Lord to sit with us – what would we say to Him, how would we greet Him? We talked of chairs from early years, in school, at home and in church. It was an interesting afternoon!
We thank Revd. Sue Knight for her challenging jubilee quiz – I believe some groups had done some "homework" before the day? A sumptuous cake was made and shared by Revd. Ryan and a glass of "fizz" helped it all go down so well. Thanks to all.
The MU festival and commissioning service in Brecon Cathedral was very special for me personally as I took on my role as Diocesan Presidentand was given that authority by our new Bishop and Patron, John Lomas. It had been 3 years since meeting together as a Diocese and it was so rewarding to see so many members join together for this very special Eucharist. Thank you to all of those who made that journey to Brecon on that day – it was a day to remember all those members we have lost who so enjoyed those days, they were very much on my mind.
For the last 2 meetings we have been so glad to welcome some Diocesan Members from Clydach, whose branch was closed recently – this is obviously the way we can continue to survive as a branch - by joining together with others.
Our last meeting this session is an afternoon visit to Verdi's for refreshment and, most importantly, fellowship.
We have lost a dear member in Anita Morgan, we loved her holiday reminiscences, her love and friendship, her invaluable contribution as a bellringer to the worship at St.Mary's , as a former choir member and her presence with us. God bless you Anita. We remember too, Jan Cana who was a member with us here in the past.
We look forward to welcoming our new Vicar, Rev. Justin Davies, and hope we will have his support in Mothers' Union.
We resume our meetings in September and will let you know of that date as soon as we can.
We remember in our prayers all those members who are unable to join with us at our monthly meetings.
Dates.
1/07/22. 11a.m. Archidiaconal Eucharist.
5/08/22. 11a.m. Archidiaconal Eucharist.
2/09/22. 11a.m. Archidiaconal Eucharist.
Every blessing to all our members and friends, there is always a welcome to anyone to join with us at our meetings.
Ruth Roberts. Branch leader/D.P.
Grateful thanks are given to Dr. William Reynolds, the choir of St. Mary's and all who have contributed musically to enhance worship in the parish.
Prayers are offered for the soul of Anita Morgan, a long-serving, loyal member of St. Mary's Church. Our deepest condolences are offered to her family.
Prayers are also offered for the soul of Brian Lloyd, who many will remember as a former member of St. Mary's Church. Our sympathy is offered to his family.
Tuesday July 19th - Tuesday September 13th from 1.10pm - 1.50pm.
Free admission with retiring collection for the maintenance of the organ.
St Mary's Coffee Shop will be open beforehand for tea, coffee, sandwiches and cakes.