The Parish of Central Swansea
<![if !vml]>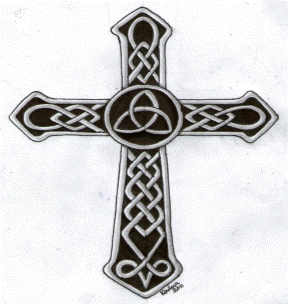 <![endif]>
The Collegiate & Parish Church of St Mary
Christ Church St Mark & St John
Online Parish Magazine
May 2021
Contents:
1. Rector's Letter
2. The Archbishop's Retirement
3. News from Hafod
4. The Annual Vestry Meeting
5. Presentation of Maundy Money
6. Canon Ian Rees - A Tribute
7. Canon Ian and the Revd Helen Rees
8. Archbishop John
9. Onwards and Upwards
10. The Future of the Church
11. From the Editor
12. Mothers' Union for May 2021
13. Dewi Sant
14. A Good Read
15. Royal Maundy
16. God and the Pandemic
17. Enjoying a Bank Holiday
18. Contacts


Dear all,
The period of Lent and Holy Week, leading up to the celebration of Easter is, I think, the most powerful season in the church calendar. As we embrace the season we are taken into a reflection on sacrifice and repentance, on forgiveness and possibilities. This year we were unable to do all that we might have usually been able to but there were opportunities to observe Lent both individually and also as a church family, albeit sometimes on zoom! Through all of this we also had the opportunity to remind ourselves of how much more we could do this year than last year when lockdown suddenly hit us part way through Lent.
Online bible studies proved to be a popular and interesting subject. One series was organised for the Deanery and the other by Mark Clavier, the Canon Residentiary at Brecon Cathedral and both provided interesting and thought-provoking reflections. They also reminded us of the importance of spending time reflecting on scripture, something we don't regularly make enough time for. As things begin to get back to normal, I hope that people will take the opportunity to spend time in prayer and bible study and join in whatever groups they are able to.
We also held a weekly compline service with a Lent address. Compline is, for me, the most beautiful of all our liturgies. At the end of the day there is a chance to quietly reflect on what has been or not been and just to commit everything to God once again - the good and the not so good, the joys and the worries.
Holy Week again was a little different with fewer services and other forms of worship or reflection possible than in some years, but we were able to hold services in each of our churches, observing some of these most special and moving days. And then, of course, came Easter, celebrated in each of the churches and offering a reminder that even out of the darkest of situations, light can shine through and hope can be restored. We continue to celebrate the risen Lord Jesus through the Easter season, but hopefully on every day of our lives as well.
On a personal level, I also found out just before Easter that this would be my last Easter in the parish as I have been appointed as Archdeacon of Monmouth and Diocesan Director of Ministry and Discipleship. It is an exciting move but leaving here will also be sad. In five very enjoyable and busy years so much seems to have happened, occasionally things that I wouldn't want to go through again, but mostly things which will remain memorable for positive reasons.
There have been some big services, some special events and concerts, but ultimately the most important thing is always people and relationships and Helen and I are both enormously grateful for the support, encouragement and friendship of so many people here. It will not be forgotten.
And I also believe that the Parish is in a good place to continue moving forward. That seems strange after such a difficult year but I think attendances have held up well and there is a lot of enthusiasm for things to be up and running again. I hope this won't translate into just be a desire to get back to normal, but rather to reflect on what a new normal can look like. One of the opportunities which will be obvious will be working more closely as a Ministry Area. The Ministry Area has changed shape a number of times so far, but this has been done in an effort to get it right so that it cannot just be an administrative title but something that really helps the mission and ministry of the church in Swansea. I think the boundaries are right now and there is a real possibility of people enthusiastically engaging together as a family committed to serve God and sharing his love throughout the City Centre.
Please pray for the Ministry Area as a whole and especially for Ian Folks as he takes up a new role, primarily looking after St James and Christchurch, also for Sarah Harris who will be ordained at the end of June and will join the Ministry Area team. She and her husband Jeremy will be a wonderful asset to the church and I am sure you will enjoy welcoming them and getting to know them.
Please would you also pray for the Parish and for the successful appointment of my successor. Whoever he or she may be, they will have a wonderful history to fit into and, most importantly, a family of God working together to support one another and the wider community and remind people that there is good news just for them in the form of a Saviour who loves us and them and who waits with open arms to welcome people into his family.
Every blessing,
Ian
THE ARCHBISHOP'S RETIREMENT
On Passion Sunday we were delighted to welcome Archbishop John to a United Service held in St Mary's. It was to be his final service in the parish prior to his retirement on May 2nd (but more of that in a moment!). It was a wonderful occasion and we had the opportunity to wish him a long and happy retirement. His time as Bishop and Archbishop has not always been easy, but he has remained calm, reflective and prayerful throughout and offered guidance and support to many people in this Parish. His regular attendance at some of the bigger services has always been appreciated and we will miss his leadership and friendship. Please pray for him, for his wife Jo and for his family as they move to Rhayader and begin retirement and please join with me in giving thanks for his dedicated ministry in the Diocese, the Province and in the wider Anglican Communion.
Canon Ian Rees
It has been really good to get services up and running again, having closed just after Christmas for a period following the latest lockdown concerns. It isn't quite the same with chairs spread out and sanitiser freely available but things have been made as normal as they could possibly have been and it has been wonderful to worship together again as a church family. We were able to observe Maundy Thursday and Good Friday prior to the celebration of Easter when a wonderful Easter Garden enhanced the decoration of the church. The Easter Garden also included a tribute paid to people who had lost their lives in the past year, at a time when people could not pay their respects as fully as they may like to have done.
Following Easter, it was also wonderful to celebrate a wedding in the Church, the first for a good number of years. We wish Mark and Emma well!
Once again, I'd like to thank all of those who have helped with getting the church ready for services as well as those who have helped with the services. My thanks also go to those who have played such an important role over the last year of just keeping in touch with people. This, I suspect, has been more valuable and appreciated by some than we could ever realise.
Rev'd Helen Rees

THE ANNUAL VESTRY MEETING
The completion of a new risk assessment for St.Mary's made it possible to hold the Vestry Meeting at the church on Thursday April 29th. This is the annual general meeting for the Parish of Central Swansea. At the meeting we discussed the Annual Report and Accounts and considered matters which have happened over the past year. Although this has been such a difficult year in many ways, many positive things had occurred. This was also a chance to look ahead and it was agreed that there is, indeed, a great deal to look forward to in the future.
At the meeting, the positions of Church Wardens and Parochial Church Council were approved. We are grateful to the following, who have agreed to serve:
St Mary's & Parish Wardens : Ruth Roberts and Allan Jeffery
Lord Mayor's Wardens : Helen Murray and Randall Davies
Christchurch : Mike Paddison and Chris Davies
Hafod : Chris Box and Robert Leonard
Parochial Church Council :
Christchurch: Claire Cobley, Wendy Davies, Jennifer Davies, Angela Reed.
Hafod: Jean Franklin, Diane Huggleston, Betty Jones, Sylvia Moon.
St Mary's: Tony Davies, Patricia Jenkins, Julian Mamiso, Edward Murray.
Those present at the meeting also paid tribute to Kitty Griffiths who has served as Lord Mayor's Warden for the past 12 years. Prior to that, she served as People's Warden in St Mary's. She has been (and will no doubt continue to be!) a wonderful servant of St Mary's and the Parish and she takes a very well-earned rest. Thank you, Kitty!
PRESENTATION OF MAUNDY MONEY
The morning service in St Mary's on May 2nd was a lovely occasion. Her Majesty's Lord Lieutenant and the High Sheriff attended the service and the Lord Lieutenant presented Allan Jeffery with Maundy Money.
This is a wonderful and very well-deserved award for Allan, recognising his contribution to the life of the church and the wider community. In normal circumstances Allan would have received the money directly from the Queen at a special service. Unfortunately, this wasn't possible this year, but it was wonderful to be able to celebrate with Allan and members of his family as well as the wider church family. Allan, as the sermon on the day said, truly lives out his Christian faith in dedicated service. In addition to his role Parish Warden and Treasurer, he undertakes all kinds of administrative and practical work and leads the Brunch Club, helping to care for people who are homeless. He also provides a wonderful friendly welcome to people. Outside church he has been, and is, also involved in various community projects. A very busy man, and we are really grateful for all he does!
For those who are unsure of the history of Maundy Money, each year the Queen distributes gifts according to the number of years she has lived: so this year she distributed 95 pence worth of Maundy Money to 95 men and 95 women in recognition for their contribution to community and to the church.
The service dates back to 600AD and these special coins have kept much the same form since 1670. Each recipient of Maundy money is given two small leather purses by The Queen, one red and one white.
he first contains a small amount of ordinary coinage which symbolises the Sovereign's gift for food and clothing. The second purse contains Maundy coins up to the value of the Sovereign's age. The coins are legal tender but recipients normally prefer to retain them as a keepsake.
Canon Ian Rees
CANON IAN REES - A TRIBUTE
First impressions count. My first impression of Ian and Helen was one of welcome and fun. It was my fortieth birthday, and I had accepted an invite from the bishop to attend the diocesan clergy school despite not being ordained yet. I knew nearly no-one, and ended up sitting at the table with Ian and Helen. It was Helen's birthday too; we cut her cupcake in two and celebrated. It was a lovely welcome. When I found out the following year that Ian was to be the vicar for my curacy, I punched the air in delight.
And really, that delight hasn't gone away in the intervening five years. Whenever I drive into St Mary's, the sight of Ian's car just sends a message of reassurance, despite my historic dislike of BMWs (too many near misses with them as a cyclist). There is a guarantee of warmth, friendship, and a knowledge that any problems will get sorted with a minimum of fuss.
And speaking of problems, he had a fair few to sort out, especially in his first year. He inherited infighting, and was subjected to an awful lot of unfounded abuse which could easily have been enough to floor someone. He dealt with it with both strength and grace, and concentrated on a positive vision of the parish which people could - and did - rally around. In this he was greatly aided by the desire of the vast majority of people in the parish to return to a loving community. He has time for people, has no ego and is just so easy to work with: a very healing presence when the parish needed it.
Being Rector of a civic city centre church is not an easy balancing act. You need to have an unwavering focus on the church's mission and growth on the one hand: a desire to proclaim the Christian message in the city centre. On the other, you need professionalism, wisdom and the capacity for hard work to manage the civic expectations. That is not an easy skill set to find - priests tend to do one or the other well. Ian has carried off both roles with distinction. Initiatives such as the brunch club will outlast him in the parish. Over the last year or so, it has become apparent that the very top-heavy age demographic of St Mary's has changed. Looking at the congregation on a Sunday, there is a significant spread of ages, bucking trends of church decline. He has enabled initiatives to flourish, and as he now hands the baton on, things are set up well for his successor.
Ian and Helen will be much missed in the parish. Personally, I will miss their company, friendship and wisdom hugely. When they came, Helen had a vision of St Mary's church being bathed in light, and she would often use that image in her prayers. In many ways, those prayers have been answered - and they have been the means of God answering them, too.
Rev'd Ian Folks

CANON IAN AND THE REVEREND HELEN REES
Many things have happened over these past five years. I was a deacon waiting to be priested when the interregnum began. Ian Rees arrived with Helen in June 2016 and everything worked so well. About two weeks after the Ian's induction service, I was off to Llangasty for the retreat, ending with ordination as the climax of that week. On the Sunday, I celebrated the Eucharist as a priest for the first time, with Bishop Anthony preaching. Ian was a calm, enabling influence from the start. Over the years since, I have grown to know him not just as the boss, but as a friend who has been helpful and supportive. There has been a ready sense of humour and a general happy atmosphere all around. I shall miss him and Helen when they leave but will do so remembering the good things which have been achieved in this short time. We wish Ian and Helen well in their new roles and remind them that once a Rector of Swansea, always a part of the Swansea family.
Fr. John
ARCHBISHOP JOHN
As I write this, Archbishop John has retired. I feel as if he has been in Brecon for ever; I remember him as Dean when singing services in the cathedral with Hemiola. It was he who wrote to me about the opportunity of going to selection for ordination and then it was he who ordained me and many others over these years. I shall miss him and we wish him well in his retirement. May that be long and happy as he and Jo settle into their new home.
Fr John.
ONWARDS AND UPWARDS
This past year has been difficult and strange for everyone. In March 2020 most things, including churches, were closed because of the overarching pandemic. It was a strange time when people began to be afraid to speak to others. When walking along a pavement, people would move away to avoid coming too close. Everything seemed strained.
This year again saw us in lockdown. Since January, vaccinations have increased and, hopefully, infections are coming down. There are signs of hope that some of our normal life may be able to return this year. Fingers are definitely crossed over that.
Yet the Church has continued throughout this. In those first few months we had to rely on internet services which still continue and reach many people who would not otherwise have attended church. Apart from those three or so months of 2020, we were like the old Windmill Theatre: we never closed! Through all this, the festivals of the church have continued in different forms and this pattern has given us a feeling of continuity where worship never ends.
God grant that over these coming months, as we wish Ian and Helen well in their new home, we may continue to grow spiritually and numerically, as Ian would say. May we, as we begin this new interregnum, know the presence of our Lord every day and may we grow in his love here in our part of God's world.
Fr John

top
THE FUTURE OF THE CHURCH
At Governing Body, members were asked to meet in small groups to discuss the future of the Church in Wales after Covid-19. Four questions were given to aid our discussion:
1) What should we pick up that we have put down?
2) What should we put down that we have picked up?
3) What should we keep that we have picked up?
4) What should we put down that we shouldn't pick up again?
At the start of the Pandemic there was, perhaps, a sense of optimism that church and nation might be reshaped along more equitable and less consumerist lines. Now, more than a year on, this has largely been replaced by a weary desire simply to revert to normality. I hope that we might find a healthy balance of recovering what is dearest to our Christian tradition and casting off that which had become stagnant and worn. I here submit a few thoughts on these questions as a challenge to us as a parish, and as individual worshipers.
1) What should we pick up that we have put down? Congregational singing! It has been over a year since we were able to unite our voices in song. Each morning I say Psalm 95: "O come let us sing unto the Lord…" but sing I cannot. We are blessed at St Mary's with a wonderful choir. Over Easter, groups of six singers (as the Welsh government permits) that Dr Reynolds assembled did much to beautify our worship. On Good Friday the lack of hymns felt somehow appropriate; it added to the solemnity of the most solemn day of the Church Year. But on Easter Sunday I felt pained at not being able to sing "Hail Thee, Festival Day", "Jesus Christ is Risen Today", or "The Day of Resurrection". At their best, hymns are sung theology, rich with scriptural and doctrinal imagery. They have the power to move and inspire like nothing else in our liturgical tradition. Let us pray we will soon be able to join our voices once more with the angels and archangels and offer our hymns of praise to God once more.
2) What should we put down that we have picked up? Conversely, I cannot wait to be rid of masks and social distancing. It is, I have found, near impossible to have a pastoral encounter with someone when both parties are wearing a mask. When preaching I cannot see if the congregation are asleep or listening attentively. To hide our face from each other is to retreat into ourselves. Muffled and half-shouted conversations make it easier not to say anything at all. Missed smiles and frowns remove all nuance from encounters. Ours is a physical, tactical faith. Yes disease can spread through human conduct, but so too does intimacy, grace, and love. Godwilling we may soon embrace each other as brothers and sisters and drink of the cup of Christ's roseate blood.
3) What should we keep that we have picked up? A greater online visibility. Anyone who has met me will know that I am a Luddite. My laptop is held together by blue tack and has been now for four years. But even I cannot ignore the growth of the digital realm over the last two decades. This crisis has forced us to occupy some of that digital space, and so to open ourselves up to new people and new ways of communicating. Now, every Christian can say with John Wesley "I look upon all the world as my parish"! Online worship, I confess, does absolutely nothing for me. Worship must be gathered and communal if God is to be in the midst of us. But we can and should teach and preach and share God's message of universal love through every media we have.
4) What should we put down that we shouldn't pick up again? This is perhaps the most challenging of these questions: what was not working in 2019 that it would be folly to resurrect? We must leave behind our ennui and acceptance of church decline. There is nothing less helpful and more guaranteed to drive away new people from our church than a stagnant and unhospitable atmosphere:
Services at times of the day, or maybe mid-week, that no-one but retirees can make. Worshipping in corners of our giant church which no-one new can find. Grumpy faces and tuts at new people who do not know how we worship. Cliques at the post-service coffee (if this is ever to be allowed again). Complaints that things are "not what they were".
All of this was swept away by the Pandemic, and it must not be allowed to return. Our congregation at St Mary's is now younger and more diverse than it was before the pandemic. This does not happen by accident, but by God's design. We must be open to God's renewing spirit moving through His Church, open to new ideas, and to a renewal of our liturgical and moral tradition. This could be a new and glorious chapter in the life of this wonderful parish. Let us seize the opportunity and not let it pass.
The Rev'd Sam Aldred
FROM THE EDITOR
As in previous online editions of this magazine we must acknowledge both gains and losses caused by changes necessitated through restrictions imposed because of Covid 19. There are, however, changes not arising from the pandemic. By the time this magazine is published Our Archbishop and Bishop will have retired. Archbishop John has been a constant and caring pastor to this parish, diocese and Province of Wales. We pray that he, his wife and family may thrive in this new phase of their lives.
Our Rector, Canon Ian Rees and his wife, Rev'd Helen Rees, will leave the Parish of Central Swansea at the end of May when Canon Ian is to take up his new appointment as Archdeacon of Monmouth. They, and their invaluable contributions to St. Mary's, St. John's and Christchurch will be greatly missed. They go with the thanks and prayers of the whole parish for a happy future in their new home.
As we have recently learned, Rev'd Ian Folks will be taking on the role of team vicar of St. James' later this summer, while continuing as team Vicar of Christchurch. We wish him well and pray for him and his family as he takes on these additional duties.
Mrs. Kitty Griffiths wishes to express her thanks for the help and support she received during her time as Lord Mayor's Warden at St. Mary's. While regarding it as an honour to serve in this role, she feels that after so many years this is the right time to stand down and pass on the office to her successor. Many thanks to Kitty for her years of dedicated service in her office as Lord Mayor's Warden, which have invariably been carried out with great dignity.
Congratulations to Allan Jeffery on his well- deserved award of the Royal Maundy. Our prayers are with him as he is presented with the Royal Maundy money by the Lord Lieutenant at St. Mary's.
Many thanks to all who have contributed to this magazine.
Please note any changes to times of services (marked in the diary) during the interregnum.
N.B. Cymun Bendigaid: Bydd y gwasanaeth misol hwn yn dechrau 'nol ar diwedd Mis Mai.
(The Welsh language Eucharist is to recommence this May)
R.I.P.
Offering sympathy and prayers to the families and friends of the departed,
we pray for the souls of
Mona Gertsen
Audrey Walters
Y Parch. Derwyn Morris-Jones
The Rev'd Dr. Lionel Ward
Gloria Ackerman
Wedi'r Daith, Tawel Orffwys
MOTHERS' UNION FOR MAY 2021

"We will meet again"
This is something the Queen said some months ago. This really resonated with me – it was a pronouncement of hope when we all felt so desperate and it was something to keep us focused. I'm hoping that we will be able to meet very soon but in the meantime our Rector Ian has said he would welcome us at the 11a.m. Wednesday Eucharist, so we've decided to meet on the first Wednesday of each month for now. If you can join us and the regular mid-week congregation that would be a lovely start to getting together again.
Our Archbishop/Bishop retires during the next week That will bring a huge change. He has been our Bishop for many years and, of course, Patron of our Diocesan M.U. We thank him for his involvement, guidance and support over these years. He is, and always has been, very committed to the aims and objects of the M.U.I witnessed this personally during my time as Diocesan MU President. He has been a good friend to us here at St. Mary's and we are grateful to him for that.
We have another significant and sad "leaving" to contend with. Our Rector, Revd. Canon Ian Rees is to leave us at the end of May, along with, of course, Revd. Helen Rees. Two very special people are being taken from us – both enrolled members of M.U.Ian has been a huge support to our branch and to me in particular. It's difficult to run a branch without the support and guidance of your Rector and we have been really blessed with Ian. From thebeginning he has acquiesced to all my requests! We began, when I was D.P. and Ian had just arrived, with a Flower Festival/service/tea celebrating St. Mary's 125 years as a branch, along with 140 years of MU worldwide. It was such a success. Ianalso allowed the Diocesan Heirloom banner to hang in St. Mary's, celebrating 140 years of the M.U. Then,The Saltmine Theatre group performed "Chosen", the story of the M.U.,what a marvellous occasion that was.
Maybe the biggest request was to allow St. Mary's to be used for the services and concert for the General Meeting of the Global M.U. That was on an epic scale with, over 1,000 M.U. members in our church in 2 back-to-back services. The following day, after the meeting in the Brangwyn Hall, we hosted an evening celebratory concert with Male Voice Choir and guests-fabulous and unforgettable. To cap it all, Ian and 3 of our clerics were enrolled into M.U. by our Worldwide President, Sheran Harper, on her visit to the Diocese – yet another celebratory tea. It made me so very proud to see the 4 new members standing in front of a large congregation, having been admitted to the joy of membership.These are just highlights – Ian has always been ready to listen, advise and, more often than not, to say "yes" to my requests. We can't thank you enough Ian and will always hold such happy memories of your time here with us. We wish you well in your new position as Archdeacon in Monmouth Diocese, and every happiness to you and Helen as you take this new step in your life's journey.
Every year we hold our "Wave of Prayer" service which connects us to our prayer partners in Dioceses around the world – it is an honour and a privilege to light candles and remember them. This year, members were sent a copy of the service sheet, together with the prayers to be used at our allotted time and many members observed this quietly and reverently in their own homes to keep this worldwide cycle going.
We have lost several valued members in the last months – valued for their years of service to the M.U. and St.Mary's, but also for their love and friendship to us all. We ask that God will enfold Elsie, Lynfa, Margaret, Mona and Audrey in his loving care.
God bless them and keep them, God make his face to shine upon them and give them his peace for evermore.
Please keep in touch with each other and hold everyone in your prayers.
With every blessing, Ruth
DEWI SANT

An introduction:
In common with many church festivals and events over the months since March 2020, it has not been possible to mark Dydd Gwŷl Dewi -St. David's Day – as it should be celebrated. We are indebted to Rev'd Ryan Thomas for his contribution, giving the background to the Saint's life and ministry.
DEWI SANT
March 1st is St. David's Day, Dydd Gwŷl Dewi, the national day of Wales, and has been celebrated as such since the 12th Century. Today the celebrations usually involve schools holding Eisteddfodau, where the singing of traditional songs, recitation, dawnsio gwerin (folk dancing) competitions and many other activities take place. The highlight being the crowning and/or the chairing of the winning bard. Churches, chapels, and various societies mark the occasion by holding concerts, and a traditional feast which involves the consumption of copious amounts of Cawl and Welsh Cakes.

Little did anyone think as we celebrated Dydd Gwŷl Dewi 2020, that come 2021, life would have been put on hold and any celebration as we have known it would be out of the question.

So, who was Dewi Sant? Much of the information we have comes from a biography written around 1090 by Rhygyfarch, son of the Bishop of St. Davids.
The son of Sandde, Prince of Powys, and Non, daughter of a chieftain of Menevia (now the little cathedral town of St David's), the young Dewi grew up to be a priest, educated at the monastery of Hen Fynyw under the tutorage of St. Paulinus. According to legend David performed several miracles during his life, including restoring Paulinus' sight.

Legend has it that during a battle against the Saxons, David advised his soldiers to wear leeks in their hats so that they could easily be distinguished from their enemies, which is why the leek is one of the emblems of Wales.

A vegetarian who ate only bread, herbs and vegetables and who drank only water, David became known as Aquaticus or Dewi Ddyfrwr (the water drinker) in Welsh. Sometimes, as a self-imposed penance, he would stand up to his neck in a lake of cold water, reciting Scripture! It is also said that milestones during his life were marked by the appearance of springs of water.

Becoming a missionary, David travelled throughout Wales and Britain and it is said that he even made a pilgrimage to Jerusalem where he was consecrated bishop. He founded 12 monasteries including Glastonburyand one at Minevia (St. Davids), which he made his bishop's seat. He was named Archbishop of Wales at the Synod of Brevi (Llandewi Brefi), Cardiganshire, in 550.
Monastery life was very strict, the brothers having to work extremely hard, cultivating the land and pulling the plough. Many crafts were followed – beekeeping, inparticular,was very important. The monks had to keep themselves fed as well as providing food and lodging for travellers and caring for the poor.

St David died on 1 March 589A.D., at Minevia, allegedly over 100 years old. His remains were buried in a shrine in the 6th century cathedral which was ransacked in the 11th century by Viking invaders, who plundered the site and murdered two Welsh bishops. After his death, his influence spread far and wide, first through Britain and then by sea to Cornwalland Brittany. David was canonised as a Saint in 1120 by Pope Callactus II. Following this, he was declared Patron Saint of Wales. Such was David's influence that many pilgrimages were made to St. David's, and the Pope decreed that two pilgrimages made to St. David's equalled one to Rome, while three were worth one to Jerusalem. Fifty churches in South Wales alone bear his name.

His legacy lives on and some of his last words are remembered and still part of our lives today.
"Gwnewch y pethau bychain…" Rhai o eiriau olaf Dewi cyn iddo farw oedd ei rai enwocaf. Cofnodwyd ei bregeth olaf yn Llyfr Ancr Llanddewibrefi o'r 14eg Ganrif: "Arglwyddi, frodyr a chwiorydd, byddwch lawen a chedwch eich ffydd a'ch cred, a gwnewch y pethau bychain a welsoch ac a glywsoch gennyf I".'Roedd Dewi yn ffigwr canolog yn natblygiad Cristnogaeth yng ngwledydd Prydain Baganaidd.
Edrychwn ymlaen i ddathlu y flwyddyn nesa.
("Be joyful, keep your faith and do the little things which you saw and heard me do."
Dewi Sant was a shining light to the Christian faith in a pagan Britain. We look forward to celebrating his patronal day next March.)
Rev'd Ryan Thomas
A GOOD READ
In common with so many others during our Coronavirus-imposed "house arrest", I felt that I should tackle some previously delayed activities. Finally having the leisure to sit down and read, I have enjoyed the series of six novels concerning the Church of England, set in the twentieth century, concerning the Church of England by Susan Howatch.
The first of these novels was published in 1987 so many of you may be familiar with them but for those who are not, they are set in the fictional cathedral village of Stanbridge, echoing Trollope's Barchester Chronicles. The characters comprise members of the clergy, their families and friends and much of the action from the contrast between their high ideals and their all too human deeds. In several incidents a character sets out to act from admirable motives but, for various reasons, the outcome is less than happy.
Individual readers will find different incidents of particular interest. Characters of varying ages, all types of churchmanship, as well as agnostics and atheists, in a wide variety of relationships are found within these pages. There is, for example, an atheistic artist in one of the later novels who gives a remarkable exposition of artistic creativity which opens the mind of one of the clergy to fresh thinking about God as Creator and His continuing involvement in His Creation.
"Absolute Truths", the last novel of the series depicts a bishop's wife who writes a short journal of her attempts to pray. She knows that she ought to be better at praying (don't we all?) but her desperate appeals for help and the self-knowledge she achieves from this struck me forcefully. This just goes to show that ordinary fiction can have a spiritual effect if given a chance. Does anyone else agree?
Patricia Jenkins
Absolute Truths: Susan Howatch ISBN 051 71 70779–Random House Value.
THE ROYAL MAUNDY: The Maundy Service and the Maundy gift.
The origin of the Maundy Service is to be found in the Bible and the actions of our Lord on the night he was betrayed. In the 13th chapter of St. John's Gospel, we read of the Last Supper in the Upper Room of the night Jesus was betrayed: During supper; Jesus rose from the table, laid aside his garments and taking a towel, tied it round Him. The he poured water into a basin and began to wash His disciples' feet and to wipe them with a towel. Later Jesus said: "I give to you a new commandment: Love one another. As I have loved you, so you are to love one another." With these words from the gospel, said by the Lord High Almoner from the altar, the Royal Maundy Service begins.
The Royal Maundy Service is an ancient ceremony commemorating Jesus's words and actions, and the ceremony's connection with the royal court in this country goes back a very long way. Until 1985 it was accepted that the first known Royal Maundy Service was in 1213 at Rochester. It has since been discovered that King John took part in the Maundy Ceremony in 1210 three years earlier.
The practice of the Monarch washing feet lapsed in the 18th century. Around that time the presenting of the Royal Maundy personally by The King or Queen disappeared from the Sovereign's list of engagements and the duty was left to the Lord High Almoner. It was only as recently as 1932 that King George V restored the ancient custom after 200 years by appearing in person to distribute the Maundy in Westminster Abbey. The Queen has performed the ceremony every year except for four occasions, two of which are due to the pandemic. It has taken place at every Church of England Cathedral, as well as at St. David's Cathedral and St.Patrick's Church of Ireland Cathedral, Armagh.
At one time recipients had to be of the same gender as The Sovereign; but since the 18th century there have been equal numbers of men and women. This year is the Queen's 95th year (she will be 95 on 21st April), so 95 men and women will receive the Royal Maundy gifts. Recipients are selected because of the Christian service they've rendered to the church and community – and for which they would not otherwise be honoured.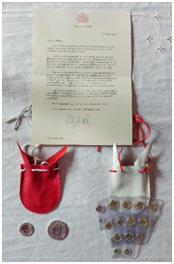 It is indeed an honour for me to be Recipient of the Royal Maundy and to receive this honour for Christian service from our Monarch who has taken to heart the words and actions of Jesus and given such unstinting Christian service herself. The word Maundy is derived from the Latin word 'mandatum' (commandment/mandate) which we extrapolate from the meaning of 'new commandment', here again in Latin 'mandatum novum'. The Maundy purses are blessed by the Royal Almoner at Her Majesty's Chapel Royal at St. James's Palace London before being presented by Her Majesty to the recipients. This year due to the pandemic the Royal Service, which would have been held at Westminster Abbey in the company of the Queen, had to be cancelled and the Maundy gifts sent out to recipients by post. Of the two purses, one red and one white, the red purse contains the traditional sum of £5.50. In the past this was an allowance for clothing and provisions, formerly given in kind, and a payment for the redemption of the Sovereign's gown. This year the £5 coin commemorates the Queen's 95th birthday and the 50 pence coin portrays the 50th anniversary of Decimal Day in 1971. The white purse contains the Maundy coins, silver pennies, twopences, threepences and fourpences, totalling 95 pence, corresponding to the Sovereign's age. All coins are newly minted this year.
Allan Jeffery
GOD AND THE PANDEMIC
'Pourqoi'? – 'Why'? That was the question the Rector-Archpriest of Paris - the equivalent of our Dean – asked at the terrible fire at Notre-Dame. It is also a question many of us might have been asking ourselves concerning the pandemic. In a recent book however, Tom Wright; a former Bishop of Durham and renowned Biblical scholar; asks a different question – 'What'?
Tom Wright's (N.T. Wright) book God and the pandemic makes for worthwhile reading. How should a Christian respond to the pandemic? Wright's answer, or one of them, is that the best response is to the question 'How'? How can we help?
The problem of evil and suffering has been present for a very long time and in this book Wright explores various possible answers given in the past. A result of idolatry was one such – and not on the sly, but in high places -and whilst nobody will probably erect a statue of Ba'al there are other forms of idolatry - Wright mentions the Book of Job, a very difficult one for the modern reader. We hear about the patience of Job, but the book is only calm at the beginning and at the end. It is far from calm in the middle when Job really wrestles with God – in fact, they seem to have a battle royal.
Turning to the New Testament he mentions Luke 13,1-9. No, we read, the people killed by the Roman soldiers were no greater sinners than anyone else, but unless you repent you will suffer healing a leper, forgiving a penitent sinner, even eating meals with the 'wrong' people
However, what I think I drew most from this book was the idea that we should embrace lament. This is a powerful theme in the Psalms – the prayer book of Jesus and the Jews - as also in the book of Lamentations itself, using language of lament, anger, frustration and often bitterness. Read Psalm 137 – the last two verses will shock most people. Our culture, Wright argues, is afraid of lament and it can be hard and even bitter. There is a time for restraint, and we have to go through Good Friday to reach Easter
I found this the most difficult part of his book to grasp properly, and I am not sure if I have grasped it. Archbishop Welby said he read it in one sitting. I'm afraid I didn't, but then I am no theologian. It is most definitely worth the effort though and will lead one quite deep into prayer.
On a personal note, I'd like to end with one of the English mystics, Julian of Norwich. She said – optimistically! – 'All will be well, and all will be well and all manner of thing will be well'. She tempers this, however, with 'He said not you shall not be tempested, you shall not be travailed, you shall not be dis-eased. But he said 'you shall not be overcome.'
A message of hope, I think, for a very difficult time – and Lady Julian knew about difficult times.
Stephen Morris
God and the Pandemic – Tom Wright - £5.99 – pub SPCK May 2020
ISBN978- 0-281-08511-8
ENJOYING A BANK HOLIDAY
May Day. The first day of May, the last month of Spring, looking forward to summer. Better weather.
May Day Bank Holiday 2021. Rain streaming down the window, a howling wind blowing pots of flowers around the garden, broken branches. A traditional Bank Holiday, then. A day for warm clothes, for soup not ice cream and lights on early in the evening. Typical May Day activities.
Were May Days better in the past? When we were able to go out, meet friends for a meal – indoors, where it was warm. And dry. When it was possible to go to a concert, to take part in a concert and, perhaps, sing the madrigal by Thomas Morley, Now is the month of Maying, with its promise of sunny days, the end of winter.When May Day meant the first day of May, not the first Monday in May. May Day in Germany, several years ago, was sunny, a holiday on May the first.
Dancing around the Maypole, the Queen of the May, sound like something out of Thomas Hardy, but I remember once, as a small child, watching figures weaving coloured ribbons around a maypole as they danced. More recently, one Neath school revived the tradition, making the day one of celebration – some of those days must have been dry and warm. Now is the Month of Maying, the madrigal, is part of a 500-year-old-plus celebration of May day and is still sung by Magdalen College Choir after the Te Deum and prayers, from the tower of that college.
Spring Bank Holiday, later in May, has taken over from the holy day of Whitsunday, or Pentecost. Traditional Chapel celebrations marking Whitsun involved the Cymanfa Ganu (the singing festival) when well-known hymns would be enthusiastically sung by several congregations gathered together at a host chapel. Girls and boys would attend in new sandals and best clothes, hair carefully brushed or slicked down. There was no dancing though, but a Whitsun tea was enjoyed by all.
One May Day has stuck in my memory, not for Maypole dancing or Queen of the May processions – but because a weekend break in the Cotswolds taken at the end of April ended unexpectedly. May Day dawned not with bright sun, or even heavy rain, but with a thick covering of snow blocking the road. We waited until next day for the snow plough, in a hotel without heating or hot water.
Get out your woolly hats and scarves. Whitsun is only a few weeks away.
Gwyneth Anthony
Clergy:
Rector: To be appointed
Church Office : Tel 01792 655489
Assistant Curate: The Revd John Anthony 01639 638434
Team Vicar: The Revd Ian Folks 01792 205190
Assistant Curate: Revd Sam Aldred
Reader Emeritus Les Taylor. 01792 234639

Parish Wardens: Allan Jeffery - 01792 468015
Ruth Roberts - 01792 676732
Parish Treasurer: Allan Jeffery 01792 468015
Lord Mayor's Wardens: Randall Davies
Mrs Helen Murray 01792 535813
St Mary's:
Treasurer: Allan Jeffery 01792 468015
Director of Music: Dr William Reynolds 01792 467606
ChristChurch:
Wardens: Christopher Davies 01792 205968
Michael Paddison 01792 463255
Treasurer: Christina Davies 01792 205968
Safeguarding Officer: Jen Jones. 01792 423133
Hall Bookings: Pam Jones. 01792 521763

St Mark & St John:
Wardens: Chris Box
Robert Leonard
Treasurer: Betty Jones. 01792 655619
Safeguarding Officer Sandra Davies.01792 422749
www.swanseastmary.co.uk
Facebook: St Mary's Swansea
Christchurch Central Swansea
St John's Hafod
Twitter: @stmaryswansea