<![if !vml]>

<![endif]>
Parish Magazine May - June 2017
Contents:
1. Dates for the Diary
2. From the Rector
3. Confirmation
4. Ordination
5. Annual Vestry Meeting
6. Dates and Details
7. Reflections
8. Healing Service at St Mary's
9. Call to Mind: Christian mental health support group at St Mary's
10. R.I.P.
11. From the Editor
12. Ringing in the News
13. Celebrate in Welsh
14. The Secret Service
15. Charles Bousfield Huleatt
16. Mothers' Union
17. Oliver Messiaen's L'Ascension
18. News from the Royal School of Church Music
19. A Walk Around Shrewsbury
20. Messy Church on Good Friday
21. School visit at St John's
22. Chocolate - everywhere
23. Holy Week and Easter in St John's
24. A Day to Remember
25. Parish Contacts
Many thanks to all contributors to this magazine and to all who helped with its production.
Articles for the next magazine can be sent to frjohnanthony@outlook.com
Deadline for July /August is 19th June, 2017.
Service Times St.Mary's
Sunday 11.00 Choral Eucharist
4.00 Choral Evensong
6.00 Sunday at 6 (21st May & 18th June)
Tuesday 12.30 Healing Service (2nd in month)
12.30 Cymun Bendigaid (4th in month)
5.30 Choral Evensong (Term Time)
Wednesday 10.30 Holy Eucharist
12.45 Lunchtime Service (Holy Eucharist on 1st in month)
Friday 12.30 Holy Eucharist (Except 1st in month when MU Archidiaconal at 11.00 )
Saturday 12.30 Holy Eucharist
Morning Prayer 9.30 on Tuesday, Wednesday & Thursday.
Ascension Day Thursday 25th May Choral Eucharist at 7.00pm.
8.30 Symphonic Meditation for Organ- L'Ascension by Messiaen
Llangennech with Llwynhendy Parish will join us for choral evensong on Sunday May 21st at 4.00pm.
We hope that as many of our regular worshippers will be present to welcome them.
Dates for the Diary
May 1st (Monday) Swansea Art Society Art Exhibition continues at St. Mary's
2nd (Tuesday) Prayer Group St Philip's Chapel 2.00 pm
3rd (Wednesday) RSCM Area Rehearsal ST. Mary's 7.00 pm
4th (Thursday) Weight Watchers 10.00 am
Ladies Guild. Vestry Hall 2.00 pm
5th (Friday) MU Archidiaconal Eucharist 11.00 am
6th (Saturday) Craft Fair St. Mary's Vestry Hall
8th (Monday) Swansea Art Society Exhibition continues
MU Talk on Neath Abbey – St. Mary's Vestry Hall 2.00 pm
10th (Wednesday) MU Spring Retreat – Nicholaston House
11th (Thursday) Weight Watchers 10.00
13th (Saturday) RSCM Swansea & Brecon Area Choral Festival. Brecon Cathedral.
15th (Monday) Unitas Meeting at Salvation Army, Richardson Street. 7.00 pm
17th (Wednesday) Bell Ringing 6.00 – 7.00 pm
18th (Thursday) Weight Watchers 10.00 am
Ladies' Guild 2.00 pm
22nd May (Mon) MU 2.00 pm – Paul Richards
25th Ascension Day Choral Eucharist 7.00
Messiaen: L'Ascension - Dr William Reynolds, organ. 8.30
26th (Friday) Civil Servants 1.30 St. Mary's Vestry Hall
June 1st (Thursday) Weight Watchers 10.00
Ladies' Guild 2.00
2nd (Friday) MU Archidiaconal Eucharist 11.00
3rd (Saturday) Craft Fair – St. Mary's Vestry Hall
4th (Sunday) PENTECOST
6th (Tuesday) Prayer Group – St. Philip's Chapel 2.00 pm
8th (Thursday) Weight Watchers – St.Mary's Vestry Hall 10.00 am
Call to Mind -Vestry Hall – 2.00 – 4.00
See article by the Reverend Ian Folks
11th (Sunday) Trinity Sunday
12th (Monday) MU – Helen Jones – St. Mary's Vestry Hall – 2.00 pm
14th (Wednesday) Falklands 35th Anniversary Service 11.00 am
15th (Thursday) Weight Watchers 10.00
Ladies' Guild – 2.00
17th (Saturday) Organ Donation Service - 2.00 pm (To be confirmed)
20th (Tuesday) Salt Mine Theatre 2.00 pm
24th (Saturday) Ordination of Reverend Ian Folks. Brecon Cathedral 2.00pm
30th June Civil Servants - 1.30 St. Mary's Vestry Hall
(Saturday July 1st Craft Fair)
Organ Music at St Mary's, Swansea City Centre
Thursday 25th May, 8.30pm
Olivier Messiaen's L'Ascension Four Symphonic Meditations for Organ
Performed by Dr William Reynolds
This late night performance by candlelight celebrates the Feast of the Ascension with a major piece of twentieth-century organ literature by the French composer Olivier Messiaen (1908-1992) Free Admission – Retiring Collection
The St Mary's Summer Organ Series 2017
Tuesdays, 1.10pm-1.50pm Free Admission
4th July Elin Rees (Bury Parish Church, Lancashire)
11th July Carl Grainger (Organist & Harpsichordist, Welsh Symphonia)
18th July Dr Anthony Gritten (Royal Academy of Music, London)
25th July Glenn Crooks (St Samlet's, Llansamlet)
1st August Vincenzo D'Arcangelo & Antonio Pescatore (Rome)
Music for Trumpet & Organ – Part of their 2017 UK Tour
8th August Huw Tregelles Williams (St Mary's, Swansea)
15th August Andrew Goodwin (St Mary's, Swansea; St Gwynog's, Llangennech; and Organist Emeritus, Bangor Cathedral)
22nd August Dr Ian Rutt (Director of Music, Swansea University)
29th August Dr William Reynolds (Director of Music, St Mary's, Swansea, and Organist, Llandovery College)
5th September Dr Alan Sykes (St Mary's, Swansea, and Uniting Church Sketty)
12th September Joshua Xerri (Birmingham Conservatoire)
Retiring collections towards the tunings, upkeep and general maintenance of the St Mary's Organ
Come early to enjoy tea, coffee, cakes and light lunches on sale in our Café beforehand
Dear All,
Holy Week and Easter is the most important time of the Christian year. It is a chance, in a dramatic way, to engage in the drama of that last week before the Crucifixion and Resurrection. Beginning with the shouts of 'Hosanna' and the palm waving and palm crosses of Palm Sunday working through to the commemoration of the Last Supper on Maundy Thursday, the pain of the crucifixion on Good Friday and then the wait before the Vigil and the joy of Easter Day as we shout out, 'Alleluia, the Lord is risen - He is risen indeed, Alleluia'.
It is the greatest cry of the Christian year because it represents the day when everything changed, when Jesus burst back into the history of the world.
And for that reason we must never see or leave Holy Week and Easter in isolation. They are the reality upon which our church and our faith are built. Some of the drama of our services hopefully helps us to engage in reflection of that week 2000 years ago and to recognise the incredible love which led Jesus to the cross rather than to give up on his creation and his people. It was a display of love which demands a response.
At the Last Supper with his disciples, on what we now call Maundy Thursday, Jesus offered the words, 'Let me give you a new command: Love one another.In the same way I loved you, you love one another' (John 13:34). As disciples of Christ today we need to be revealing that love through our words and through our actions and through our prayers.
One of the most important ways of showing that love is to tell people about our faith, not by ramming it down their throats but by sharing what God means to us. Some churches have traditions of offering personal testimonies which are spoken in church. I'm not asking people to do this unless you want to (although I think it is a good idea!), but I am encouraging you to think about what your faith means to you. Where do you best encounter God and where would you be without him in your life. Where can you say he has made a difference in your life? Testimonies don't have to be dramatic, but I think it's all too easy to go through life with a very clear faith in our own minds, but never to have asked why we have that faith or what it's all about.
One of the incredible things about God and about Easter (and Ascension Day) is that he trusts us to be his disciples, to be his body on earth - it is an incredible privilege that the King of Kings chooses us...
As a Parish we must answer that call to serve and to love. Sometimes churches are pessimistic about the future, talking of falling attendances and lack of young people and money and so on - well, can we really expect anyone to join an organisation like that? That is not what we are, or at least shouldn't be - we are a family united together serving the Saviour who conquered death! Nothing is impossible with him!
Easter demands a response from us, a response of joy, of praise and thanksgiving, of hope and of the knowledge that nothing (however dark it may be) can ever quench the light of Jesus.
'Love so amazing, so divine, demands my soul, my life, my all'
May you live joyfully in the Easter season, not just for the Easter season in the church calendar, but always!
Every Blessing
Ian
CONFIRMATION
<![if !vml]>

<![endif]>As many of you will hopefully know by now, from Advent Sunday 2016 the Church in Wales brought in a new policy allowing anyone who is baptised to receive Communion. Obviously, there are certain restrictions with regard to children (particularly in regard to receiving wine), but this policy now recognises that baptism is the 'entry point' to the family of the Church. It doesn't matter whether the baptism is in an Anglican Church or not, and the Church in Wales has always, and will continue to welcome, those from different churches who are used to receiving Communion in those churches, to receive Communion in an Anglican Church.
As the document written by the Bench of Bishops on this subject pointed out, receiving Communion was never intended to be linked to Confirmation. This was a practical development and one that no longer needs to be continued. Clearly there will still be different views on this and obviously nobody is ever forced to receive Communion (Baptised, Confirmed or not!).
Some have questioned whether this new ruling negates the need for Confirmation. Again, in the documents from the Bishops (copies of which were at the back of each church), it is made clear that it absolutely does not. Confirmation remains the opportunity to renew promises made on your behalf whether they were made for you as a little child or not. Confirmation is a clear signal that you are ready to answer God's call on your life to live as his disciple.
To this end, we are hoping to arrange a Confirmation service with the Bishop and we would be grateful if you would let one of the clergy know if you are interested in being confirmed (both young people and adults are welcome!).
ORDINATION
Once again this year this Parish is privileged to have a direct involvement in the ordination service at Brecon Cathedral. Two years ago John Anthony was made a Deacon and last year he was made a Priest and Ian Folks was made a Deacon. I am tremendously grateful for their ministry <![if !vml]>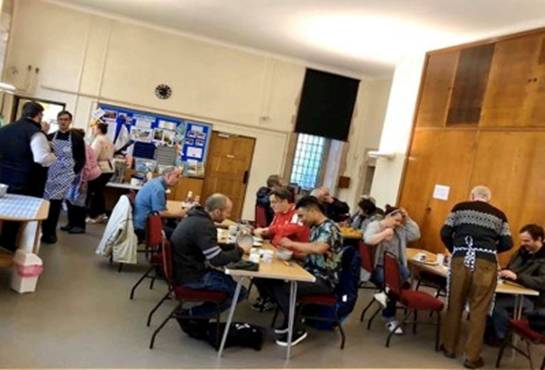 <![endif]>with us. Again this year a trip is being organised to the Cathedral to pray for and celebrate with Ian as he is made a Priest in the Ordination service on June 24th (2pm). If you would like to go on the bus and have a meal after please let one of the Church Wardens in any of the three churches know.
As happened last year with John, Ian will celebrate his first Eucharist in the service in St Mary's on the first Sunday after the ordination, June 25th. Again, as last year this will be a joint Parish service. It is a really important occasion for the three churches to come together as a family and this offers the chance to celebrate Ian's ministry and to show that we are a united family. Above all, it is a chance to worship God together. I hope as many people as possible will come along to the service in the Cathedral, and that many of us will fill St Mary's on the 25th!
Ian Rees
ANNUAL VESTRY MEETING
The meeting was held on April 25th. Thanks to all who attended this important meeting in the life of the Parish. At the meeting the Parish report and accounts were received and elections were held for the Parochial Church Council. Appointed to serve this year are :
Wardens : Allan Jeffery and Ruth Roberts
Sub Wardens : Sandra Davies, Billy Moon, Mike Paddison, Chris Davies
Lord Mayor's Wardens : Kitty Griffiths, Helen Murray
Parochial Church Council : Diane Huggleston, Betty Jones, Sylvia Moon, Jean Franklin, Ann Gratrix, Claire Cobley, Jennifer Davies, Wendy Ashford, Tony Davies, Kitty Griffiths, Helen Murray, Patricia Jenkins
Thanks to all who have agreed to serve and thanks to all who do so much for the life of the Parish. Please pray that over the coming year we will grow both numerically and spiritually.
Ian
Summer Fayre
There will be a Summer Fayre in St Mary's on Saturday August 19th – further details will follow soon, but in the meantime please let one of the Church Wardens know if you are interested in looking after a stall.
Christmas Tree Festival
This will be held in St Mary's in December with setting up on the 6th December and taking down on 12th December. We are hoping that different church groups will have a tree and be as creative as possible! We will also extend an invitation to other charitable groups and local churches and hope that we will have a good display. There will be further details coming out fairly soon but in the meantime please speak to the Wardens or Canon Ian Rees if you are interested in having a tree for your group/ organisation. It should be a really exciting event, so please be involved if you possibly can!
Revd Canon Ian Rees
REFLECTIONS
There has been so much happening over the last couple of months. The last magazine appeared in what was really the throes of Winter and here I am now writing this with Spring at hand and Easter Day having passed and with so much more to look forward to.
Soon we will celebrate Ascension Day and then Pentecost, which we so often used to call Whit Sunday, when we remember how those terrified disciples suddenly became brave and strong in telling others the good news of the risen Christ. In a way, this is the birthday of the church because it was then that the Holy Spirit filled the hearts of all those present and has continued to do so to ordinary people like us ever since.
As we give thanks for the wonderful gift of the Risen Christ, we look forward to so much. In June Ian Folks will be ordained priest and that will be a very special day. A year ago this all happened to me and I was so grateful for all the wonderful support I was given, as I know Ian will have the same.
For me the past 11 months have flown by and I have been so glad to be in central Swansea as a priest amongst so many lovely people. I spent most of Holy Week in services at St. Mary's and for me it was quite an emotional time, with the foot-washing and stripping of the altar on Maundy Thursday, the Good Friday liturgy with all its intensity of emotion and then the Easter Vigil with the Paschal Candle lit and spreading around the darkened church to show the coming of the light of Easter and the joy of the Resurrection. Easter Day was glorious with so many people celebrating the Risen Christ.
As we go into the summer months when many will go on holiday, may you return refreshed but, first of all, having had a wonderful break from routine.
Once again, thank you for all the support I have had in my first year as a priest. I look forward to many more.
John Anthony
HEALING SERVICE AT ST MARY'S
What mental images come into your mind at the word 'Healing Service'? Perhaps it's a dramatic Pentecostal rally, with men in sharp suits laying hands on the sick. Crutches and wheelchairs are pushed to the side amidst shouts of Hallelujah. Or maybe it's a pilgrimage to Lourdes, with a huge crowd from all over the world united in seeking Our Lady's help in their quest for healing.
Without diminishing either of those examples, there is a different approach.
Healing services have become more common recently. The charismatic movement of the 60s and 70s, which renewed belief in God's presence and power to heal today, has in some ways come of age, through both its positive and negative experiences. So in modern healing services, traditional sacramental practices, such as anointing with oil and the eucharist are combined with music, reflection on God's promises, meditation, listening and prayer ministry. It is a deliberately low key approach, avoiding emotionalism and gently leading people into God's healing presence. Jesus is the healer, not a charismatic wonder-worker.
'Healing' can mean different things, but I would separate it from 'cure'. Cure is the ending of an illness, with both symptoms and the physical reason for the disease disappearing. It is rare, at least in the modern western world.
Healing on the other hand focusses more on 'wholeness'. The word for 'healing' and 'salvation' is one word in biblical Greek; they are two sides of the same coin. A person may be cured and yet deeply wounded in themselves, unable to live a full life. Conversely, someone may struggle with significant disability or illness, and yet live in a state of contentment. The complex interactions between mind and body may mean that unresolved emotional pain may manifest in distressing physical symptoms.
People coming for healing ministry therefore typically report alleviation of emotional distress, as God brings order to internal chaos. Remission of symptoms such as pain, fatigue and depression also commonly occur. Healing can sometimes happen through people finding grace to forgive others who have hurt them, or in a fuller appreciation of God's forgiveness for themselves. Often people say that an illness has not gone away, but they experience God's grace in living life day by day.
Our healing services will take place in the Trinity chapel at St Mary's, on the second Tuesday of every month at 12.30pm, starting on Tuesday 9th May. It will be a Eucharist service, because receiving communion is a powerful sign of salvation and healing. Anointing with oil - the traditional sacrament of healing - will be available, as will prayer ministry. Quiet music will help us experience the healing presence of God.
It is difficult for some people to request healing prayer. It may be an unwelcome sign of weakness, a challenge to the stiff upper lip! But as St Paul saw with his own illness, 'God's strength is made perfect in my weakness' (2 Cor 12:8). Our response should rather be 'Only say the word, and I will be healed.'
Rev Ian Folks
CALL TO MIND: CHRISTIAN MENTAL HEALTH SUPPORT GROUP AT ST MARY'S
'Yet this I will call to mind, and therefore will I hope -
Because of the Lord's great love we are not consumed.' (Lamentations 3:21)
Over 1 in 4 people will have a period of serious mental illness at some point in their lives. Many reading this article will know this reality only too closely, either through their own experience, or the experience of a loved one. It is a bleak place to be. Hope can seem completely absent.
A close friend of mine, who has had schizophrenic episodes, has described it as a light going out. And from that place it is impossible to keep any sense of God's presence - unless it's provided by other people.
Some regular visitors to St Mary's during the week are very upfront about the struggles with mental illness that they have. I have been privileged to have some wonderful conversations with them. Their insights into living with their conditions are often remarkable, and those that are Christians often have amazing stories of faithful discipleship whilst living in the 'valley of the shadow'.
However, Christians living with mental illness can sometimes find themselves under a double attack. From within or from others, questions such as 'Shouldn't your faith bring you joy?', statements such as 'Look to God and he will take it away' or even suggestions that demonic forces may be involved are deeply unhelpful. They create guilt and further depression.
As a means of mutual support for Christians living with mental illness, we are starting a group, 'Call to Mind'. The name of the group is taken from the bible verse at the top of this article. The book of Lamentations describes horrific experiences, which have deeply scarred those who have lived through them. But the verse 'yet this I will call to mind' butts in as a ray of hope through this. It is a statement that in God, there is a reality of salvation which is deeper than our experiences of despair, even though it may be almost impossible to perceive it. For those who struggle with mental illness, calling hope to mind may be impossible, but there may be strength in doing so with others similarly affected.
Our first meeting will be at St Mary's, Swansea on Thursday 8th June at 2pm, and they will continue on the second Thursday of each month. There will be a short informal time of worship, including a biblical reflection and a personal story of living with mental illness and faith. There will then be opportunity for further prayer ministry with clergy and others, and a chance to talk together over tea, coffee and cake.
The group will be advertised across all churches in Swansea, and all are welcome. People who help support those living with mental illness may equally find it useful. For more information, please talk to either Rev Ian Rees or Rev Ian Folks, both of whom can be reached via St Mary's Church.
Rev Ian Folks
It is with great sadness that we learned of the death of
Fr.Mark John, Elizabeth Rees and Barbara Harris.
We extend our prayers and sympathies to their families
May they rest in peace and rise in glory.
It seems no time at all since we were celebrating Easter and here we are, preparing for Ascension Day and, soon after, the ordination of Ian Folks to the priesthood. We offer our prayers and thoughts to Ian, Vanessa and the family as he prepares for this. Thanks go to all in the Parish who did so much to make our Easter celebrations so memorable.
Looking ahead, it's good to hear two extra dates for the diary – the Summer Fayre at St. Mary's on August 19th and the Christmas Tree Festival on 6th to the 12th December. Something to look forward to.
Many thanks to Mrs Giselle Wheway for her valuable work as Lord Mayor's Warden.
Tony and Kitty Griffiths send their thanks to all their friends at St. Mary's for the gifts, cards and good wishes received on the occasion of their Diamond Wedding Anniversary
A Fair Share?
A newspaper article recently claimed that eight men are as rich as the poorer half of the world. These men – and they are all claimed to be men – are said to own so much wealth that they could, if they wished, lift half of humanity out of poverty. There was no suggestion that they intended to do any such thing.
This claim; reported to be based on an Oxfam report on the scale of global inequality; cites the owners of five U.S. technology companies among the eight. One of these is one of the biggest employers in the Swansea area. A fashion chain, with a retail outlet just a few minutes' walk from St. Mary's is counted among the remaining businesses.
We have all witnessed the effects of poverty and deprivation in the streets of Swansea. Those who live on the streets are frequently seen in close proximity to St. Mary's, but the media frequently show even more desperate living conditions. Big business, or the owners of big business, show little will for the alleviation of world poverty, instead taking the opportunity to structure their businesses to dodge taxes, drive down wages and squeeze producers. With their wealth and power, they could contribute to an economy which benefits everyone.
Political leaders have, for many years, done little to redress the balance between rich and poor. I hope that I will be able to take this issue into account when the date comes for the General Election. Maybe the political candidates will have some hard questions to answer when it comes to canvassing - and will we take these issues into account when we cast our votes?
<![if !vml]>

<![endif]> RINGING
IN THE
NEWS
With so few church ringers available to ring on Sunday mornings at St Mary's, it was good to hear all eight bells being rung on Palm Sunday before the morning Eucharist. Twenty or so ringers - members of the Welsh Colleges' Society of Change Ringers – were visiting South Wales on a ringing tour and had rung our bells one evening in the week and some of them offered to ring our bells again on the Sunday.
The bells were also rung on Easter morning before the Eucharist when an unexpected visitor boosted our numbers. Originally from Vancouver, he had learned to ring three years ago when he first came to Britain and now makes a point of visiting as many towers as possible on his travels.
Our once a month ringing practice, on the third Thursday of the month, is proving to be a great success and more often than not members from other churches in the area join us. We are very grateful to Gillian and Andrew Knight, ringers at Gorseinon, who suggested this arrangement and made it so worthwhile.
The Handbell ringing team meets regularly every Friday morning and is making steady progress. The addition of the six new handbells has extended our repertoire and we use them to ring the medleys Peter has arranged for us. Recently we rang for the Retired Civil Servants' Group which meets once a month here at St Mary's. They were delighted with our selection of tunes and the medley of tunes entitled "Welsh Fantasia', was very well received and some members of the group were even tempted to 'sing along' on hearing the well loved tunes of 'Bread of Heaven', 'Myfanwy',' David of the White Rock', and 'Cwm Rhondda'.
We always enjoy visiting groups in the community, in or around Swansea, to ring a selection of tunes and show the intricacies of handbell ringing. We are also keen to show off our tower bells and would welcome anyone who wished to visit the ringing chamber and see the ringing 'in action'. If interested please contact me on 01792 413810.
Anita Morgan
Secretary
CELEBRATE IN WELSH
My Christian upbringing was nurtured in the Welsh NonConformist tradition and for the last 37 years I have held the post of organist at Bethel Welsh Independent Church in Sketty. Naturally, all the services there are held through the medium of Welsh. A long-standing interest in church music, however, has drawn me to regular attendance at the Choral Evensong services in St Mary. More recently I have been privileged to participate in the services as a member of the choir. As one who considers Welsh to be his first language I naturally appreciate the fact that Fr John always articulates a section of the prayers through that medium. More recently Fr John has taken the initiative to hold a Cymun Bendigaid (Holy Eucharist) service at 12.30pm on the fourth Tuesday of each month. I am pleased to report that at the first two services a dozen or so were present. The next appointed date is the 23rd May and I would encourage all Welsh speakers and indeed Welsh learners to lend their support.
Gair o ddiolch felly am y fenter newydd a bendith Duw fo ar holl weithgareddau yn Eglwys y Santes Fair.
(Many thanks for this venture and may God's blessing be on all activities at St. Mary's Church.)
David Williams
THE SECRET SERVICE
Excellence occurs mostly as a product of work unseen.
Aiming for excellence, a select body of committed agents regularly rendezvous at a pre-arranged time and location, which, though centrally situated, is surrounded by trees and, for a large part of the year, lies under cover of darkness (essential for night time training exercises!). To access this facility, security barriers are released using a digitally encrypted fob ready for the appointed time.
Easily identified by their own, many of the agents are drawn from academic, legal, civil service or military backgrounds and work in a voluntary capacity showing immense commitment and self-sacrifice for their cause. Some (and even their close family) have been subject to the official secrets act in previous occupations, and many have served overseas. Training as agents has been rigorous, and for some, such was their prodigious talent, they represented their country in their youth. Mental focus, attention to detail, ability to follow instructions, keeping calm under pressure, personal organisation, teamwork and commitment are considered essential attributes for success as an agent. Loyalty is highly valued. Opportunities are sought to source like-minded individuals and subsequently new recruits are initiated and their shills developed. A cadet section has been established, and a probationary period is in operation. Various training methods are implemented, including a system with the code name VfL. Preparation and training is of the essence, and failure to prepare is equated with preparing to fail.
At designated times a select few choose to congregate alongside the agents – most are present because they have attended previously, have received a tip-off, or have deciphered instructions from the published monthly lists and weekly news bulletins. Others stumble on these meetings almost by accident, often exhibiting great surprise as to what they experience. It must be stressed that in order to receive a comparable experience with any regularity elsewhere one would have at least an hour's travelling in an easterly, westerly direction, or to HQ in the northeast.
The majority of the postmeridian meetings begin with Special Agent J initiating a call and response procedure. Special Agents P and +A then read out rules of conduct and advice on lifestyle, and in doing so, reference is often made to key personnel and events in the Middle East. This information has been meticulously interpreted into English from the Hebrew and Greek. It is not unusual for Welsh and Latin to appear periodically, and effort is made to ensure that the inner meaning is understood and acted on. Officially proscribed forms and orders are strictly adhered to. Special Agent J inspires and leads by example.
It is believed that the certain methods of thought and concentration are techniques which enable communication beyond that of radio signals and can even surpass our earthly dimension. This discipline is part of a tradition that spans two millennia. A higher authority oversees all, and it is He to whom we exercise the utmost of respect and to whom we are ultimately answerable.
When participating in meetings, agents enter a unique sonic experience accessed via the utilisation of a specially devised code demanding skilful deciphering achievable only from years of training. Specific symbols represent values and parameters of pitch frequency and duration, and the intensity of tone and dynamic levels are carefully controlled to encourage true harmony and cohesion amongst team members. The Director is always keen to share his interpretational ideas and artistic vision with his team.
The Director and his trusted assistants agree on the operation of complicated hi-tech equipment accessible only through a series of secret doors, stairways and passageways securely kept under lock and key. Successful management of this equipment is dependent on the mastery and skill of the operator who engages with the intricate cabling, electronic circuitry, and electrical pulses, and selects appropriate registration, insisting on fine-tuning and the precise regulation of wind pressures. A CCTV surveillance system allows the operator to monitor activity below, and fastidious observation and listening encourages precise synchronisation.
Curious? In this post-modern time with an impending activation of Brexit, and in the true spirit of trust and transparency which is termed by the Soviets as 'glasnost', you are warmly encouraged to attend Choral Evensong at St Mary's on Tuesdays at 5.30pm and Sundays at 4.00pm – though you are reminded to be ever vigilant and attentive. Is the secret now out?
Report released by Codename DoM
Part 2
An account of Huleatt's amazing discovery was given in the previous edition of the Parish Magazine. This article treats with his life.
Huleatt had studied at Magdalen College and Wycliffe Hall in Oxford prior to taking up the post of curate at St Mary's. His studies provided a spur to what was about to happen. New Testament Greek, the study of Saint Matthew's gospel, and practical pastoral work, characteristic of the Wycliffe Hall regime, experienced by the writer sixty years later, were crucial. William Rutherford, his Classics teacher in St. Paul's, papyrist, and later Oxford don, prompted his enthusiasm. Whilst still an undergraduate, Heutlett contributed an article in 1885 to The Journal of Philology.
Brought up in a large family of conservative religious views, with a commitment to service in the Empire and military, he recoiled from the then challenging theology which sought to demythologise the New Testament. Of an affluent family, living in the officers' quarters in Woolwich, where his father was chaplain to the forces at the time of the 1871 census, he believed that he had a duty to serve a community of greater material needs and challenged his rich fiancée, Caroline Wylie, when she urged him later to seek 'a cosy post' in England.
Our principal source for Huleatt's life is 'The Jesus Papyrus' by Carsten Thiede and Matthew D'Ancona [Weidenfield and Nicolson, London, 1996]. Reference to Swansea is sparse: little more than that after ordination as deacon he took up the post of assistant curate at St Mary's.
However, more has been revealed in the West Glamorgan Archives [Reference: P/123/CW]. On June 7, 1888, according to the St. Mary's Log Book, '…Rev. C.B.Huleatt came into residence as Curate of St.Mary's. … 193 had been confirmed on November 15 and that the annual meeting of the British and Foreign Bible Society had taken place in the Albert Minor Hall on the 22nd. From the Register of Marriages we learn that Huleatt officiated at twelve marriages between June 19 and December 12. Family employments cited give some indication of the congregation's mix: marine engineer, railway porter, plasterer, stoker, engineer, carpenter, collier, barman, mariner, wine merchant, commercial agent, and stone cutter. Again, in this first year, he baptized 43, listed family employments including victualler, mason, marine engineer, labourer, commercial traveller, coachman, telegraph superintendent, shipwright, coppersmith, shipwright, basket maker, seaman, master mariner; and conducted nine burials.
According to the Annual Report for 1889, he lived at 9, Rosehill Terrace but in the following year he was living at 36, Ffyonne Terrace [the latter a possible location for a blue plaque, the former now demolished?]. It appears that he was primarily based at St. James Church, then a chapel of ease, living in nearby adjacent roads, joining the Vicar in thanking the St James' choir at their Christmas dinner, and the fact that readers were advised to refer to the St James' Church news column in the Parish Messenger for details of his resignation!
According to the Parish Messenger for February 1889, Huleatt was the preacher at St. James' Church, at the children's service on January 6, and at the Sunday School teachers' meeting, attended by some sixty teachers, he gave one of the addresses on the theme of 'Example', an earnest evangelical topic. On January 17 there was an important address by a speaker from Oxford on the importance of the Boys' Brigade [prompting the establishment by July of three companies in the parish]. In the light of his reputation for his work later among young boys in Tunbridge Wells and Messina [see below] it might be presumed that Huleatt was active in this development. Two days' previously, the annual examination in drawing by the art inspector from South Kensington had taken place, involving some 1044 pupils attending the local National Higher Grade schools. The inspector, we learn from the Parish Messenger, was assisted by local clergy including Huleatt.
On August 11, again according to the Parish Messenger, there occurred an event of possible great significance to the story: sermons were given on behalf of the Colonial and Continental Church Society, for whom he later worked. Were they at Huleatt's prompting or that of Bousefield, his rich maternal grandfather and benefactor of the society, and/or were they a prompt to his subsequent employment by the society?
Come the autumn, our hero was ordained priest by the bishop of St David's on September 21. The routine of baptisms, marriages and burials was maintained, according to the registers, Huleatt conducting 23 baptisms, including 6 in the workhouse, 5 marriages [the professions cited being labourer, mariner, tailor, farmer, and police constable], and 50 burials.
He was haunted by ill health, presumably of a respiratory character, from which he had always suffered and for which Swansea was unsuited. He was forced to take leave but recovered sufficiently to resume his duties. He had earlier gone to Surrey to recuperate whither the Vicar of Swansea visited him in May, surely an exceptional initiative, reporting that, according to the Parish Messenger, '…though weak, he was improved and would shortly go to Bournemouth to effect further improvement.' The Vicar was James Allan Smith, long-serving incumbent from 1884 to 1902. Recuperation and possibly the vicar's visit had their effect for on June 27 the Parish Messenger advised 'We are very glad to welcome back the Rev. C.B.Huleatt, who returned to-day after fourteen weeks' absence, and to find him so far restored to health.' It was not to last and on October 11, 1889 Huleatt left Swansea, according to the Parish Messenger:
We have sustained a very real loss in the removal of our valued and energetic friend. During his comparatively short residence in the parish he has made many true friends, and we all truly sympathise in his enforced journey to winter abroad [the reference is to his chaplaincy in the winter months in Luxor] on the ground of health. We sincerely trust that rest and a milder climate may restore his former strength'.
The story will be resumed in the next edition.
Robert McCloy
MOTHERS' UNION
M.U. News for April/May 2017.
The first meeting, with Margaret and myself, as joint Branch Leader, was an enjoyable afternoon of discussion on our future events. We were pleased to welcomed Mrs. Christine Davies from Christchurch to our meeting. We look forward to enrolling her into our Branch. We hope this will be the start of seeing new members from the churches in our Parish. Revd. Sue Knight led our meeting on 27th March, with a theme of "Mothers." As always, we had a very interesting afternoon, ending with one of Sue's Quizzes.
We look forward to the Diocesan Festival in Brecon Cathedral on 27th April, followed by a meal at The Plough, Rhosmaen. A day for fellowship. There is a Diocesan Council meeting on 4th May at Bishop Bevan Hall, 10.00-1.00pm. Let me know if you would like to attend, it is open to all members.
We have decided not to visit Neath Abbey on 8th May, yet again, due to structural maintenance work being carried out by Cadw. Mr. John Richards, our guide, will give us a slide show and talk in the Vestry Hall, instead. Few members have been to the site, so this will be a better chance for them to learn about the Abbey and its history, join us if you wish to learn more on the about this former Monastic Foundation, on the banks of the river Neath.
Several of us are attending the Spring Retreat at Nicholaston House on 10th May, a beautiful place to spend such a day. We end the month with a return visit by Mr. Paul Richards giving one of his interesting talks. The title this time keeps us guessing – "Hamilton" so come along if you wish to learn something new!
Kitty Griffiths, Joint Branch Leader
**********************************************************************************
The Diocesan Mothers' Union host a very special production here in St. Mary's church on June 20th. @ 2 pm. We welcome the Saltmine Theatre Company who perform a production of "Chosen" which is the story of the beginnings of Mothers' Union by it's founder Mary Sumner. It' s a production which was especially enjoyed last year in M. U's 140th. year of celebrations. I do recommend it to everyone, not only M. U. members. I have tickets @ £10 which include refreshments and welcome the support of church members. Do make this a date and production not to be missed! Thank you, Ruth Roberts. D. P. for Swansea& Brecon M. U.
OLIVIER MESSIAEN'S L'ASCENSION: FOUR SYMPHONIC MEDITATIONS FOR ORGAN
As part of our celebration of the Feast of the Ascension at St Mary's on Thursday 25th May, there will be a late night performance by candlelight of a major piece of twentieth-century organ literature, L'Ascension, by the French composer Olivier Messiaen (1908-1992). It will be performed by Dr William Reynolds at 8.30pm (following the 7.00pm Choral Eucharist).
The four movements of L'Ascension, composed in 1933, have been described and subtitled by the composer as follows:
Majesty of Christ praying that His Father should glorify Him
Father, the hour is come: glorify Thy Son, that Thy Son also may glorify Thee (St John)
Serene Alleluias from a soul longing for Heaven
We beseech Thee, Almighty God, that we may in mind dwell in Heaven (Collect for Ascension Day)
Outburst of joy from a soul before the Glory of Christ which is its own glory
Giving thanks unto the Father which hath made us meet to be partakers of the inheritance of the Saints in light… has raised us up together and made us sit together in the heavenly places in Christ Jesus. (Colossians and Ephesians)
Prayer from Christ ascending towards His Father
And now, O Father, I have manifested Thy name unto men… and now, I am no more in the world, but these are in the world and I come to Thee (St John)
It is vivid music, an expression of Messiaen's deep Christian faith. While each of its four movements bears a title and an inscription which captures a scene, an image or idea from Our Lord's Ascension into heaven, the music itself explores these themes and strives to expand more deeply what words are unable to express. The music, it could be said, follows Christ's Ascension, and looks heavenwards.
Messiaen's expression of his religious experience manifests itself through his music. He was certain that his music was written with the aim that it was 'a music that touches all things without ceasing to touch God'.
Messiaen developed and refined his own style of musical composition unique to the twentieth century. He was systematic in his ordering of his musical language in his two-volume treatise, 'Technique de mon langage musical'. New types of scale were devised, the modes of limited transposition, which involved symmetrical groupings of selected notes within the octave, each with its own characteristic ordering of tones and semitones. The flavour of his harmonies and melodies are all derived from these modes.
His musical heritage was that of plainsong, while his love of nature exhibited itself through his interest in birdsong. Both these influences emerge from his music. He combined Western Art music traditions with those of the East. He was also interested in and Hebrew and ancient Greek rhythmic patterns.
Messiaen is specific in his choice of organ registrations (the stops or sounds he requires), and these are clearly noted in the musical score. He calls on the registrations of the large French Romantic Organ as built by Cavaille Coll, but combines the stops in a more imaginative way than his predecessors, yet is still in touch with aspects of registrations found in the classical French organ tradition of Couperin and de Grigny.
Here at St Mary's, Swansea, we are fortunate to have an organ (and acoustic) that is sufficiently versatile to allow us to approach the sound world of Olivier Messiaen. Openness is required on the part of the listener who may simply be absorbed in the atmosphere, or be intellectually drawn into the compositional technicalities and religious symbolism of Messiaen's intense musical language.
Come along, meditate on Christ's Ascension, and at the same time expand your musical horizons.
Dr William Reynolds
NEWS FROM THE ROYAL SCHOOL OF CHURCH MUSIC
The RSCM will be holding its 2017 Annual Choral Festival on 13th May in Brecon Cathedral. The Festival will take the form of Choral Evensong with introit "Laudate Nomen Domine" by Christopher Tye, preces and responses by Philip Radcliffe, canticles in Bflat be Edgar Day and anthem "O Thou the Central Orb" by Charles Wood. Registration for the Festival will be from 12.45pm with the rehearsal starting at 1.45pm and Choral Evensong at 5pm. You do not have to be a member of a choir to sing in the Festival so why not come along and have a go – it is always a most enjoyable occasion? Prior to the Festival there will be an Area Rehearsal here in St Mary's at 7.30pm on Wednesday May 3rd. Participants will need to buy the Festival Booklet (£5) which contains all the music and this will be available at the Area Rehearsal or at the Festival itself.
The Festival will be directed by Mark Duthie, Director of Music at the Cathedral, and this will be, in a sense, his "Swan Song" since he has just been appointed Director of Music at Carlisle Cathedral. Mark will be greatly missed in the Swansea and Brecon Diocese and we wish him every success at Carlisle.
Recently Miles Quick, the RSCM Head of Congregational and Instrumental Music, held a very successful "Lift up Your Voice" event in St Paul's Sketty where he showed what could be done in churches with limited musical resources by using instruments and differing musical styles such as Taizé and Iona.
If you would like more details about RSCM activities and courses please contact me on 01792 429543 or email adavies55@ntlworld.com.
Tony Davies, RSCM Area Secretary
A WALK AROUND SHREWSBURY
'..........and that sweet City, with her dreaming spires....'
Not a city and perhaps not that many dreaming spires but these words from Matthew Arnold's Thyrsis always comes to mind when the train approaches Shrewsbury with a view of its spires and towers.....
There are two ways of travelling there by train – the scenic but slow way of the Central Wales Line or the Marches Line via Cardiff, Hereford and Ludlow; this takes an hour less. Both are nice and Shrewsbury is a good place for a 'church crawl'!
Leaving the station, walk up the hill and on your right you will see what might be a church with its clock tower but it is in fact Shrewsbury's excellent public library. A large statue of Charles Darwin. This was at one time Shrewsbury School, now moved to the other side of the river, which Darwin attended. It appears he was not too keen on it as there was too much Latin and Greek on the curriculum and not enough natural history. Too many dactyls and not enough pterodactyls .....Hmmm........Continuing up the hill you come to a cross-road and turn left into St.Mary's Street. This is our first church – St.Mary's, now in the care of the Churches Conservation Trust. Although no longer in regular use, services are occasionally held there and this is still a house of prayer. The stewards are very friendly and quite evidently very proud of the church now in their care. There is also a café, recently opened and quite nice.
St. Mary's is impressive by any standards. It is a large church and boasts the third highest spire in England. According to the traditional account it was founded by King Edgar although the present church is probably around 12th, century. The most remarkable aspect is the amount of stained glass. Much of the glass did not originate there. The magnificent Jesse window came from Old St.Chads and there is much 14th. Century glass bought by the then vicar, Rev. Rowland around 1845. It must have cost him a packet but they do add to the church a feeling of peace and serenity: a nice place to sit and pray........
Tearing oneself away from St.Mary's you see another spire. This is St.Alkmund's Church, and whereas St.Mary's, when in use, was High Church St.Alkmunds follows the Low Church tradition. More austere than St.Mary's, it is, again, a quiet place to reflect and sit. An intriguing feature of this church is the painted east window. One tourist brochure describes it as a copy of Reni's Assumption of the Blessed Virgin Mary. This made me very curious! The brochure did not get it quite right and the answer as is so often the case, to be found in the church itself, where a previous vicar has compiled a short history
The church is partly mediaeval and Georgian. When in 1788, despite warnings from Telford, Old St Chad's collapsed, the congregation of St.Alkmunds had concerns about their own church. It was decided to demolish the church, retaining only the tower and spire and rebuild the rest. They commissioned Francis Eginton to paint the east window. Eginton was an enamel painter in glass. His original budget was £150, increased to £200 as then he 'could do something notable'. Being much impressed by a painting by Guido Reni of the Assumption of Mary, Eginton copied the figure of St.Mary, altering the colours and surroundings to form a picture of Christian pilgrimage – so the figure represents us, in effect. However, this came at a cost of £20+ over budget – for which the cheeky monkey charged them! They were, though, so pleased with the result that they paid up with no quibble. He also received a letter of thanks.
And there it still stands – repaired in 2010 at a cost of £158,000. I was not sure when I first saw it whether I liked it or not and I am still not sure but it is certainly striking. This is a working church and there is a Eucharist on both Sunday and Thursday morning
The parish church of Shrewsbury is St.Chad's and is the civic church for the town. It is thought to go back to the 9th. Century but the present building dates from 1790. In 1788 Thomas Telford warned that the church was a death-trap. According to some accounts it seems the PCC didn't believe him and felt he was feathering his nest. Whether that is correct is debatable – but he was right. The church collapsed in the early hours of the morning hurting no-one. The new church was to be built near the Quarry. This is now a park and site of the Flower Show but then it really was a quarry. The Scottish architect George Steuart (it is spelt with a 'u') was commissioned and came up with a couple of designs. The PCC would have preferred an oblong church but 'due to a misunderstanding' (?!) the present design with its circular nave was chosen.
It is similar to some of the Wren churches you see in London. To me it looks like a Greco-Roman temple from the outside, but it is a church. It is unusual – there is a balcony upstairs and the nave fans out from the altar in a circle - not quite full circle. The organ is in the west, the quire stalls in the east. The pulpit is a brass and copper Arts and Crafts design and the lovely east window is a copy made in 1840 of a triptych made in Antwerp Cathedral. It is a busy church with three services on Sunday with a strong tradition of music, so the services were very similar to our own here in St.Mary's. There are lunch time concerts between March- November (free with retiring collection). Once a month there is an organ recital and a concert is also given on the first Tuesday of the month . There is usually a light lunch afterwards. The one I attended had a good few people there and they have a good congregation too. Darwin was christened in St.Chad's in 1809 and St.Chad's was the first church in the UK to sign the Armed Forces covenant. Military connections are evident – St.Aidan's Chapel is also the memorial chapel for the local regiment
At the other side of town, outside the walls, is a church well-known to those who like mediaeval whodunnits! Readers of Brother Cadfael will have heard of Shrewsbury Abbey and Shrewsbury must have been a dangerous place then, just as Midsomer, the island of St.Marie, not to mention St.Mary Mead are today!!
The Abbey was founded in 1083 by Roger de Montgomery, a Benedictine Abbey dedicated to St.Peter and Paul. As such it was dissolved in 1540 but the nave was intact and served as a parish church. It is a large and impressive building. I was told that in its heyday as an abbey the building was far larger. Even now it is impressive. It could also be cold in winter I was told. Why am I not surprised? Like St.Chad's it has a very strong choral tradition, again with lunch-time concerts. It's exciting days did not end with the Dissolution – it was used as a prison for Royalists after the Battle of Worcester in 1651. Those days are thankfully behind them – the most excitement these days are tourists visiting and people like me asking them stupid questions. There are three services on a Sunday, with a good congregation. Again it is a working church, not a museum The best way to appreciate the Abbey is to visit it – it took my breath away when I went in and words don't really suffice.....
Shrewsbury also has a cathedral – the RC Cathedral of Our Lady Help of Christians and St.Peter of Alcantara. It was designed by Edward Pugin (the son of the famous one) and it seems it has some very good stained glass : unfortunately it is only open during service times although they do open to visitors after Easter. Shrewsbury also has a Unitarian church, which Charles Darwin sometimes attended.
Shrewsbury is a very attractive mediaeval town with a number of independent shops as well as stores and modern malls. The best I think is the Darwin Centre. The mediaeval centre is still intact, but with names like Dogpole and Grope Lane one wonders what exactly did go on - a question best not pursued perhaps.A good way to see the town is by river cruise starting from the Welsh Bridge to the English Bridge and back. You will have a different perspective and be better able to see the 'new' public school built in 1882. Former alumni are Michael Palin, Nevil Shute and Astronomer Royal Martin Rees. The pupils, both boys and girls, are very proud of Darwin, educated in the old building
After all that history and sightseeing it was nice to go to the lounge in the Lion Hotel and flop in one of its comfortable armchairs........you don't escape completely though. Charles Dickens stayed there and it is thought Charles Darwin did before joining the coach to London to sail on the 'Beagle'.
Stephen Morris
MESSY CHURCH ON GOOD FRIDAY
On Good Friday we had Messy Church with ten children attending. We re-enacted the Last Supper with blackcurrant squash in place of the wine and used ordinary bread. I couldn't believe how quiet the children were, as they listened to every word said. Ian then continued the story, taking the children into the garden for Gethsemane and hiding in the church as the disciples scattered; then listening to the trial and crucifixion.
We went on to paint the children's feet and made footprints following Jesus, and of course washing the children's feet and bringing in how Jesus washed his disciples' feet. A good time was had by all finishing with hot cross buns, risecrispy chocolate cakes, squash and tea.
May the love of God and sacrifice that Jesus made for us go on in our hearts and the little ones for ever. A blessed and peaceful Eastertide to you all.
Jennifer Jones
A SCHOOL VISIT AT ST JOHN'S
At the beginning of April Hafod primary school came to visit St.John's. It was a brilliant morning. Every child from the school came to Church. Two classes came at a set time slot and were told the Holy Week and Easter story. This meant telling the story four times!
The Church had been divided up so that when the children arrived we could do a Palm Sunday procession waving palm crosses and shouting alleluia. After this we sat at one end of the hall area where there was a garden so that the children could hear all about the garden of Gethsemane. A child was volunteered to be Jesus who was arrested.
We then turned our attention to the other end of the hall where some children were picked to be Caiaphas the high priest and Pilate. Pilate then offered the children the chance to save either Jesus or Barabbas, one of the teachers, Mr.Phillips, played Barabbas. ,
After this we went into the Church area where there were three crosses (made out of broom handles). It was here that we thought about the Crucifixion and what it meant. Then the child playing Jesus was hidden (to show he had been buried) and then came back and appeared to Mary (played by me).
It was a great time. The children were all fantastic and they had the opportunity to ask me lots of questions! Which they did and then they looked around the Church.
It was lovely to have the school in. I had the chance to go back to the school for a cuppa and ended up having a roast dinner !!! Thanks to the school but a special thanks to Sandra Fisher who decorated the Church so well.
Helen Rees
CHOCOLATE EVERYWHERE
In St.John's I have become renowned for my love of chocolate and so with Easter coming up it made sense to bring chocolate into the life of St.John's even more. Members of the congregation were asked to bring chocolate to Church coming up to £1:00 in value. These all arrived and there were 61 donations in all. Each of these then had a sticker placed on them with, ' Happy Easter from St.John's Church, Hafod'. In addition to this on the sticker was the time of the service on Easter day. These chocolates were then taken by members of the congregation and given to their friends, family and neighbours.
Helen Rees
HOLY WEEK AND EASTER IN ST JOHN'S
The Holy week and Easter services were well attended. We began Holy Week on Palm Sunday with a procession around the outside of the Church. We then had the usual Eucharist service on Wednesday morning, then we had extra services on Maundy Thursday evening, the last hour of the cross on Good Friday and a vigil on Holy Saturday. The services went well and were well attended.
Then came Easter day with a joyous service celebrating the resurrection of Jesus. The Church looked great and thanks are due to all those who worked hard cleaning the Church and decorating it for Easter day. The Easter garden was particularly impressive and I would like to offer a great big thanks to everyone who helped with and attended the services
Helen Rees
A DAY TO REMEMBER
Tenby. Paddling with seaweed between the toes, bucket and spade, cricket on the beach and fish and chips wrapped in newspaper. Not, as you may think, our trip to this walled town just a few weeks ago (we forgot the buckets and spades!), but Tenby remembered as an eight or nine-year-old. Not a Sunday School trip, but a proper day out, on the train. Walking across the field to Cockett Station - still open then – timing how long it took to go through Cockett Tunnel, calling out the names of stations. Ferryside, Carmarthen, Kilgetty, Saundersfoot, TENBY. Chips and sometimes fish - depending on how many cousins came with us - from Lower Frog Street. Climbing the hill, past the museum. The lifeboat station, the old sea-water baths and my uncle, remembering his time in Greece during the Second World War, translating the Greek inscription high on the wall. Then running along the harbour walls and - the sea and sand of the North Beach.
Recent visits may not include climbing around the rock in the centre of the North Beach, or looking for cockles - carrying cockles home in buckets used for sandcastles probably breaks dozens of regulations now. We could find no information to show if the café overlooking the beach still served tea trays to carry onto the sand and newspaper-wrapped fish and chips have long been banned, even if it did add a certain something to the flavour. Tenby, though, still retains much of the charm of those remembered days out.
The narrow streets of the walled town still carry the atmosphere of a different time and place. Narrow passages between houses and shops hint at old secrets. A plaque commemorating the escape of Edmund Tudor through concealed passages in the cliffs and down to the sea links the present town to the fifteenth century. The old sea-water baths still dominate the approach to the harbour although the building is now let out to holiday visitors. The old lifeboat station is now a private home, but the replacement fits in perfectly with the rocky surroundings. St. Katherine's Island still maintains its air of mystery – was the zoo actually open when we used to visit? The island's use as a prison for Napoleonic prisoners is now incorporated into of tourist information.
We gaze out to Caldey Island just as we did then (a visit to the island was not part of our family trips, a boat trip with excited - or sea-sick - children not being part of the plan). St Mary's Church has become part of visits to Tenby; often as a concert venue; the sense of calm noticeable after the street outside. And down at the harbour, no visit is complete without, both now and then, a few minutes in St.Justinian's, the tiny chapel just a few feet from the water. Still in regular use, even if worshippers need to climb over sunbathers to gain access, this simple stone building holds an air of peace and rest in sharp contrast to the busy harbour and the mighty power of the sea.
Gwyneth Anthony
Clergy:
Rector: The Revd Canon Ian Rees 01792 472760
Church Office : Tel 01792 655489
Associate Priest: The Revd Helen Rees
Assistant Curate: The Revd John Anthony 01639 638434
Assistant Curate: The Revd Ian Folks
Reader Emeritus Mr Les Taylor. 01792 234639
Parish Wardens: Mr Allan Jeffery - 01792 468015
Mrs Ruth Roberts - 01792 519190
Parish Treasurer: Mr Allan Jeffery 01792 468015
Lord Mayor's Wardens: Mrs Kitty Griffiths. 01792 813651
Mrs Helen Murrary. 01792 535813
St Mary's:
Treasurer: Mr Allan Jeffery. 01792 468015
Director of Music: Dr William Reynolds. 01792 467606
ChristChurch:
Wardens: Mr Christopher Davies
Mr Michael Paddison
Treasurer: Mrs Christina Davies 01792 205968
Safeguarding Officer: Mrs Jen Jones. 01792 423133
Hall Bookings: Ms Pam Jones. 01792 521763
St Mark & St John:
Wardens: Mrs Sandra Davies. 01792 422749
Mr William Moon. 01792 415327
Treasurer: Mrs Betty Jones. 01792 655619
Safeguarding Officer Mrs Sandra Davies.01792 422749
www.swanseastmary.fsnet.co.uk