<![if !vml]>

<![endif]>
Parish Magazine February/March 2019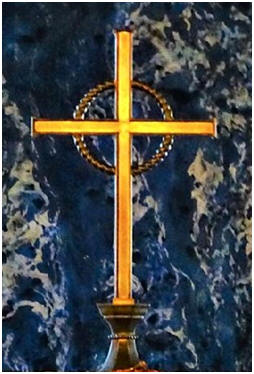 Contents:
1. Service Times and Dates for the Diary
2. Rector's Letter
3. A New Curate and a New Associate Priest
4. Changing Places
5. Pastoral Work
6. Saint David - Dewi Sant
7. Christchurch Christmas
8. From the Editor
9. Memories of France, 1915
10. St Mary's Ladies' Guild
11. MU News for Winter 2019
12. February?
13. News from Hafod
14. A host of golden daffodils - An official leek
15. Contacts


Service Times St.Mary's Church
Sunday 11.00 Choral Eucharist
4.00 Choral Evensong
6.00 Sunday at 6 (Monthly as advertised)
Tuesday 12.30 Healing Service (2nd Tues. in month)
12.30 Cymun Bendigaid (4th Tues. in month)
5.30 Choral Evensong (Term Time)
Wednesday 10.30 Holy Eucharist
12.30 Lunchtime Service (Holy Eucharist on 1st in month)
Friday 12.30 Holy Eucharist
(except 1st in month - MU Archidiaconal at 11.00)
Saturday 12.30 Holy Eucharist

Morning Prayer Tue, Wed & Thursday 9:30am
Dates for the Diary
FEBRUARY:
Friday 1st M.U. Archidiaconal Eucharist 11.00am
Monday 4th PCC Away Day
Monday 11th MU New Year Lunch
Tuesday 12th Needles & Pins
Monday 25th MU Speaker – Anita Morgan 2.00 pm
MARCH
Friday 1st St David's Day
Women's World Day of Prayer
Saturday 2nd Concert – Gwalia Singers
Wednesday 6th Ash Wednesday
Friday 8th M.U. Archidiaconal Eucharist 11.00am
Monday 11th MU Lenten Service – Canon Stephen Ryan 2.00 pm
Tuesday 12th Needles & Pins 11.00 am
Monday 25th MU Lady Day Service 2.00 pm
Sunday 31st Mothering Sunday
N.B.
Articles for the next magazine can be sent to this address
Deadline for April/May edition is 15th March
Many thanks to all contributors to the magazine
Dear all
2019 is a rather special year for St Mary's, marking 60 years since the re-consecration of the church following the bombing in the war. As I thought about this, I wrote this message. It was, of course, with St Mary's in mind as we celebrate this anniversary, but it applies to all of our churches in many ways as we seek to offer prayer, praise and worship, to engage with our communities and to grow both spiritually and numerically and as we remain thankful for the incredible gift of being called to follow and proclaim the God of all creation who knows us and loves us.
Isaiah 40:31 : 'But those who hope in the Lord will renew their strength. They will soar on wings like eagles, they will run and not grow weary, they will walk and not be faint.'

2019 marks the 60th anniversary of the re-consecration of St Mary's following the destruction during the Second World War. The rebuilding of the church was a massive effort and must have been driven by a vision to see a building in the centre of the city standing as a witness to the glory and power of God. It must also have been inspired by a hope to reach out in love and hospitality to the community being served by the church.

Today that vision and inspiration must continue to encourage us to move forward as we seek to share the gospel in a city that is very different from even 60 years ago. As we begin a new year, we have a good chance to reflect on the past, be thankful for the present and prayerful and hopeful for the future.

We believe, as Christians, that Jesus is good news for people everywhere. Reflecting him, we must seek to be good news in and for the city.

5,000 people in the church in December

We have a really good place to start. Through December, about 5,000 people came into St Mary's church. We can be confident that the church remains relevant and attractive and we must be sure to maintain that. There were all kinds of different services and events and the church also provided a welcome place of calm and refuge to people getting away from the busy-ness of the city, or even just seeking a place to keep warm.

Church for everyone :

Civic Involvement / Homeless people welcomed and cared for
Our mission in St Mary's is and must be, varied. As well as hosting Civic events, which is a huge privilege, it is right that we also seek to provide care for and help to those who are struggling. Day by day we provide food and drink to people who are homeless; a sad but very necessary part of our mission. We have also provided practical help for some in other ways and have been pleased to be able to support the food bank and Baby Basics.

As I have said before, the more we do with those who are struggling, the messier it can sometimes get, but that can't change our role. So yes, there is a privilege in being part of the Civic life of the city, but we must also see it as a privilege to serve and welcome those who are struggling.

It is right that worship remains a central part of what we do and we must always continue to strive to ensure that worship is the best we can possibly offer and that it offers suitable variety. In the last year we have, in addition to our choral worship, held a regular informal evening service and a regular healing service. We have also held a monthly Eucharist service conducted in the Welsh language.
As well as regular worship, it is right that as a church we need to make space for study of the bible and prayer and offer space for those who have questions to explore faith. This hasn't in recent times been a strength and we need to make this more of a priority. Our faith will grow with further study of the bible and further discussion in small groups and it is important that our faith is never left to remain static. Things that grow are never still.

Another hugely important aspect of the church must reflect the fact that we are a family, a family drawing together all kinds of different people, of different ages and backgrounds and ideas, but a family nonetheless. It's important to continue to build this community and hopefully, during the coming year, there will be a number of events that will bring people together outside of regular worship.
Finally, it's right that we turn to numbers and to finance. I've heard it said that we need more people so that we will get more money to pay our bills - please never believe that statement. Yes, we do need money (we rarely have enough!) and I would constantly encourage people to consider what they are able to give to the church as our mission relies on money in so many ways, but our mission is not about raising money to survive. That would not be an attractive vision!

Growth, spiritually and numerically
Our task is to enjoy our relationship with God, to grow in that relationship, to be a family committed to worship, prayer and serving God and caring for each other. This year we will celebrate the 60th anniversary of the re-consecration of the church, reminded of the vision that saw it rise from ruins.
During the year I hope you will join in with whatever celebrations there may be in St Mary's (whichever church you may usually attend) and also that you will pray regularly for growth in our church, both spiritually and numerically and that we will continue to seek out opportunities to reach out in service to the community enjoying the privilege of serving God and sharing his love.
The Bible verse quoted at the beginning of this message challenges us to be people who hope and trust in the Lord and that means seeking his will for our lives and our church. That means accepting sometimes things that might not be exactly as we want them - the kingdom of God is a lot more important and much bigger than our personal preferences. The verse also assures us of the possibilities before us as we trust God.
Thank you to those who do so much to keep the life of the church active. Your role, whatever it may be, is massively appreciated. It is, of course, always wonderful to welcome more suitable volunteers. Serving God in times like this might be tough at times, but it remains a massive privilege and can be a tremendously exciting adventure which I hope we can enjoy together.
Every blessing for 2019 - as we continue to celebrate the good news of Jesus, may we always seek to be good news and share good news.
Canon Ian
A NEW CURATE AND A NEW ASSOCIATE PRIEST
Following the ordinations at Brecon Cathedral on June 29th (at 2.00pm), we will be having a new curate in the parish, who will also be working across the Ministry Area. His name is Sam Aldred and is currently training at St Stephen's House in Oxford. Please remember him and his wife, Helen, in your thoughts and prayers.
We will also be having a new Associate Priest, who is rather better known! Ian Folks will finish his curacy in June, but I'm delighted to say he will be staying in the parish and will be undertaking a Team Vicar role, largely caring for Christchurch, as he has been doing, but obviously still being very much a part of the Parish team.
CHANGING PLACES
The Revd Lance Sharpe who, in addition to being the Lead Hospital Chaplain has been a member of the College of St Mary, will be taking up a new role as Priest in Charge of Gwastedyn (centred around Rhayader). His licensing will take place on February 13th and we wish him well in his new ministry.
Another person well known in this parish is The Revd Ian Drew Jones. He will become Priest in Charge of Manselton and his licensing is on February 19th.
Please pray for them both and for their families as they begin these new chapters in their ministries.
Canon Ian Rees
PASTORAL WORK
Some weeks ago, Archbishop John licensed a number of people from the parish in order to take on pastoral roles, visiting the sick and helping us all keep in touch, even when housebound or unable to come to church.
The days have long gone when "ministry" was considered the sole responsibility of clergy. We all have different ministries in the church. Each one of us can be part of sharing the love of Christ. Those who are called to exercise the role of Pastoral Assistant or whatever name is used, have a tremendous role to play. Many years before I was ordained, I started this work. It became hugely rewarding. Hopefully, we will all help to care for God's family here. Can we keep them in our prayers as they begin and continue in this work?
John.
Saint David - Dewi Sant
On March 1st we again celebrate the life of our patron saint. David, or Dewi, Sant (his family name) has been regarded as the patron saint of Wales since the twelfth century.
He was a monk and bishop in the sixth century, an ascetic, spiritual man, who showed great kindness to others, particularly the poor. The Rule of his monasteries was strict. He emphasised hard work, abstinence from alcohol and unnecessary speech. He died around the year 601.
In The Life of Saint David by Rhigyfarch the Wise, we read that, when he was very old, "An angel spoke to him, saying, 'Make ready. On the first day of March, our Lord Jesus Christ, in the company of a great host of angels, shall come to meet you. On seeing Him, he said, 'Take me with you'. With these words, and with Christ as his companion, David gave up his life to God; and attended by the escort of angels, he sought the gates of Heaven."
It goes on, "His body was, with all honour committed to the earth, and buried in the grounds of his own monastery: but his soul, set free from the bounds of this transitory life, is crowned throughout endless ages."
Saint David brought the Christian Faith to many in Wales and, after all this time, we still honour the legacy of this great and humble man who loved God so much. His faith has much to offer to modern Wales and all of us.
Reverend John Anthony
CHRISTCHURCH CHRISTMAS
Christmas already seems a long time ago! But it gives us wonderful opportunities to talk about the wonderful truth of the vulnerable God, unashamed to come to us as a dependent baby.
Messy Church
At the beginning of December, our monthly Messy Church at Christchurch School enjoyed a grand craft project of making two impressive banners, hung from the rood screen in the church until Midnight Communion: 'Prepare the Way of the Lord'. We also launched our now annual Posada, taking a South American tradition of figures of Joseph, Mary and a donkey visiting homes en route to Bethlehem. Mary and Joseph bring extra sheep with them! - and one stays behind at each home visited. They are then re-united at our crib service on Christmas Eve. It has helped develop good links between families from Christchurch School and the church.
Carol Services
Our annual Christmas Carol service was on Sunday 9th December this year. We pack the choir stalls under candlelight and the red glow of the heaters and belt out the carols with a growing congregation of all ages. It's a lovely time, with mulled wine and mince pies afterwards.
The midnight communion service on Christmas Eve remains popular and it's an excuse for me to dress up and do a sermon as one of the Christmas characters. This year I was a shepherd with a dodgy northern accent.
Crib Service
Our largest congregation over the Christmas period is at our crib service, with over 70 adults and 40 children in attendance. The sheep from the Posada come back to church. There's a great atmosphere of celebration, chaos and Christmas bonhomie. It was helped this year by refreshments afterwards and another chance to see the spectacular winter wonderland stage in our hall.
There are so many people who work incredibly hard over the Christmas period to put on all the different events, including the fete and the Christmas dinner (not mentioned above). There are literally too many people to thank but: 'Never become weary in well doing, for you know your labour in the Lord is not in vain.' (1 Cor 15:58).
The crib service is a great reminder of how many positive links our congregation has to the community of the Sandfields, Christchurch school and the wider families of congregation members. Later this year we hope to develop those links by starting a new family focused afternoon congregation - we'll keep you updated on those developments.
Godly Play
With our new congregation in mind, several of our children's workers from the church attended a Godly Play training day held in January. Godly Play tells bible stories, using beautifully made toys and props, then invites the children to think through the story. It is designed to use children's natural curiosity to help them learn and interact with bible stories, rather than being 'told' what the lesson is. They then respond freely using crafts, toys or other means. It is creative, imaginative and the experience stays with you. It's one of the things we look forward to doing in our new congregation!
Busking
They say, 'do it once, it's new; do it twice, it's remembered; do it three times, it's a tradition.' Well, busking Christmas carols outside St Mary's while dressed in my clerical robes has become a tradition. This year was the most successful to date, raising £1082 for Ogof Adullam, a year-round drop in for homeless people run by Brunswick Methodist Church. Thanks to the many from the parish who gave to such a good cause.
The congregation at Christchurch offers thanks to Angela Reed, who has taken over the role of treasurer for Christchurch and would like to express their gratitude to Christina Davies for her work in that office.
Rev'd Ian Folks
FROM THE EDITOR
It is just a matter of weeks since we celebrated the joyous events of Christmas and, unlike many parts of the world where Epiphany is marked for a number of weeks, most of our Christmas decorations are packed away until next year. Most shops, of course, packed away Christmas late on Christmas Eve and hot cross buns were seen on shelves alongside mince pies and Christmas puddings. The Church, however, is moving towards Candlemas and will soon be preparing for Lent – to every thing there is a season (apart, perhaps for year-round Easter eggs).
Grateful thanks are due to everyone who worked so hard to make Christmas so joyful. It was wonderful to welcome so many people to the church – and even, on one occasion, to see queues stretching across the St. Mary's churchyard to get into the church.
Thanks are also due to Hemiola and the Cambrian and Durham Consort of Viols who provided the music for our services on December 30th when the Choir of St. Mary's was on holiday.
Alongside the services planned for 2019, we also anticipate the events surrounding the 60th anniversary of the re-consecration of St. Mary's following the dreadful events of WWII. Reflecting on the centenary of the end of the First World War, the effects of each of these conflicts resonate down the years - it is a salutary lesson to learn that the mortal remains of one child and five adult victims of the Holocaust have been interred this month by the Chief Rabbi at a Jewish cemetery in Hampshire.
The effects of both World Wars have echoed down the years. As we have read, the remains of Holocaust victims are only now finding a resting place. The following article reminds us of the situation faced by some of those caught up in the earlier conflict.
MEMORIES OF FRANCE, 1915
On the 100th anniversary of the ending of WW1, I reread some of the letters and the diary that my father, Clifford had written. He enlisted aged seventeen, lying about his age.
He was sent to train in a camp in the grounds of Belton House in Grantham, where he had to learn to ride a motorbike, and then how to shoot from the machine gun that they attached to his side car. He loved riding the motor bike. There were only eighteen side car combinations in the whole army, he was very proud to be in charge of one of them. They gave him goggles and gauntlets to wear. He was ready, but he didn't know that sixty-two thousand of the Machine Gun Corp would be killed or injured. He didn't know that his regiment, the target of every weapon, would one day have the nickname 'The Suicide Squad'. On Christmas Eve, he was shipped over to France, to Camiers. In the New Year he wrote home to his mother,
1915
Dearest Ma,
I am in the pink. The countryside is beautiful; you would not think there was a war on. Yesterday, we found a chicken and cooked it in our billy cans on a fire of sticks, we are as jolly a lot as you could find. I expect we will be home soon, so please don't worry about me.
With fondest love, Cliff
He found time to write poems and letters home, walk in the fields, and listen to the birds, all the while thinking of home. In the distance there was always the rumble of gunfire.
'What do you think about listening to the Padre, Cliff?' said his friend Dave, 'he's got a meeting in the field this afternoon?'
'I dunno, I've never been to church. I'spose we could, I think he's as worried as us.'
'It's the waiting that's getting me down,' said Dave, 'I wouldn't tell the others, Cliff, but I'm really scared.'
That afternoon, the Padre gathered the soldiers together; they sat in a circle on the grass to listen to his words of comfort. He sought to reassure them, young men, away from home, away from home to kill people.
'God loves you,' he told them 'not a hair of your head will perish.'
<![if !vml]>

<![endif]>
My father didn't perish and he fought in France for nearly four years until he was wounded and sent back home. I never knew what happened to Dave or the Padre.
Margaret McCloy
A very Happy New Year to you all.
This is just a short note to let you all know that our meetings will resume on Thursday March 7th. The first meeting will take the form of a Eucharist.
Our AGM will take place on March 21st.
All are welcome. The rest of the programme is to follow. God bless.
Olwyn Dobson.
<![if !vml]>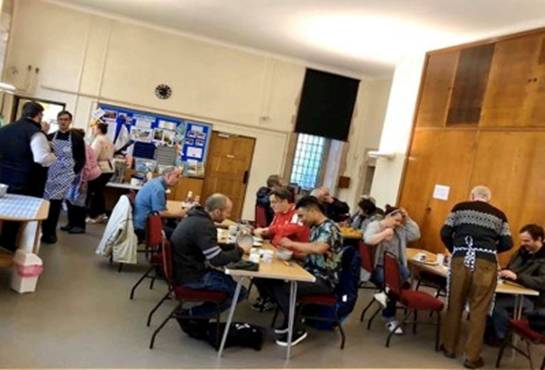 <![endif]>
We had a very successful end-of-session Advent Service led by Revd Ian Folks (plus guitar!) on 26th November, with over 40 deanery MU members present. Also in attendance was Revd Mark Lawson-Jones, who was given many gifts from Central Swansea Branch. These were to be distributed to the seafarers under his care in the South Wales area.
A Happy New Year to all our members. We hope that you will enjoy the programme for the next session. Our regular meetings are held at 2pm on the 2nd and 4th Mondays in the month and we began our meetings for 2019 on January 14th with a New Year Service led by Revd. Sue Knight. Our AGM followed on Jan 28th with Revd Ian Rees presiding. In line with our normal tradition, a New Year Lunch will be held on 11th February (details to follow). We then look forward to Anita Morgan giving us an illustrated talk on "French Gardens" on 25th February. On March 11th we welcome Canon Stephen Ryan on his first visit to the branch to conduct a Lenten Reflection. Our final meeting in March (the 25th) happens to coincide with Lady Day, when we are hoping to hold a Deanery Service to celebrate this special occasion.
In addition to our regular meetings the following dates are also of interest:
February 1st, 11am Archidiaconal Eucharist at St Mary's
Wednesday February 20th, MU Wave of Prayer with Afon Tawe Deanery MU branches leading the prayers in turn, from 9am until 3.40pm
Friday March 1st, Women's World Day of Prayer
Friday March 8th, 11am Archidiaconal Eucharist at St Mary's
Margaret Davies, Joint Branch Leader
Here we are already in the second month of 2014. Doesn't time fly?
I began to think about the name-February- and wondered where it came from? I discovered quite a lot of interesting facts about this month and thought I would share them with you.
February, along with January, was introduced onto the Roman calendar by Numa Pompilous when the calendar was extended from ten to twelve months. The word February comes from the word 'februa'- which means cleansing or purification, and reflects the rituals undertaken before Spring.
There were other names for February, the Anglo Saxons called it 'Sol-monath' meaning cake-month, because cakes were offered to the gods during that month. February was also known to the Saxons as 'sprout-kale', from the sprouting of cabbage or kale.
Having only 28 days in non-leap years, February was known in Welsh as 'y mis bach'-the little month. In Shakespeare's time, about 400 years ago, the second month of the year was called 'Feverell'. In Isaac Newton's time, 100 years later, it had become 'Februeer'. The modern name, February, is only about a hundred years old.
2nd February is 'Candlemas Day'. This ancient festival marks the midpoint of winter, halfway between the shortest day and the spring equinox. In olden times, many people used to say that the Christmas season lasted for forty days - until the second day of February.
The following words are taken from Robert Herrick's 'Ceremonies for Candlemas Eve':
Down with the rosemary and bays,
Down with the mistletoe;
Instead of holly, now up-raise
The greener box (for show).
But how did 2nd February come to be called Candlemas?
Because it was the time of year when all the candles, to be used in the church during the coming year, were brought into church and a blessing was said over them – so it was the Festival Day (or 'mass') of the Candles.
Candles were important in those days not only because there were no electric lights. Some people thought they gave protection against plague, illness and famine. For Christians they were (and still are) a reminder of something even more important. Before Jesus came to earth, it was as if everyone was 'in the dark'. People often felt lost and lonely. Afraid. As if they were on their own, with no one to help them. Then Jesus came with his message that he is, with his followers, always ready to help and comfort them. As if he is a guiding light to them in the darkness. Christians often talk of Jesus as the 'light of the World' – and candles are lit during church services to remind Christians of this.
12th to 14th February were traditionally said to be 'borrowed' days, borrowed from January. If these days were stormy, the year would be favoured with good weather; but if fine, the year's weather would be foul. The last three days of March were said to be borrowed from April.
It is also said that if the weather is fine and frosty at the close of January and the beginning of February, there is more winter ahead than behind. There are various sayings relating to the weather in February, for instance;
When the cat lies in the sun in February
She will creep behind the stove in March.
Of all the months of the year
Curse a fair February
If it thunders in February, it will frost in April.
If February give much snow,
A fine summer it doth foreshow.
Happy February! Jen Davies
NEWS FROM HAFOD
Since the last magazine we have had a busy time with Advent, Christmas and Epiphany. At the end of November we held our autumn fayre, which was very successful, with plenty of opportunities for chatting and spending time together. There were a number of stalls and an auction of Christmas gifts and we are really grateful to those who helped and those who supported the fayre.
In St.Mark's and St.John's we journeyed through Advent by thinking about Jesus coming among us as the light of the world. We prayed for the world today, asking that we would show the light of Christ in our lives and that people would come to know Jesus. We were reminded that the church serves as light in the communities that we serve today, and we must ensure that we seek to shine brightly for God.
Our Christmas celebrations started in Hafod with our Christmas lunch at The Smiths. This was a lovely meal - as ever. Sylvia Moon worked hard, organising our food orders (and all of us as we arrived!) - so a big thank you to Sylvia. That wasn't all though. We had a young man come for a short Church placement with us. Jordan Spencer, who had grown up near to one of the members of the Church, Jean Harris, fitted right into the Church. We all really enjoyed hearing him preach and very much appreciated his company after services and at the meal. He is thinking about his possible vocation to ordained ministry so please keep him in your prayers over the coming months.
Then came time to decorate the Church. Sandra Fisher and others worked really hard to make the Church look festive and welcoming. Our carol service took place on 16th December and then our crib service and the first Communion of Christmas were held on Christmas Eve, followed by a Eucharist on Christmas morning. This was all in addition to our Sunday services.
Sadly, Robert Leonard lost his mother over this time. We send our prayers and thoughts to Robert and all those who mourn. As we do this, we remember the light of Christ and the promise of life eternal. We were also sorry to hear of the death of Robert Mackay and our thoughts are with Pat and the family.
In the Church we are now getting ready for our Christingle service. This will take place on 10th February at 4:00pm and all, of course, are very welcome to come along! At this service we will be joined by the choir from St.Joseph's Catholic Cathedral and also by Hafod school choir. It promises to be a both a fun and a thoughtful occasion.
As we begin this new year (well, we're a little bit in now!) can I say a huge thank you to everyone who attended services, helped at the services, decorated the Church and those who help us to shine the light of Christ through our lives.
Rev'd. Helen Rees
A HOST OF GOLDEN DAFFODILS - AN OFFICIAL LEEK
Do you wear a leek or a daffodil on St David's Day?
For many years it has been a tradition to wear a leek or a daffodil on the festival of our patron saint, Dewi Sant. Daffodils were usually worn by schoolgirls and adults, while schoolboys competed to see who could wear the largest leek. The overwhelming feature of the morning assembly and following the concert or eisteddfod was half-eaten leek, rather than cerdd dant, or penillion singing, recitation, piano duet or clog dance. A later meal of cawl cennin was rather less welcome than usual.
A half-day holiday and the journey home for girls, dressed in pais a betgwn, Welsh costume, meant a 'dance' dodging the boys' efforts to cave in the top of the tall hats. The one example of a 'cockle hat' defeated all their attempts! Dead daffodils might be replaced for visits to aunties, Nans, or neighbours and, maybe, chapel concerts later that day.
There was always the question – 'would the daffodils open in time for Dydd Gwyl Dewi?' This year, there is little doubt about that – daffodils show buds almost ready to flower at the end of January. The problem might be whether their season might end before the big day. Just one result of global warming!
Maybe we should all return to wearing leeks. It was, after all, the legend the Welsh army in years gone by wore leeks in their hats to identify them from the enemy and that they were worn on St. David's Day in memory of that event. The leaves resembling those of leeks, daffodils were substituted for women's dress on account of their more pleasant fragrance. The Welsh terms for both leek and daffodil include the word for leek – cennin and daffodil translating as cennin Pedr, Peter's leek.
So, should we all wear a leek or a daffodil? Just don't mention the plastic versions with faces!
Gwyneth Anthony
Clergy:
Rector: The Revd Canon Ian Rees 01792 472760
Church Office : Tel 01792 655489
Associate Priest: The Revd Helen Rees 01792 472760
Assistant Curate: The Revd John Anthony 01639 638434
Assistant Curate: The Revd Ian Folks 01792 205190
Reader Emeritus Les Taylor. 01792 234639
Reader: Robert Leonard
Parish Wardens: Allan Jeffery - 01792 468015
Ruth Roberts - 01792 676732
Parish Treasurer: Allan Jeffery 01792 468015
Lord Mayor's Wardens: Kitty Griffiths. 01792 813651
Helen Murrary. 01792 535813
St Mary's:
Treasurer: Allan Jeffery. 01792 468015
Director of Music: Dr William Reynolds. 01792 467606
ChristChurch:
Wardens: Christopher Davies 01792 205968
Michael Paddison
Treasurer: Angela Reed
Safeguarding Officer: Jen Jones. 01792 423133
Hall Bookings: Pam Jones. 01792 521763
St Mark & St John:
Wardens: Sandra Davies. 01792 422749
William Moon. 01792 415327
Treasurer: Betty Jones. 01792 655619
Safeguarding Officer Sandra Davies.01792 422749
www.swanseastmary.co.uk