<![if !vml]>

<![endif]>
Parish Magazine April - May 2018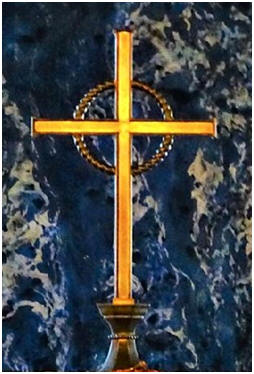 Contents:
1. Service Times and Dates for the Diary
2. Rector's Letter
3. RAF 100th Anniversary
4. Thy Kingdom Come
5. Annual Vestry Meeting
6. The College of St Mary
7. The End of the Tunnel
8. Pilgrim Course
9. Mothering Sunday: Why God is (a bit) like a mam
10. Lent Course: The Resurrection
11. Messy Church
12. From the Editor
13. Baptised into the family of the Church
14. R.I.P.
15. St Mary's Flower Guild
16. Theatre and Film
17. News from St Mary's Choir
18. Women's rights
19. Handbell Ringing
20. Mothers' Union News for Spring 2018
21. News from Christchurch
22. News from Hafod
23. An unexpected time
24. Parish Contacts

The deadline for contributions for the June/July edition is 16th May, 2018.
Please send to
Many thanks to all contributors to the magazine.
Service Times St.Mary's Church

Sunday 11.00 Choral Eucharist
4.00 Choral Evensong
6.00 Sunday at 6 (Monthly as advertised)
Tuesday 12.30 Healing Service (2nd in month)
12.30 Cymun Bendigaid (4th in month)
5.30 Choral Evensong (Term Time)
Wednesday 10.30 Holy Eucharist
12.30 Lunchtime Service (Holy Eucharist on 1st in month
Friday 12.30 Holy Eucharist
(except 1st in month when MU Archidiaconal at 11.00 )
Saturday 12.30 Holy Eucharist
Morning Prayer 9.30 Tuesday, Wednesday & Thursday.
www.swanseastmary.co.uk
Dates for the Diary
APRIL
1st (Sunday) EASTER DAY
5th (Thursday) 2.00 Ladies' Guild.
6th (Friday) MU Archidiaconal Eucharist 11.00 am
9th (Monday) Annunciation of Our Lord to the Blessed Virgin Mary
MU – Start of Session 2.00 pm
13th (Friday) Handbells – Vestry Hall 9.30 am
15th (Sunday) Baptism 1.30 pm
19th (Thursday) Ladies' Guild 2.00 pm
20th (Friday) Handbells 9.30
21st (Saturday) RAF 100th Anniversary Service 10.30am
23rd (Monday) MU 2.00 pm
24th (Tuesday) Vestry Meeting 7.00 pm
27th (Friday) Handbells 9.30 Vestry Hall
MAY
2nd (Wednesday) RSCM local rehearsal
3rtd (Thursday) Ladies' Guild 2.00 pm
4th (Friday) MU – Archidiaconal Eucharist 11.00 am
Handbells 9.30 Vestry Hall
11th (Friday) Handbells 9.30 Vestry Hall
12th (Saturday) Salvation Army and MOC – Simon Richardson
14th (Monday) MU Archidiaconal Eucharist
15th (Tuesday) Diocesan meeting in Vestry Hall with Canon Tim Hewitt 9.30 – 3.00
17th (Thursday) Ladies' Guild 2.00 pm
18th (Friday) Handbells Vestry Hall 9.30
20th (Sunday) PENTECOST (Whit Sunday)
25th (Friday) Handbells Vestry Hall 9.30
Dear all
Lent, Holy Week and Easter are my favourite times in the Christian calendar as I think they bring out the real drama of our faith and remind us of the whole point of having a Christian calendar.
Lent is a time (based on Jesus spending 40 days in the wilderness) for us to reflect on our relationship with God. It is a period that should change us if we engage with it properly. Holy Week reminds us of the painful journey to the cross, from the cheers of Palm Sunday as Jesus entered Jerusalem, to the emotion of Maundy Thursday and the pain of Good Friday. Uppermost in our thoughts through Holy Week must be the love that Jesus showed to each of us in his willingness to accept the cross.
And then of course we have the joy of Easter Day as we celebrate the most important event in history, the resurrection of Jesus.
It is easy to have gone through this period in the calendar as we've done, perhaps countless times before, but there is little point in it unless we are changed by it in some way. But, don't despair if the season has passed you by because God continually reaches out to us calling us closer to him. I know that quite a few you already read daily bible reflections and they are an excellent way of engaging daily with scripture. In Christchurch the Pilgrim Course has run for some time very successfully and those who have been part of the group have enjoyed it, but to be honest, whilst this was advertised throughout the Parish, there are not a great number of people doing the course, and similar other groups advertised have been less successful in recent times.
Apart from being an excellent way of enjoying fellowship together, having the opportunity to think about scripture and pray together, these groups can be really good fun! If you're interested in joining a small group there will be more opportunities later in the year!
So often in the church today we seem to be worrying about the future, but Easter reminds us that we can and must remain confident. 2000 years ago, the Romans and the religious authorities thought that this 'Jesus movement' was finished as Jesus was brutally killed, but 2000 years later the Christian Faith is still going strong and each one of us is given the wonderful privilege of playing our part in the future as the disciples, of today. We may not always think of ourselves as special, but in God's eyes, every one of us is special, every one of us is loved, and as children of God, loved by him, we can and must be confident in God and confident in the future of a church, faithfully listening to God and having the courage to follow wherever he leads.
Have a very happy Easter season
With every blessing
Ian
On April 21st at 10.30am in St Mary's we have a special service to commemorate the 100th Anniversary of the formation of the Royal Air Force. We will be joined by several dignitaries for this special occasion which is the main service taking place in Wales to mark this anniversary.
As well as our own church choir, taking part in the service will be children from Christchurch Church in Wales Primary School and Pentrehafod School. The preacher will be the Revd (Wing Commander) Adrian Dyer and the Archbishop of Wales will also be present at the service.
The RAF are inviting many guests for the service but there will also be space for others who wish to attend and hopefully as many of you as possible will be able to come along for what will be a memorable occasion.

THY KINGDOM COME
From Ascension Day to Pentecost for the last couple of years the Archbishop of Canterbury has headed up an initiative called 'Thy Kingdom Come', a period dedicated to praying for the church and for evangelism in the church. What began as a Church of England idea spread last year, and we held several events in the period, and it has continued to spread this year with events being held throughout the world. In the Swansea Ministry Area, we will again be doing several things which will include:
May 14th - Prayer for Thy kingdom come at St Gabriel's (time to be confirmed)
May 15th - St Stephen's: 11:30am special service followed by lunch
7.00pm Movie night in St Stephen's
May 16th - St James': 7.00pm - The joyful God, part of the Life course
May 17th - St Peter's Pentrechwyth: 'Twelve' - discussions based around the DVD and refreshments
May 19th - 10.30am-10.30pm: Day of prayer at St Mary's with various sessions on different forms of prayer for people to 'drop in' during the day
More events will follow so please look out for details and support whatever you can.
ANNUAL VESTRY MEETING
The Annual Vestry Meeting for the Parish will be held in St Mary's Church on April 24th at 7pm.
THE COLLEGE OF ST MARY
We have held our first meeting as we re-start the College, and this was a very positive occasion. Over lunch we discussed the initial aims of the College which had a real emphasis on mission with various chaplains in the city coming together. We remain committed to those aims and look forward to seeing how it will develop over the coming months and years. The first meeting was attended by the Rector, the Church Wardens, Ruth Roberts and Allan Jeffery, the clerk to the college, Paul Murray, and The Ven. Robert Williams (Vice President of the College), Prof Medwyn Hughes (Trinity St David University), Revd Mark Lawson Jones (Mission to Seafarers), Revd John Gillibrand (Disability), Revd Adrian Morgan (Welsh language), Revd Lance Sharpe (Hospital). Apologies were received from Revd Nicky Startin (Prison), Revd Rachel Bunting (children, youth and families), Canon Aled Edwards (Ecumenical)
THE END OF THE TUNNEL
It seems to have been a long winter. At least that's what some people feel. To be fair, we have had a lot of rain, wind and snow. As I write, Spring has officially started and by the time you read this, the clocks will have been changed and we will be in British Summer Time. To be honest, it seems that the church's year seems to have flown by. Not long ago we seemed to be preparing to celebrate the birth of the baby Jesus and, since then, Lent and Holy Week have come quickly. Yet it is the end of that very important week that is the focus of our faith. Everything leads to the Cross and through that, the Resurrection. It is that, above all, which makes us Christian.
I remember travelling in a train where you could see the track ahead. We went into a tunnel and all we could see was darkness. After a while we turned a corner and there ahead of us was a glimmer of light. It grew bigger and bigger until at last the train sped out into the daylight at the end of the tunnel.
We live in a world of sadness where we can so easily be dragged down with worry or concerns. Some people feel this more than others but the fact that God himself was also dragged down to the lowest point and was to be nailed to a cross, gives us hope. His rising from death is what has changed the world. When we are down, we too can be raised up to new life. There is always light at the end of the tunnel.
Happy Easter and may every Sunday continue to be a celebration of the Resurrection of Christ.
Reverend John Anthony
PILGRIM COURSE
We have now run three six-week courses at Christchurch, with a core group of 9 people from the parish and further afield. It's designed to introduce people to foundational Christian teaching; what used to be called 'Catechesis'. Even those who have been churchgoers for years can find that some of the building blocks of Christian teaching feel missing. The format of the course is simple: some opening prayers; a bible reading and discussion on it; and some excellent reflections by well-known Church leaders followed by questions to talk through. Discussing issues of faith and how it connects with everyday life is often a powerful experience - it can be both uplifting and challenging, and it helps to deepen our walk with God. It also deepens a sense of Christian community: people have said it 'feels like a little family'.
So far, we have done courses on Baptism promises, the Lord's Prayer and the Ten Commandments and we're still going strong! One of the group is planning to be baptised and we have opened the Christchurch baptistry - not used in living memory! - in preparation. New members are always welcome, please see Ian Folks if you are interested. The group meets Thursday afternoons 1.30-3pm.
Rev Ian Folks
MOTHERING SUNDAY: WHY GOD IS (A BIT) LIKE A MAM
When I came to Wales about 25 years ago, one thing that took me a while to realise is that a mam is different to a mum. I was brought up, being English, with a mum. But mams are different. Mams cwtch, where mums cuddle, for one thing, and that's different somehow. I could never explain that rationally, but it's true! Mams manage both to be amazingly soft and tender hearted AND tough as old boots at the same time. They are generous to a fault, but DON'T you push it now.
We call God our Father, but scripture also gives us analogies of God more like a mother - a hen clutching her chicks or breastfeeding a baby to describe his relationship with his people. So, in that spirit, here are some ways in which God is a bit like a mam.
1. He's loving, kind and patient... but don't push it. 'The Lord, slow to anger and rich in love - but by no means clearing the guilty.' (Exodus 34:7)
2. They both like to be remembered 'Remember your Creator in the days of your youth.' (Eccles.12:1)
3. You feel safe in his presence. 'Yea though I walk through the valley of the shadow of death, I will fear no evil, for you are with me.' (Psalm 23)
4. He spends a lot of time saying, 'If only they'd listen to me!'
''These laws I give you today, they're not idle words to you, they are your life!' (Deuteronomy 32:47)
5. He'll do anything for his children
For God so loved the world, that he gave his one and only Son, that whoever believes in him should not perish but have eternal life (John 3:16)
6. He wants to fill you up 'I am the bread of life; he who comes to me will never hunger.' (John 6:35)
7. Dinner's in the oven and all are welcome 'The king gave a great banquet… he told his servants, 'Go out to the highways and byways and tell them to come in, so that my house may be full.' (Luke 14:23)


Revd Ian Folks
LENT COURSE: THE RESURRECTION
Why do we have forty days of Lenten self-denial and confession, and then celebrate Easter in just one big bang of a day and carry on as normal?
The Unitas (Churches Together) group met in two places to follow the York course on the Resurrection, written by Bishop John Pritchard and featuring contributions from N.T. Wright amongst others. St Mary's hosted one group which mainly included people from our parish and Brunswick Methodist.
One of the main themes was to take the truth of Easter and make it a daily reality in our lives and our churches. We were encouraged to imagine the risen Christ with us - an invisible reality through his Spirit in our hearts. We were asked to think about how we could continue Easter to celebrate the new life - maybe champagne for breakfast in Easter week? - or Easter decorations? - or art or music festivals? What does it mean for a church to have 'the same Spirit that raised Jesus from the dead' living in it?
Rev Ian Folks
MESSY CHURCH
'Jesus spoke to them in parables'. He told stories; he asked questions; he communicated the mystery of the kingdom of God in ways which fired people's imaginations, even if they didn't always understand.
Messy Church takes a similar approach for children and families. Christian teaching is proclaimed through crafts, games and stories, and culminates in a short time of worship which ties together the threads of the different activities. It is designed to be memorable, so activities as diverse as building a tower with spaghetti and marshmallows; playing Twister; orienteering; treasure hunts and making friendship bracelets all become mini-parables.
We run a Messy Church at Christchurch school once a month, with helpers from Christchurch. We typically have fifteen to twenty children and ten to fifteen adults. As well as an opportunity to worship together, it has been a good way of developing relationships with a wider group. The children thoroughly enjoy it and it has been a great way to connect the faith with children and families.
FROM THE EDITOR
The last edition of the magazine seems lost in time. That was when we were preparing for Christmas, looking forward to the birth of the infant Jesus. Now here we are, acknowledging the the horror and grief of Good Friday and ready for Easter - to celebrate the joy of the Resurrection.
All those who worked so hard to make the Christmas services such special occasions deserve heartfelt thanks, as do those who have prepared for the Holy Week and Easter services.
BAPTISED INTO THE FAMILY OF THE CHURCH
Maryann Smith
Holly Smith
Kelly Davies
It is with sadness that we learned of the deaths of
Tom Curry
Gordon Howells
Stephen Harris
Brian James
Mary Owen
Shirley Fender
Phyllis Heatley
We send our sympathy to their families and friends.
May they rest in peace and rise in glory.
ST MARY'S FLOWER GUILD
Easter is quite early this year and it we look forward to adorning the church for Easter Sunday, making it welcoming with a lovely display of floral arrangements.
If you enjoy flower arranging why not consider joining our small group- (The Flower Guild)? We would be happy to welcome new members to assist with the arrangements throughout the year.
We would like to thank the Wednesday luncheon group for checking and refreshing the flowers that are placed in Trinity Chapel by visitors to the Church.
Thank you.
Ann Conibear
THEATRE AND FILM
Here at St. Mary's we have been very fortunate recently in that we were gifted with a production from Riding Lights Theatre Company, which was the only performance in south Wales of Where Adventure Begins – about the experiences of a new family joining a church. The performers were a young and partly ad hoc group of professional actors touring the UK for about three months to bring this interesting play to a wide audience. It is a shame that the audience was not larger. Do we fall down in publicity skills?
Another, and totally different, drama on offer locally is the film Mary Magdalene which has been showing at local cinemas. Mary Magdalene is a saint not easily understood in modern times. A medieval pope declared that she was a prostitute, for which there is no Biblical evidence, while modern interpreters have speculated that she may have been a sexual partner for Jesus. This film avoids both extremes.
Much of the film is seen from over Jesus' shoulder while attention is paid to how Mary might have integrated with the disciples. The scenery, costumes and sets are all interesting. The main characters, seen close up, seem to be clothed largely in handwoven fabrics, which adds verisimilitude. It was not filmed in the Holy Land, but even the scenery looks credible. This film made an interesting source of discussion for a Lenten activity for those of us from the parish who saw the film.
Patricia Jenkins
Congratulations to Prof. Tony Davies who is to receive a Certificate of Special Service from the Royal School of Church Music. The RSCM's magazine Church Music Quarterly (March 2018) reports: Tony 'has worked valiantly for the RSCM as Secretary and Treasurer of the Swansea and Brecon Area. He is forensic in keeping accounts, meticulously prepares agenda and writes minutes, and gives wise counsel. On his own initiative he edits and publishes and RSCM Area Newsletter. All these are marks of his loyalty and commitment to the RSCM and to church music.' The presentation will take place at Salisbury Cathedral on Saturday 8th September as part of the RSCM Celebration Day.
Welcome
We are keen to welcome and encourage a new intake of junior singers (aged 7 upwards) from across the City & County of Swansea to share with the success of our Boys' Choir and Girl Choristers who are drawn from among the best singers Swansea has to offer, and who benefit from a free, professional cathedral-style choral training
Please contact
Dr William Reynolds, Director of Music
01792 467606
www.swanseastmary.co.uk
Feast of the Ascension
Thursday 10th May, 8.30pm
Olivier Messiaen's
L'Ascension
Four Symphonic Meditations for Organ
Performed by Dr William Reynolds
Free admission – retiring collection
WOMEN'S RIGHTS
Over the years, I have voted in many General Elections, sometimes for the party I supported, once for the opposite candidate by mistake and sometimes I couldn't choose between the parties on offer. If I hadn't made the effort to vote, I would deservedly feel guilty, thinking back to the terrible trials that women suffered to try to get 'suffrage' the right to vote.
The campaign was started in 1897 by Millicent Fawcett who founded the National Union of Women's Suffrage. Despite all their hard work, the movement was not making much progress. So, in 1903, fed up with this lack of progress, Emmeline Pankhurst decided that more direct action was needed. She had been influenced by campaigns in Russia that had included going on hunger strikes. Thus, was founded the Women's Social and Political Union known as the WSPU. Their motto was 'Deeds not words'.
It was not just women who joined this campaign, men too were involved, especially The MP Keir Hardy. George Lansbury, another MP, gave up his seat to fight the by-election on suffrage. Unfortunately, he was imprisoned later for speaking at one of their rallies and supporting the use of arson attacks. Mr Henry Selfridge, the store owner, glad to be able to advertise his shop, flew the WSPU flag above his store.
The police used brutality against the protesters and many of the ladies learnt the Japanese martial Art of Jiu Jitsu to help protect their leaders from the police attacks.
When women were eventually granted the right to vote in 1918, it was only given to women householders aged over thirty, leaving many working-class women excluded.
Full suffrage for women over twenty-one was not granted until 1928. Sadly, Emmeline Pankhurst who had fought so bravely for suffrage, died age 69, just 18 days before full voting rights were granted.
Margaret McCloy
HANDBELL RINGING
Bells have been used for centuries in different countries, cultures and religions, to communicate, to worship, to celebrate and to make music. In ancient Greece and Rome, and Rome, in China and in Egypt bells were used in many religious ceremonies and to announce different times of the day. The Christian Church has used bells for this purpose as well as to ring out good news, to summon people to worship and to toll repeatedly for the dead.
In 1660 the first set of tuned bronze hand bells were cast by William and Robert Cor of Wiltshire and the art of change ringing, as practised by tower bellringers, was started. Some ringers, unwilling to practise on winter evenings in the cold and draughty belfries, used small hand-held bells for their practices, in the more comfortable surroundings of houses and local hostelries. Ringers soon became interested in using the bells to ring melodies and simple arrangements of hymns and folk songs began to appear. By the end of the eighteenth century many villages had their own handbell choir.
It is easy to learn how to ring a handbell and tunes can be rung successfully by novice teams very quickly even if they are unable to read music. Teams can be formed using as few as eight bells, or up to seven octaves – eighty-five bells. At St Mary's we have 18 handbells and would welcome anyone interested to join us.
Anita Morgan
Have YOU ever thought about
HANDBELL RINGING?
. . . …But I'm not musical…I'm too small…I'm too old…haven't the energy after work…I'm not clever enough… I just couldn't do it!
Yes, YOU!
YOU COULD BE JUST THE PERSON
WE'RE LOOKING FOR
…if you like company, team-work, gentle exercise (your choice), mental challenge (optional!), meeting new people occasionally, and wishing to develop a new interest.
QUALIFICATIONS NECESSARY –
None -
but a sense of rhythm can help
If you are interested, please come to one of our
Friday Morning practices 9.30 am – 10.30 am
or speak to one of our handbell ringers to arrange
another day and time
MOTHERS' UNION NEWS FOR SPRING 2018
At the Annual General Meeting held on 22nd January, Margaret Davies reported that £73 had been raised from the sale of the Christmas Quiz and, together with the £53.50 raised at the Strawberry Tea, we had been able to donate £126.50 to the "Faith in Families Fund". Well done to all concerned! Many thanks to Revd Ian Folks for chairing this meeting.
Our annual New-Year Lunch held at Mamma Mia's on February 12th was a very enjoyable occasion especially as we were joined by quite a number of friends and clergy from our congregation. Our branch's contribution to the MU Wave of Prayer was between 9.00am and 9.40am on February 20th in St Phillip's Chapel and was led by Ruth Roberts with Revd Ian Folks giving musical support in the hymns on his guitar. There was a thoughtful start to Lent on 26th February when Revd Helen Rees guided us through an afternoon of prayer and moments of silent reflection. We are looking forward to the visit of a "Victorian Gentleman from Llanelly House" on March 12th at 2pm. Ruth and Helen Jones assisted with the MU table at the Wedding Fayre held at the Brangwyn Hall on Sunday 18th February which was also attended by Revds Ian Folks and Helen Rees.
An interesting programme has been arranged for April and May with the MU Diocesan Festival being held in Brecon Cathedral on May 9th and a Day Retreat at Nicholaston House on May 23rd led by Revd John Walters. There will be Archidiaconal Eucharists in St Mary's at 11am on Fri 6th April and Fri 4th May. The Diocesan Council Meeting will be at 10.30am April 19th in Brecon.
Our programme of talks (2pm in St Mary's Vestry Hall) continue on 9th April with our own member Margaret Jones speaking on "Going to Syria". On 23rd April a talk entitled "Crosses" will be given by Mrs Judy Thomas while Revd Tim Williams, a member of the Chaplaincy Team of the Royal Welsh Show, will be our speaker on May 14th.
Margaret Davies, Joint Branch Leader
NEWS FROM CHRISTCHURCH
At Christchurch on Mothering Sunday, as well as flower bouquets presented to ladies in the congregation (beautifully made by Jane James), we lit candles to remember mothers - either our mothers, perhaps the mother of our children or another mother. We placed them on a candle stand moved by the communion rail a visual reminder that though separated by time and space, in Christ we still have communion.
Rev Ian Folks
NEWS FROM HAFOD
The period from Christmas has been relatively quiet in Hafod but with the arrival of Easter we look forward to better weather and the celebration of new life! In the church through this quiet period we have continued to support baby basics and the food bank which has been really encouraging. We also have subscription to 'Our Daily Bread' Bible reading notes which a number of the congregation use daily. In January we had the Christingle service with the choir from St.Joseph's Catholic Cathedral, accompanied by their organist. We were also joined by the choir from Hafod Primary School. It was a fantastic occasion with 106 people in the congregation and after the service the children enjoyed the sweets and chocolate biscuits that had been bought for them. The adults also enjoyed the goodies! It was a great service that spoke of Jesus as light of the world and it gave us a glimpse of possibilities for the future ! It remains our prayer that we and others will see the light of Jesus in our lives and that the light of Jesus will shine in the communities of Hafod and Waun Wen.In February, it was great that the Church could be used for a Deanery Sunday school teachers' meeting arranged by Rev'd. Rachel Bunting, who is our Deanery Youth, Children's' and Family Worker. Lent began with two services on Ash Wednesday. Holy Week and Easter will have been marked with regular Sunday Worship and services on Maundy Thursday, Good Friday and Holy Saturday.We have sent in a faculty application for the fire door at St.Johns which we hope will be successful. We have recently held a Church council meeting within which we marked our diaries for the year including our fetes and even our Christmas Meal out!! On May 13th there will be no service in Hafod church as we are all looking forward to attending the confirmation of Chris Box, a regular member of our congregation. That service takes place at St.Hilary's Church in Killay at 11am.
Every blessing, Helen Rees
AN UNEXPECTED TIME
Christmas over, the last mince pie eaten or in the freezer. Hot cross buns and Easter eggs displayed in the shops – usually on New Years' Day. Snowdrops frosting hedgerows, primroses nestling in green rosettes. Dydd Gwyl Dewi, St. David's Day, daffodils (or leeks) pinned to coats. Time to think of spring, to plan for warmer weather.
The early months of 1918 have taken us by surprise. Icy cold, high winds, strong enough to bring down trees. Just a few days of warm, spring-like temperatures to lull us into a false sense of security. And snow. A white St. David's Day - there would have been no hit for Bing Crosby with that! Trains and buses cancelled. Church services cancelled. Cathedral services cancelled! Police advice – only travel if necessary. What shall we do? Read a book? Watch television and see more snow?
This is different time. Unexpected. Time for snowmen and snowballs, if the wind stops – and depending on age. Time, maybe, for – taking time. For taking stock. A chance to clear out some of the clutter we surround ourselves with – do I need three years of gardening magazines and why did we keep six teapots and three cakestands? Look in the wardrobe – flares, football boots. When were they used? What's this? A photo album. Look, there's Aunty…. and here's Mam… and a first day in school. That goes back on the shelf.
Time for thinking of things that matter. Of Easter. A time to rejoice. Not a festival of chocolate and fluffy chicks and lambs and bunnies. A time of resurrection.
What was that? The clutter in the attic? That will need a much longer snowstorm.
Gwyneth Anthony
PARISH CONTACTS
Clergy:
Rector: The Revd Canon Ian Rees 01792 472760
Church Office : Tel 01792 655489
Associate Priest: The Revd Helen Rees 01792 472760
Assistant Curate: The Revd John Anthony 01639 638434
Assistant Curate: The Revd Ian Folks 01792 205190
Reader Emeritus Mr Les Taylor. 01792 234639
Parish Wardens: Mr Allan Jeffery - 01792 468015
Mrs Ruth Roberts - 01792 676732
Parish Treasurer: Mr Allan Jeffery 01792 468015
Lord Mayor's Wardens: Mrs Kitty Griffiths. 01792 813651
Mrs Helen Murrary. 01792 535813
St Mary's:
Treasurer: Mr Allan Jeffery. 01792 468015
Director of Music: Dr William Reynolds. 01792 467606
ChristChurch:
Wardens: Mr Christopher Davies 01792 205968
Mr Michael Paddison
Treasurer: Mrs Christina Davies 01792 205968
Safeguarding Officer: Mrs Jen Jones. 01792 423133
Hall Bookings: Ms Pam Jones. 01792 521763
St Mark & St John:
Wardens: Mrs Sandra Davies. 01792 422749
Mr William Moon. 01792 415327
Treasurer: Mrs Betty Jones. 01792 655619
Safeguarding Officer Mrs Sandra Davies.01792 422749
www.swanseastmary.co.uk