Parish Magazine July - August 2017
Contents:
1. Service Times and Dates for the Diary
2. From the Rector
3. Swansea Foodbank
4. Ministry Area Activities
5. Busy Times
6. Another Perspective
7. Ordination, and musings on 'Priest'
8. The Sanctuary of Maria Trens
9. Mothers' Union
10. R.I.P.
11. From the Editor
12. What a Treasure
13. News from Christchurch
14. Scaling the Heights
15. News from St Mark and St John
16. A Short Interlude
17. Parish Contacts

Articles for the next magazine can be sent to this different address
frjohnanthony@outlook.com.
Deadline for the September/ October edition is 20th August
Many thanks to all contributors to the magazine
Service Times

St.Mary's Church
Sunday 11.00 Choral Eucharist
4.00 Choral Evensong
6.00 Sunday at 6 (Monthly as advertised)
Tuesday 12.30 Healing Service (2nd in month)
12.30 Cymun Bendigaid (4th in month)
5.30 Choral Evensong (Term Time)
Wednesday 10.30 Holy Eucharist
12.45 Lunchtime Service (Holy Eucharist on 1st in month
Friday 12.30 Holy Eucharist
(except 1st in month, MU Archidiaconal at 11.00 )
Saturday 12.30 Holy Eucharist
Morning Prayer 9.30 Tuesday, Wednesday & Thursday.

Christchurch
Thursday 10.00 Holy Eucharist
Sunday 9.30 Holy Eucharist
Hafod
Wednesday 9.30 Holy Eucharist
Sunday 10.00 Holy Eucharist
Dates for the Diary
July
1st (Saturday) Craft Fayre
4th (Tuesday) Prayer Group 2.00 pm – St. Philip's Chapel
Organ Series - Elin Rees – 1.10pm
6th (Thursday) Ladies' Guild 2.oo pm
New Wine 1.00
7th (Friday) Archidiaconal Eucharist (with Clydach, Swansea and
Morriston branches – Chapel of the Holy Trinity 11.00
New Wine 1.00pm
8th (Saturday) Swansea Bach Choir
New Wine 1.00pm
10th (Monday) MU end of session strawberry tea. 2.pm
11th (Tuesday) Healing Eucharist – 12.30
Organ Recital – Carl Grainger 1.10pm
St.Mary's choir sing Choral Evensong at St Teilo's, Bishopston
12th (Wednesday) New Wine 1.00 pm
13th (Thursday) Call to Mind – Vestry Hall 2.00 – 4.00pm
New Wine 1.00
14th (Friday) New Wine 1.00 pm
15th (Saturday) New Wine 3.00 pm
17th (Monday) MU Afon Tawe Deanery Festival 2.00pm
18th (Tuesday) Organ Recital – Dr Anthony Gritten
19th (Wednesday) Church Council Meeting
20th (Thursday) Ladies' Guild Day Out 2.00pm. Meet at church.
25th (Tuesday) Organ Recital – Glen Crooks
27th (Thursday) Concert – Tenovus 7.00pm
28th (Friday) Civil Servants 1.30pm
29th (Saturday) National Youth Choir of Wales concert 7.00pm
31st (Monday) Hemiola rehearsing 7.30pm
August
1st (Tuesday) Prayer Group St Philip's Chapel 2.00pm
Organ Recital 1.10pm Vincenzo D'Arcangelo & Antonio Pescatore (Rome)
5th (Saturday) Craft Fayre 10-4pm
8th (Tuesday) Healing Eucharist 12.30pm
Organ Recital - Huw Tregelles Williams (St. Mary's Swansea)
9th (Wednesday) MU Mary Sumner Day
13th (Sunday) Vox Angelica - Visiting Choir at St. Mary's
15th (Tuesday) Organ Recital Andrew Goodwin (St. Mary's Swansea)
19th (Saturday) Summer Fayre
Hemiola Rehearsal 6.00
20th (Sunday) Hemiola – Visiting Choir at St. Mary's
22nd (Tuesday) Organ Recital – Dr Ian Rutt
27th (Sunday) Adamas Voces - Visiting Choir at St. Mary's
29th (Tuesday) Organ Recital – Dr William Reynolds (Director of Music
St. Mary's Swansea)
Organ Music at St Mary's, Swansea City Centre
The St Mary's Summer Organ Series 2017
Tuesdays, 1.10pm-1.50pm Free Admission
4th July Elin Rees (Bury Parish Church, Lancashire)
11th July Carl Grainger (Organist & Harpsichordist, Welsh Symphonia)
18th July Dr Anthony Gritten (Royal Academy of Music, London)
25th July Glenn Crooks (St Samlet's, Llansamlet)
1st August Vincenzo D'Arcangelo & Antonio Pescatore (Rome)
Music for Trumpet & Organ – Part of their 2017 UK Tour
8th August Huw Tregelles Williams (St Mary's, Swansea)
15th August Andrew Goodwin (St Mary's, Swansea; St Gwynog's, Llangennech; and Organist Emeritus, Bangor Cathedral)
22nd August Dr Ian Rutt (Director of Music, Swansea University)
29th August Dr William Reynolds (Director of Music, St Mary's, Swansea, and Organist, Llandovery College)
5th September Dr Alan Sykes (St Mary's, Swansea, and Uniting Church Sketty)
12th September Joshua Xerri (Birmingham Conservatoire)
Retiring collections towards the tunings, upkeep and general maintenance of the St Mary's Organ
Come early to enjoy tea, coffee, cakes and light lunches on sale in our Café beforehand
Dear all
I am writing this at the end of a very mixed week in terms of things that have been happening. During the week there has been the 35th Commemoration service of the Liberation of the Falklands and also the Human organ donation thanksgiving service. I've also visited St Teilo's Church in Bishopston to take part in the licensing of a new Reader for the Diocese. These things come as we prepare to celebrate the ordination to the Priesthood of Ian Folks who has served here with us for the past year. They have also fallen at a time when all of us, I'm sure, are reflecting on the tragedy of the fire at the tower block in London, coming so soon after a number of terrorist atrocities in London and in Manchester.
At various times these things have emphasised to me the importance of remembering. We remember because it's good to think of things that have meant something to us in the past, we remember happy memories which can cheer us up and we remember things that we can learn from for the future.
Of course, much of our worship centres around remembering. As our Communion service remembers the events of the last supper at each Communion service we are drawn into that event and are encouraged to let it change us. In the enormity of what is happening we are called to reflect on what is really important for us in our lives and in our churches.
In remembering the Falklands war there will be many with many bad memories, but somewhere there will also be memories of time spent with colleagues who would become lifelong friends, memories of heroism and of gratitude. Similarly, at the organ donation service there were grateful recipients of organs but there were also family members of people who had given their organs, often after their own death. It was right that it was a time of remembrance and thanksgiving for those people who had given organs. In times of pain, there are often also times of joy and vice versa.
Even in the tower block tragedy and in terrorist incidents there has been the positive message of incredible community concern and support. One of the things that struck me about all of these things is that people so often still turn to the church in times of distress or tragedy or in times of complete numbness.
Some have attributed this 'looking for God' to a 'God shaped hole' we all have inside of us that needs to be filled. I prefer the thoughts of St Augustine of Hippo who said about God, 'You have made us for Yourself and our hearts are restless until they find their rest in You'.
The reality is that many people have not lost their Christian faith in this country but are looking to see where that faith can become real for them. Unfortunately, that is often in the middle of sadness but we must ensure, as churches and as Christian people, that the gospel we are sharing is one of good news for all people.
Recently I saw a picture which said, 'Do a hundred things right and someone will point out the one thing you did wrong.' How true that is! It's a pretty common human response and one that is all too common in our churches and it needs to stop. I think it's pretty obvious that people are drawn to things that look good and successful and exciting and interesting and I am absolutely convinced that as churches that is what we must be offering.
I said in a sermon recently that if we are only interested in simply surviving as churches, then we don't deserve to survive and I think that is true because God and the gospel message deserves so much more than that. Jesus said to go out and preach the gospel to all nations… That must be our primary aim and we do that in our care and concern for one another and everyone. Our Christian faith isn't something we do, but must be what we are – the recognition of the God who created us and loves us inviting us to grow ever closer to him.
And so to the licensing of a new Reader in the diocese and the ordination of Ian Folks. These occasions remind us that God continues to provide people for ministry in his church and I hope that we will pray for David Ball (the new Reader), and also, of course, for Ian and his family at this special time, and for the others ordained with Ian. We are reminded that ministry is not for those who wear special clothes in services alone, ministry is for everyone. God calls us to live with and for him day by day and when we do that, people will naturally see lives transformed by Jesus and people excited to share his love.
Let's be ready to be with people who are hurting, to pray with and for them but let's also be ready and willing, to celebrate good things that we do, before thinking of what wasn't so good and let's be ready to be good news, to be a blessing to those around us. And finally, let's remember that God continues to provide us with everything we need, so let's look for things he is giving us and asking us to be part of and to respond by offering ourselves to him.
With every blessing,
Ian
SWANSEA FOODBANK
It is good news that each of our churches have agreed to support the Swansea Foodbank which is a real lifeline to many people in our city. Last year, 4795 three-day food parcels were given to people in crisis, and any donations you can give would be gratefully received. At the moment, the Foodbank really needs the following things:
UHT & POWDERED MILK, FRUIT JUICE OR SQUASH, TINNED TOMATOES, RICE, BISCUITS, INSTANT MASH, RICE PUDDING, COFFEE, TINNED VEGETABLES
If you're able to help please leave the items in any of our three churches and we will pass them on.
MINISTRY AREA ACTIVITIES
Ministry Areas recognise that we shouldn't seek to work in isolation as churches as so often have done in the past. Our faith is global and cannot be restricted to individual buildings or even communities. Ministry Areas offer us a chance to look at resources we can share and encouragements we can offer to each other. The future of our churches is exciting if we are prepared to recognise that we don't operate alone, and to move forward we need to be prepared to work together and support each other throughout the Ministry Area and across Ministry Areas.
The Swansea Central Ministry Area continues to develop. It has been really good to hold special events for the Swansea Ministry Area recently. First, representatives from most of the churches in the ministry area took part in a 24-hour prayer session held in St. Mary's, engaging in prayer for growth, both spiritually and numerically, in our churches.
The other event took the form of a prayer walk from St James' Church around the Uplands area, stopping at various points to pray for different things in the City and ending with a time of fellowship in the Brunswick Arms.
Ministry Area Service and BBQ
The next Ministry Area service will be held in Christchurch at 5pm on July 30th. This short service will be followed by a BBQ, hopefully across the road on the beach. Please spread the word and make every effort to come together for this special service

Rev. Canon Ian Rees
BUSY TIMES
These last two months have been very busy and a great deal has happened. I was away in Llandaff for two days with other curates who were ordained at the same time as me. It was very good to meet up with everyone and to work together. We looked at the church and its relationship with schools, buildings and our communities. Our first evening there ended with a visit to a mosque. It was strange to see a crowd of Anglican priests, many wearing their clerical collars wandering around this building. Our guide was very knowledgeable and friendly. He was very welcoming. It was very interesting to see how people of another faith in our community meet to worship.
Summer is has finally arrived and we have had many very hot days. At the end of July, St. Mary's choir begin their Summer break. This year we will welcome three visiting choirs to sing our services at St. Mary's. On August 13th Vox Angelica, who are former choristers of St. David's Cathedral, will sing at the 11.00 Eucharist and at 4.00 Choral Evensong. On the 20th Hemiola will sing the services and then, on the 27th, Adamas Voces, conducted by one of the choral scholars from St. David's Cathedral. Please come and support and welcome our visitors who, like our own choir, give a lot of time to enrich our worship.
This is the time when many of us will be away on holiday. May we all be refreshed and have a wonderful time.
Rev. John Anthony
ANOTHER PERSPECTIVE
Those of us fortunate enough to be in Brecon Cathedral for Ian Folks' Ordination were treated to an excellent sermon by Dr. Jeni Parsons, Canon of St. David's Diocese. Her theme was, not unexpectedly, vocations, but not only for those being ordained. She asked us all to consider our vocations to the Christian life and probably everyone reading this will acknowledge that they have one and that we often fall short of living up to its best standards.
Most of us can manage the minor courtesies, like holding a door open for someone or smiling "thank you" when someone does it for us. Surely we can manage more than this?
Was it Ghandi who said "live more simply so that others may more simply live"? This has always struck me as the sort of thing Jesus might say to us now. One of the ways we are living more simply in St. Mary's is that we have no paid workers apart from some of the clergy, the Director of Music and Sarah. So we all have to take more responsibility because if one of us drops a piece of paper - one of us must pick it. Our environment is totally our business. Everything is done by volunteers, so it would help if more of us actually volunteered.
Not all of us can do that but surely could be devoted to the idea of leaving every place better than we found it. This could be anything from picking up an abandoned service book or crockery left on tables, to picking up dropped paper towels in the w.c. Do you remember the signs on aeroplanes years ago which suggested re-using used paper towels to wipe over services for the next user? Isn't that the sort of vocation we could fulfil?
Patricia Jenkins
ORDINATION, AND MUSINGS ON 'PRIEST'
I am delighted that so many people from the parish were able to come and celebrate my ordination as priest on 25th June. Ordinations are grand occasions, rather like weddings; but it would be a wealthy couple that could afford all the bling and regalia on display in the cathedral for the ordination! The robes are astonishingly ornate; the music sublime.
The moment when the bishop reads his 'charge' to you, of what is entailed in being a priest, is humbling and rather terrifying. My mind simply says, 'but that's not possible!' - there is too much need and I have too little time and energy. And I'm not that great at some of the things I've been told to do. But he also says, 'Pray daily for the renewing of this calling, that you may follow where the Good Shepherd leads.' And perhaps that's the answer; I can do little by myself but I can do everything through him who gives me strength.
The whole word 'priest' conjures up many images, most of which aren't helpful. Often priests, whether Christian, pagan or other are seen as a middle man between an ordinary person and God. People don't know how to pray, so they ask a priest to pray for them. They have sinned, so they ask the priest to absolve them. They don't know how to serve God, so they cheer on the priest to do it on their behalf. In such ways, a personal connection to God is reduced by a priest.
Perhaps there can be a different understanding. The church - i.e. Everyone in the church - is called to be the priesthood, meaning that it speaks to the world on God's behalf, and brings the world's praises to God. Priests within the church are called to the same twofold action - bringing God's message to the church, so that they can bring God's message to the world; and leading praises so that the church can get caught up in praise. It should be a 'leading' role which encourages all Christians to find their own relationship with God and own vocation.
At the end of the day, the dinner in the Plough Inn was lovely, with particular thanks to Kitty Griffiths for organising it. I had many good conversations, several of which were well lubricated! I felt so blessed to be part of such warm and welcoming congregations and delightful people, and I look forward to serving here as priest for the remainder of my curacy.
Rev. Ian Folks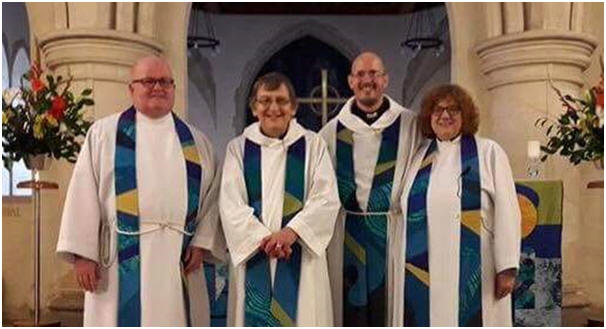 Rev Canon Ian Rees, Rev John Anthony, Rev Ian Folks
and Rev Helen Rees after Ian's first Eucharist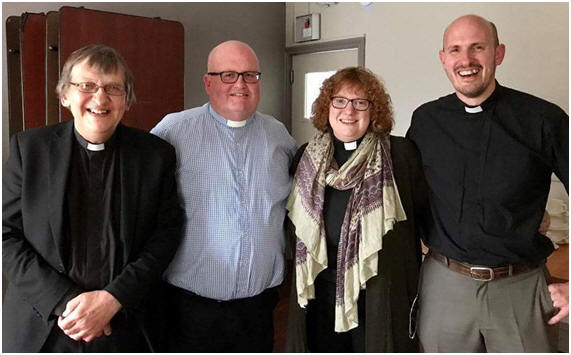 THE SANCTUARY OF MARIA TRENS
Some years ago, while on holiday in the Italian Dolomites we stayed in the little village called Maria Trens in the Subtirol of Italy. The village is on the side of the valley that leads to the Brenner Pass and is surrounded by high mountains. The village is on the rising side of the mountains and at the time of our visit only had one shop, a hotel and a church known as the Sanctuary of Maria Trens or Mother of Peace. The village is known to have existed in Roman times, its original name being Torentes. The name comes from the numerous streams that tumbled from the mountains. The exact date of the origin of the Sanctuary is not known.
Legend has it that a farmer who was digging amongst the debris of a landslide in the valley dug up a statue in the image of the Virgin Mary, originating perhaps from some chapel or private house that had been demolished by the landslide and carried along down the mountain by the stream. The farmer took the image home to venerate it with his family. The next day the image was found to be in the church at Maria Trens. From then on the local people of the village began to venerate it.
Mention of a church at Maria Trens is found for the first time in a document dated 10th September 1345. The antiquity of the Sanctuary bears witness that the actual sculpture is in the image of the Virgin Mary who is offering baby Jesus from her own hands. The church was rebuilt in 1498 in the new Gothic style and in 1728 a new chapel, dedicated to the Virgin Mary, was added to the church and the statue was transferred there. During the middle of the 18th century the sanctuary changed style, the Gothic being substituted for the Baroque. Especially evident were the works of painter and sculptor Adam Molk.
During the 18th century, pilgrimage to the church to venerate the statue became very popular. Pilgrims gathered at Maria Trens from far and wide to ask for grace from the mother of God. To this day the Sanctuary contains many paintings made as offerings by the pilgrims. Also around the walls are hung many walking sticks, zimmer frames and other medical aids abandoned by pilgrims following their visit to the church.
In 1848 the church received the body of a saint called Tranqullino, found in the Roman catacombs. His body was held in safe keeping on a side altar.
The sanctuary parish church is dedicated to Our Lady and has its feast day on the 15th August. During the first and second world wars, it was noted that there was a great increase in pilgrims to the shrine, particularly soldiers. During the evenings, most of the graves in the church-yard were illuminated by candles placed in red glass shades. Around the boundary of the church yard there were large beautiful coloured wood carvings depicting the Stations of the Cross.
In 1726 a book about the Sanctuary was written for the first time. It is said that particular care was taken to describe the miracles and graces brought about to the pilgrims through the intercession of the Virgin Mary. It was said that the Sanctuary was one of the most frequented in the Diocese and the destination of innumerable processions, both annual and occasional.
Les Taylor
MU News for June-July
The two MU meetings held in May proved to be very informative and enjoyable. On May 8th Mr. John Richards gave an excellent talk on the history of Neath Abbey which has been a monastic site since the year 1129. The abbey fell into disrepair after the dissolution of the monasteries in the reign of Henry VIII. Following the dissolution the medieval manor constructed by the Abbot was occupied by Sir Richard Cromwell, nephew of Oliver Cromwell. At the end of the nineteenth century the whole complex fell into disrepair but is now being maintained and restored by CADW. We hope to follow this talk with a visit to the ruins in the autumn when the present restoration work should be complete.
On May22nd we welcomed one of our regular speakers, Mr. Paul Richards, whose talk had the intriguing title of "Hamilton". An illegitimate son of a plantation owner, Alexander Hamilton was born on a small island in the Caribbean. Brought up and educated by his mother he proved to have outstanding intellect and, by the age of 15 was a managing director of two commercial companies. By the time of the start of the American Revolution he had moved to New York and became an adviser to General George Washington. He rose to the rank of Major and, following independence, took an active part in politics and was instrumental in persuading the various independent states to unite as one. He became First Lord of the Treasury (equivalent in effect to being Prime Minister) with George Washington now the first President of the United States. Hamilton's face is still depicted on the 10 dollar bill. Tragedy struck when his son was killed in a duel at the age of 19 and not long afterward Hamilton himself was killed in a duel with his rival Aaron Burr in almost the same location as that of his son's death. A Musical about Hamilton is currently being performed on Broadway and will shortly be coming to the West End in London.
On June 12th one of our own members, Helen Jones, gave a varied and interesting talk on her visits to Rome and Madrid both of which are easily accessible by flights from Cardiff. One of the best ways to see Rome is by a guided bus tour which includes stops, for example, at St Peter's Basilica in the Vatican, the Coliseum and the Forum. Other points of interest are the Spanish Steps, the Trevi Fountain and, of course, the vast choice of shops and restaurants. Madrid is another favourite destination for Helen and visits to the Prado and Reina Sofia Art Galleries are a must. Close to Madrid are Avila, Segovia and Toledo all of which are worthy of a visit.
On June 20th a wonderful afternoon was enjoyed by over 200 members of the Mothers' Union, including visitors from the Llandaff Diocese. The Saltmine Theatre Company performed the very moving and inspiring play "Chosen" which outlined the aims of the Mothers' Union, founded by Mary Sumner, and the Christian Care for Families. Ruth wishes to express her thanks to all who attended on the day and especially those who helped with donations of mouth-watering cakes and those who helped to serve the teas.
Coming events include:
Mon July 10th 2pm: End of Session Strawberry Tea in aid of our fund-raising effort for "Faith in Families" MU Diocesan Project. We will be charging £2.50 which will include a raffle. Members of St Mary's, Christchurch and St Johns congregations are very welcome to attend but please would they let Kitty Griffiths or Margaret Davies know in advance to help us with the catering.
Fri July 7th 11am: Monthly Eucharist with Clydach, Swansea and Morriston Branches responsible for running the service.
Mon July 17th 2pm: Afon Tawe Deanery MU Festival at St Mary's. We look forward to seeing as many of you there as possible. Light refreshments will follow the Festival Service.
Wed Aug 9th: Mary Sumner Day.
These events conclude our current session but a new programme of events will commence on Mon 11th Sept at 2pm when Revd John Anthony will lead us in a start of session Eucharist.
Margaret Davies, Joint Branch Leader
It is with sadness that we learned of the deaths of
Anita Short
Kenneth Morgan
Linda May Harris
Elizabeth Rees
We send our sympathy to their families and friends.
May they rest in peace and rise in glory.
FROM THE EDITOR
Many congratulations to the Rev'd Ian Folks on his ordination to the priesthood from the parish. Our prayers and good wishes to Ian, Vanessa and family for his future ministry.
Continuing reports on the use of robots in many areas of life raise a number of practical and ethical problems. A robot to clean your home? Fantastic – unless you rely on your wages as a cleaner. Precise, 'cutting edge' surgery? Wonderful – provided no malicious organisation or individual is able to direct the operation. And what about spiritual matters? Surely robotics has nothing to do with this. A recent television report suggests that even this aspect of life might not be free of robotic influence. The sight of a 'robot Priest' which raised its mechanical 'arms' in the gesture of a blessing and pronounced a 'blessing' through what looked like bared teeth would give anyone nightmares. The days of the clergy might be numbered!
WHAT A TREASURE
After 45 years of clearing houses for stock to sell in my antique shop in Surrey, I am still unpacking unopened boxes of treasures. And what a treasure I found a few weeks ago: an old Bible. Not just old, but very old. In fact it was a Geneva Bible signed and printed by Robert Barker in 1610. The Geneva Bible, first printed in 1560, is one of the most historically significant translations of the Bible into English, preceding the King James Version by 51 years. It was the primary Bible of 16th-century English Protestantism and was the Bible used by William Shakespeare, Oliver Cromwell, John Knox, John Donne, and John Bunyan, author of Pilgrim's Progress.
It was also read by Mrs Pettard, Joseph Blake and Mr Cratchrode. I know this, as carefully written in ink throughout the pages, are their names written by verses. Mrs Pettard July 12th 1789, for instance, presumably the place she had read up to in the shared bible. At a time when strong reading glasses were not available, this was a considerable feat as the size of the print is very small, and the bible was probably read by candlelight.
It bears the wear and tear of many hundreds of years of use and shows the owners' personality by way of heavily marked passages. Mrs Pettard read up to The Revelation of St John the Apostle and Evangelist. Whether it was her, or another reader, who disagreed mightily with this chapter, but someone over the years, slashed all through these pages with a sharp knife.
In 1611, Robert Barker printed the first edition of the King James Bible. Although it was called "Authorized" it was not actually "authorized" by the king, who did take some interest in the work; the entire cost of the printing was undertaken by Barker who ultimately gained little financial reward but some fame for the work.
The Wicked Bible, also known as "The Adulterous Bible" or "The Sinners' Bible" was published in 1631 by Robert Barker and Martin Lucas, both royal printers in London, and was intended to be a word-for-word reprint of the King James Bible. However, in the Ten Commandments (Exodus 20:14) the word "not" in the sentence "Thou shalt not commit adultery" was omitted. About a year later, Barker and Lucas were fined £300 (roughly equivalent to £33,800 today) and were deprived of their printer's licences.
Sadly, in 1635, in debt and suffering from the large fine from printing the Wicked Bible, Robert Barker was imprisoned and was in and out of prison for the next 10 years, he ultimately died there in 1645.
A sad end for a talented man who first printed the Geneva Bible.
Margaret Mccloy
When I was at Grammar School learning about World War 2, I remember thinking how grateful I was that society had finally matured to the point that war no longer broke out. Today I can hardly remember what bizarre thought process led me to believe that people had become less barbaric with time. I also believed racial prejudice had died out decades ago and that our justice system reflected actual guilt or innocence. I think these conclusions weren't based entirely on ignorance as much as on a hope for how things could be.
I don't believe that World peace will be achieved in my lifetime. But I do believe it won't be achieved in any lifetime after mine unless I make causes for it to happen now. How can I-and you- make those changes? As Gandhi famously said, "Become the change we wish to see". Be good to those around you in concrete ways. Create an Island of peace in your own life. If you do it will spread. If enough of us do this, our islands will meet, ceasing to be islands and become whole continents. World peace exists in the actions each one of us takes in our own lives.
To say this strategy is long-term would be an understatement. But all other solutions seem to me even less likely to succeed than this one. You may think me as hopelessly naïve as my younger self who thought war had already been eliminated, for continuing to hope that widespread, lasting peace, is possible.
When I think of the most basic of human longings, found in all religious traditions, I think about the longing to be at peace with God, at peace with each other and at peace with ourselves.
Making peace is as possible as our imagination is strong. So I invite all of us, peace by peace, little by little, every person, every minute to make a difference.
One evening we went to The Church of the Ascension, Cadenabbia, where we were staying. It was a beautiful Church, celebrating 125 years' service to the English-speaking community. Rev. Roger Williams and his wife had organised a local choir, the Corale Bilacus Archive, who sang in Italian, to sing for the evening. We were all given an English language pamphlet that told the story of the songs they would perform. Rev. Roger Williams, who was officiating for the first half of the season, is a priest of the Anglican Church of Australia, while Father Edwards Hanson who would continue the 2nd half of the season, were the resident Chaplains. It was a great evening.
The church is part of the Anglican Church and belongs to the diocese. In Europe, they welcome all Christian visitors to their services. The church is run by a small group of resident and visiting priests with the support of the Archdeacon of Italy. The church opens on Easter Sunday and closes on October 1st. The church welcomes English speaking couples who wish to celebrate their wedding with a service of Blessing or renewal of their wedding vows. Although the Church of England in Italy has no jurisdiction to marry people in Italy, couples are welcome to have their previously celebrated civil marriages blessed in The Church of the Ascension. The Blessing service is beautiful and full of meaning and should in no way be considered a compromise for those who wish to celebrate their union with their families and friends in the presence of God in a place of Christian worship.
On another day we went on a day trip to St Moritz in Switzerland (where the Jet-Setters with plenty of money live), Just on the outskirts we saw the villa where the late Roger Moore (James Bond) lived. The trip was made partly by bus then by train, the Bernina Line or Bernina Express train. The train is the only Swiss railway to operate a 'Top of the Alps' line, going across the Alps Glaciers. One of the train stops is Morteratsch which overlooks The Morteratsch Glacier which is 4049 metres above sea level. The Panoramic views are spectacular as the train weaves in and out of the Mountains.
The journey started in the north part of Italy at the town of Tirano. From there, the line rises from 429 metres above sea level, to 2959 metres at the stop of Bernia Lagalb. At the Brusio circular viaduct the view changes constantly while the train winds up to, or corkscrews down from, the heights of the famous circular viaduct of Brusio. The viaduct, which describes a 90-degree curve, artificially allows the railway to perform a brusque change of height in a very short space. The Bernina Line covers this difference in altitude of nearly 1824 metres between Ospizio Bernina and Tirano over a horizontal distance of just over 22km, without the use of cogwheels - despite having to tackle gradients of up to one in seven.Passengers are able to enjoy truly breathtaking views of the imposing peaks of Graubenden, along with its ancient glaciers and beautiful mountain valleys. It runs every day - that's right - 365 days of the year, and, like a Swiss watch it goes like clock-work, on time, every time. Eat your heart out British Rail! Can you imagine it? One drop of snow, or leaves on the line, and BR comes to a stop and that's on a straight gradient!! What an experience this was.
The following day, we went on the local land train. What a difference. With all that shaking about and bumping, I nearly lost fillings in my teeth, and my straw hat fell off twice. What a great time we had. Are your holidays soon?!!!
and make it a great success.
This tiny place does things differently. The smallest city in the UK (a visitor - from Cardiff! - was startled when she learned that the Craft Fayre was in the City Hall) in a stunningly beautiful part of the world, its incredible cathedral almost hidden from the city. And don't forget the knitting. Even the daylight lasts much, much longer than we expect from our viewpoint over Swansea Bay. St David's Cathedral Festival, fitted into just ten days, highlights this difference (all concerned would collapse from exhaustion if the event was longer). This year's music ranged from the 1400s to Stravinsky, via Gilbert and Sullivan, jazz and a folk band, with superb choral services sung by the Cathedral choirs. There were morning concerts, lunchtime recitals, evening concerts and late-night events. You need stamina for this festival!
On the first Saturday of the festival the programme, given by St. David's Cathedral Choir and The British Sinfonietta, included works by Elgar, C.H.H. Parry and Faure. Parry's My soul, there is a country; the text from the poem 'Peace' by the Welsh poet Henry Vaughan; is a particular favourite as is Faure's Cantique de Jean Racine. The cathedral choir; and members of the Sinfonietta; following their superb performance on Saturday, were a central part of the uplifting Sunday morning Festival Eucharist, with a joyful rendition of Haydn's Missa Brevis Sancti Johannis de Deo and Monteverdi's Cantate Domino. The choir were again on duty at the Festival Choral Evensong and, from the launch onwards, were in evidence throughout the festival.
'All of a Summer's Evening' featured Vox Angelica; a group of former St.David's choristers who are to sing Choral Eucharist and Choral Evensong at St. Mary's on August 13th; with the Vicars Choral and Choral Scholars. This beautifully balanced performance was a fitting tribute to summer towards the end of our visit and Stanford's The Bluebird, with its perfectly still soprano solo, an undoubted highlight of the evening. What a festival. And the knitting? Everywhere - as bunting, as flags and decorating the Cross. St David's is certainly different.