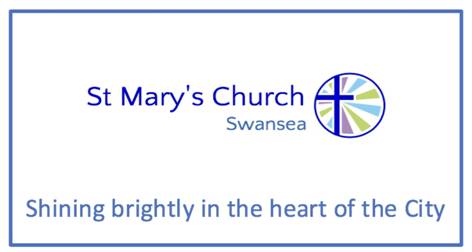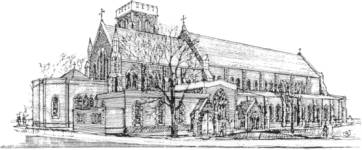 The Collegiate Church of St Mary
Eglwys Golegol y Santes Fair

Croeso/Welcome
Welcome to this web site which tells you much about our wonderful church situated in the heart of Swansea City. We hope that you will not only view us 'on line' but come and join one of our regular services, be that on a Sunday or midweek.
Our main tradition is Anglican Worship in the Choral setting, one of the few churches to maintain a choir and the joys of sung praise. St Mary's is a place of peace, prayer and quiet in the busy city centre and a place of welcome for all. You may like to explore the church and look at the many fine windows and features inside - our history is important - it is part of our background, what and who we are today.
Be you a local to the city or a visitor from afar welcome to St Mary's.
Rector Justin Davies.
Weekly Services:
Choral Eucharist at 11am and Choral Evensong at 4pm on Sunday.
Choral Evensong at 5.30pm on Tuesday during term time.
Eucharists at 11am on Wednesday and at 12 noon on Saturday.
Prayers at 10am on Friday.
A Welsh Eucharist will be held on the 4th Monday of each month at 12 noon.
On-line services from St Mary's can be found at You Tube St Mary's Swansea
Special Services and Events during Advent and Christmas
Advent Talks: Every Tuesday morning at 12:00pm
Sunday 3rd December 6:00pm: Advent Carol Service by Candlelight
Saturday 9th December 11:00am: Salvation Army Band
Tuesday 12th December 6.30pm: Civic Carol Service
Friday 15th December 12.30pm: NPT Cancer Challenge Chamber
Group 'Harmoni' with Adele O Neil
Sunday 17th December 4:00pm: Festival of Nine Lessons and Carols
Sunday 24th December (Christmas Eve) 11am: Holy Eucharist
11.30pm: Midnight Mass - Choral with Chamber Orchestra
Monday 25th December (Christmas Day) 10am: Holy Eucharist
Sunday 31st December (New Year's Eve) 11am: Holy Eucharist
4.00pm: Prayer for the New Year
Choral Scholarship Opportunities for Students
Dates for the Diary Events and Concerts
The Collegiate Church of St Mary, St Mary's Square,
Swansea, SA1 3LP, Wales / Cymru
(01792) 655489
Email: stmarysswansea@gmail.com